Rishikesh, a serene town located in northern India, is a cherished destination for spiritual seekers, nature enthusiasts, and adventure lovers alike. Situated along the banks of the holy River Ganges, Rishikesh is renowned for its tranquil ambiance and spiritual significance.
Nestled in the foothills of the Himalayas, Rishikesh offers a breathtaking panorama of lush forests, flowing river, and majestic mountains. The town is often referred to as the "Yoga Capital of the World" as it's a hub for yoga and meditation retreats. Travelers from around the globe come here to learn, practice, and immerse themselves in the art of well-being.
The iconic Laxman Jhula and Ram Jhula, suspension bridges named after mythological figures, span the Ganges and are not only engineering marvels but also spiritual landmarks. These bridges connect Rishikesh with the neighboring town of Haridwar.
Rishikesh is dotted with numerous ashrams, temples, and meditation centers where seekers can engage in self-discovery and connect with their inner selves. The famous Parmarth Niketan Ashram hosts the Ganga Aarti, a captivating ritual where devotees offer prayers and witness the enchanting sight of lamps floating on the river.
Adventure enthusiasts are drawn to Rishikesh for its thrilling white-water rafting opportunities in the Ganges rapids. The town's natural beauty also invites trekkers and nature lovers to explore its trails and scenic viewpoints.
Rishikesh's unique blend of spirituality, adventure, and natural splendor makes it a destination that resonates with people seeking solace, excitement, and a deeper connection with themselves and the universe.
River Rafting
River rafting is like embarking on a thrilling aquatic journey, where you and your team navigate the wild waters of rivers, experiencing heart-pounding excitement and a strong sense of camaraderie.
Imagine riding through rushing rapids, feeling the spray of water and the rush of adrenaline – that's the thrill of river rafting. Whether you're on a gentle river or tackling challenging rapids, it's a waterborne adventure that gets your heart racing.
River rafting offers different levels of intensity. You can choose calm rivers for a more relaxed ride, or you can opt for rivers with exciting rapids for a more exhilarating experience.
The teamwork involved in river rafting is a big part of the adventure. You and your fellow rafters need to paddle together, follow the guide's instructions, and navigate the twists and turns of the river.
During a river rafting expedition, you'll witness stunning landscapes from a unique perspective. The riverbanks, surrounding nature, and even occasional wildlife sightings add to the adventure.
River rafting is a blend of excitement and nature. As you maneuver through the currents, you'll feel a rush of energy and a sense of connection with the powerful forces of water.
It's an experience that's great to share with friends, family, or even as part of a team-building activity. Facing the challenges of the river together creates strong bonds and unforgettable memories.
In essence, river rafting is an aquatic escapade filled with thrills, teamwork, and breathtaking sights. It's a chance to embrace the power of nature, work together as a team, and create memories that remind you of the adventure and exhilaration of conquering the river.
Rishikesh
1 Day
White water River rafting in Rishikesh, is one of the best activities to do in Rishikesh with adventure. Everyone loves adventure and River rafting is...
₹900
Next Departure
Oct 01
Oct 02
Oct 03
Available through out the year:
Jan
Feb
Mar
Apr
May
Jun
Jul
Aug
Sep
Oct
Nov
Dec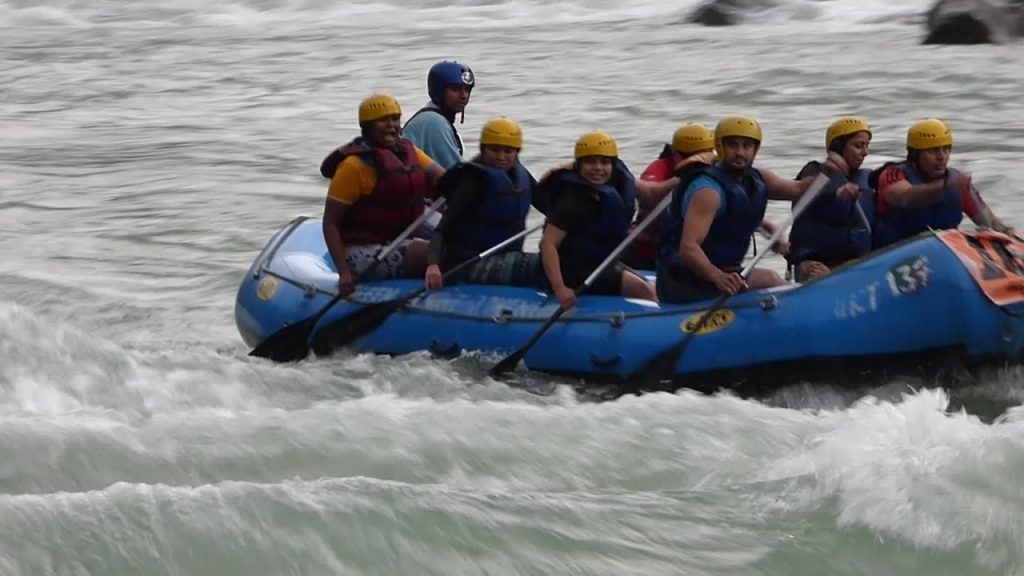 Rishikesh, Uttarakhand
2 Days
6 People
Everybody wants to explore new places and enjoy holidays, so here's a 2 days Rishikesh Camping Rafting Tour Package which is adventures as well as...
₹3,800
Next Departure
Oct 01
Oct 02
Oct 03
Available through out the year:
Jan
Feb
Mar
Apr
May
Jun
Jul
Aug
Sep
Oct
Nov
Dec
Other Trips