Visiting Char Dham Yatra Tour which is a religious tour is one of the most visited religious tours in India, and every Hindu should visit these Dhams once in lifetime. It is said that the visiting Char Dham's bring salvation to one's soul. Char Dham's of India are Shri Badrinath Dham, Dwarka Dham, Jaganath Puri Dham and Rameswaram, all the four dhams are located in different locations like Badrinath Dham in North India Uttarakhand, Dwarka Dham in West India Gujarat, Jaganath Puri Dham in East India Odisha and Rameswaram Dham in South India Tamil Nadu.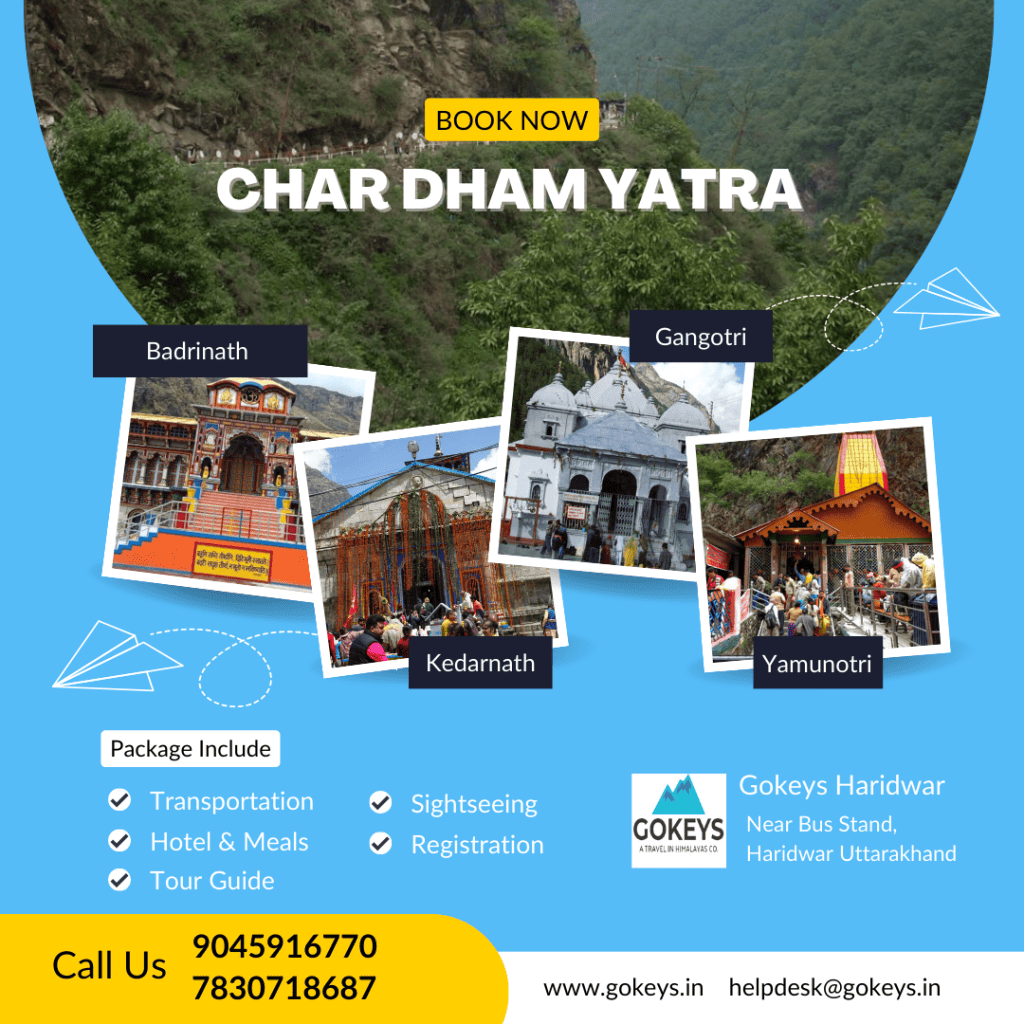 All the Dham's has different significances, and one should visit these Dhams once in lifetime to take blessings of Hindu Gods.
Book Char Dham yatra Tour Packages from Us and Best Cost
But in this page, we are sharing with you details of Uttarakhand Char Dham's which is also known as Chota Char Dham and has great significance in Hindu religion. The Char Dham's or Chota Char Dham are Badrinath Dham, Kedarnath Dham, Gangotri Dham and Yamunotri Dham. All the Dhams are located in the higher elevation on the hilltop and one can reach there by driving through some wonderful ghat roads with Trekking of 20 Kms in Kedarnath Dham and 5-6 Kms in Yamunotri Dham. Both Badrinath Dham and Gangotri Dham is well connected with road transportation and trekking is not required.
Char Dham Yatra Tour Packages
Check out our best tour packages for Char Dham Yatra from Haridwar or other places, you can check out the itinerary and plan you trip accordingly. You can also check the inclusion and exclusion with sightseeing details and more many route details and map about Char Dham yatra.
So, here's some more headings and sub-headings about the information of Char Dham Yatra Tour in Uttarakhand and its details. Like When the Char Dham yatra reopens, When the Char Dham Yatra closes, what is the route to Char Dham yatra tour, how is the weather of Char Dham Yatra and more. We have already shared the details with many more information in our other pages, but if you have reached to this page and want to know all the information here, so we are giving you some little information and details about these topics and also the link to other page where you can get all the details of Char Dham related information.
When Char Dham Yatra Starts or Reopens?
Char Dham Yatra Tour Uttarakhand Starts from the day of Akshay Tritiya in April-May Month, when Gangotri and Yamunotri Dham Kapat reopens for pilgrim and then after someday Kedarnath Ji Kapat reopens and in last Badrinath Dham Kapat reopens for Pilgrims for the year. So, if you are planning a trip to Char Dham Yatra of Uttarakhand then you can plan your trip accordingly and May-June is best time to visit Char Dham yatra tour, but it's also very peak season and lakh of devotees visit Dhams on daily basis.
When Char Dham Yatra Closes?
Char Dham Yatra Tour reopens in April-May month and closed during winter season, generally in Diwali Gangotri and Yamunotri Dham Kapat is closed and then Kedarnath Dham after 2 Days and then Badrinath Dham at last. So, you can plan a trip to Char Dham Yatra before the Diwali festival and visit these holy places with your family.
Check Out: Char Dham Yatra Opening and Closing dates 2023
Char Dham Yatra Route Details?
Char Dham Yatra starts from Haridwar/Rishikesh/Dehradun and then it goes like Mussoorie-Barkot-Jankichatti-Yamunotri-Uttarkashi-Harsil-Gangotri-Uttarkashi-Tilwara-Kund-Guptkashi-Sonprayag-Kedarnath-Phata-Rudraprayag-Chamoli-Pipalkoti-Joshimath-Badrinath-Panch Prayag-Rishikesh-Haridwar.
From Haridwar, you can reach here via trains because Haridwar railway station is well connected with various other trains station all over India, so it can be your first destination for the yatra. Also, you can start your yatra with taking a holy dip in Brahmakund at Har Ki Pauri Haridwar.
From Rishikesh, it is also good because here you can reach by trains and buses and the nearby airport is Dehradun Jolly grant which is about 10-15 Kms from Rishikesh. You can start your Char Dham yatra from Rishikesh with good mood and happiness.
From Dehradun, you can also start, reach here by trains, buses and flight and then start your journey to Char Dham Temples. The Helicopter Booking for Char Dham Temples also starts from Dehradun it means if you want to complete Char Dham Yatra via Helicopter in 3-4 Days then you can get Helicopter ride to Char Dham yatra from Dehradun to Dehradun.
Char Dham Yatra Weather Details
The weather of Char Dham is always cool and best to visit the Char Dham temples, In May-June you can expect good weather like Hot in Day time but cold at Night. In Monsoon you can expect heavy rain falls in all the Dhams and also roads get blocked because of Landslide, so it is not advisable to plan a trip during monsoon season. from Sept-Nov its best time when you will not get much rush and also the Darshan will be not on long queues, it will be easily and the weather is cold and good, but you must keep some warm clothes with you.
Check Out: – Complete Weather Details of Char Dham Yatra
Char Dham Yatra Tour Packages Details | How Many Tour Packages are there for Char Dham Yatra
There are so many tour packages for Char Dham Yatra which are mentioned below, you can check out them and plan your tour to Char Dham as per the given tour Itinerary.
Char Dham yatra from Mumbai – 12-14 Days
Char Dham yatra from Haridwar – 10 Days
Char Dham Yatra from Rishikesh – 10 Days
Char Dham Yatra from Delhi – 12 Days
Char Dham yatra for 11 Days. – 11 Days with Kedarnath Night Stay
Char Dham Yatra with All Sightseeing. – 12 Days
Do Dham yatra with Kedar and Badri – 6 Days
Teen Dham yatra (Gangotri, Kedarnath, Badrinath) – 8 Days
Do Dham Yatra with Gangotri and Badrinath. – 6 Days
Single Dham yatra – 3 Days
and there also much other Char Dham Tour Packages
Char Dham yatra Itinerary from Haridwar to Haridwar
Day 1: Arrival in Haridwar
Arrive in Haridwar, one of the holiest cities in India, and check into a hotel.
In the evening, attend the famous Ganga Aarti at Har Ki Pauri.
Dinner and Overnight Stay
Day 2: Haridwar to Barkot
Depart from Haridwar to Barkot, the starting point for the Yamunotri trek.
En route, visit the Mussoorie, Kempty Falls.
Day 3: Barkot to Yamunotri and back to Barkot
Early morning, drive to Janki Chatti and trek to Yamunotri temple 5-6 Kms.
Take a dip in the hot water springs (Tapt Kund) at Yamunotri.
Trek back to Janki Chatti and drive back to Barkot.
Dinner and Overnight Stay
Day 4: Barkot to Uttarkashi
Proceed to Uttarkashi, a town located on the banks of the Bhagirathi River.
Visit the Vishwanath Temple and Shakti Temple in Uttarkashi.
Dinner and Overnight Stay
Day 5: Uttarkashi to Gangotri and back to Uttarkashi
Head to Gangotri, the Dham dedicated to Goddess Ganga Ji.
Visit the Gangotri temple and take a dip in the holy Bhagirathi River.
Return to Uttarkashi.
Day 6: Uttarkashi to Guptkashi
Drive to Guptkashi, a town located at the base of the Kedarnath Dham Yatra.
Visit Kashi Viswanath Temple, Ardhnareshwar Temple.
Day 7: Guptkashi to Kedarnath
Early morning, proceed to Gaurikund, the starting point of the Kedarnath trek.
Trek or use a helicopter service to reach Kedarnath.
Visit the ancient Kedarnath temple dedicated to Lord Shiva.
Day 8: Kedarnath to Guptkashi
After a morning darshan at Kedarnath, trek down to Gaurikund and drive back to Guptkashi.
Day 9: Guptkashi to Badrinath
Depart to Badrinath, one of the most important Char Dhams.
En route, visit the Narsingh Temple and Adi Shankaracharya's Joshimath.
Day 10: Badrinath to Haridwar
Attend the morning darshan at the Badrinath temple.
Visit Mana Village, the last village before the India-China border.
Drive back to Haridwar.
So, this is a simple tour itinerary for Char Dham Yatra in Uttarakhand. If you want to customize the tour package then you can tell us, and we will make a perfect Char Dham Yatra tour Package for you. For more details and query, you can comment below or send us email at gokeysindia@gmail.com, helpdesk@gokeys.in.
Char Dham Yatra Distance of Different Locations
| | | |
| --- | --- | --- |
| From | To Location | Distance in Kms. |
| Haridwar to | Dehradun | 60 Kms |
| Haridwar to | Rishikesh | 30 Kms |
| Haridwar to | Mussoorie | 90 Kms |
| Haridwar to | Barkot | 192 Kms |
| Haridwar to | Jankichatti | 236 Kms |
| Haridwar to | Uttarkashi | 192 Kms |
| Haridwar to | Gangotri | 289 Kms |
| Haridwar to | Devprayag | 98 Kms |
| Haridwar to | Srinagar | 134 Kms |
| Haridwar to | Rudraprayag | 163 Kms |
| Haridwar to | Guptkashi | 206 Kms |
| Haridwar to | Sonprayag | 234 Kms |
| Haridwar to | Karanprayag | 195 Kms |
| Haridwar to | Pipalkoti | 241 Kms |
| Haridwar to | Joshimath | 275 Kms |
| Haridwar to | Badrinath | 326 Kms |
More Char Dham, Do Dham, Single Dham Tour Packages
Char Dham, Do Dham, Ek Dham Tour Packages
Check out here Char Dham Yatra more tour packages in which we have included single dham like Badrinath, Kedarnath, Gangotri and Yamunotri Dham Only single Dham Yatra, Do Dham yatra and also like with any other hill station and more.
So, these are the best tour package of Char Dham yatra or Char Dham Yatra Tour Packages, you can book from our website or call us for more details.