Char Dham Weather Guide- The Char Dham Yatra is a unique holy and religious journey, which is started every year on the day of Akshaya Tirtiya in Garhwal province of Devbhoomi Uttarakhand. If we talk about Char Dham of India, these places are situated in all four directions. Which are Shri Badrinath Dham, Jagganath Puri Dham, Rameswaram Dham and Shri Dwarka Ji.
The Char Dham in Uttarakhand is also called the Chota Char Dham. Every year the Char Dham Yatra starts in the summer i.e. in April-May and during the Diwali festival this yatra is stopped for that year. Because the winters start, the cold and snowfall starts in all the four dhams, due to which you can not roam there and you cannot even go there due to too much snowfall.
Weather information during Char Dham Yatra and why it is important | Char Dham Weather Guide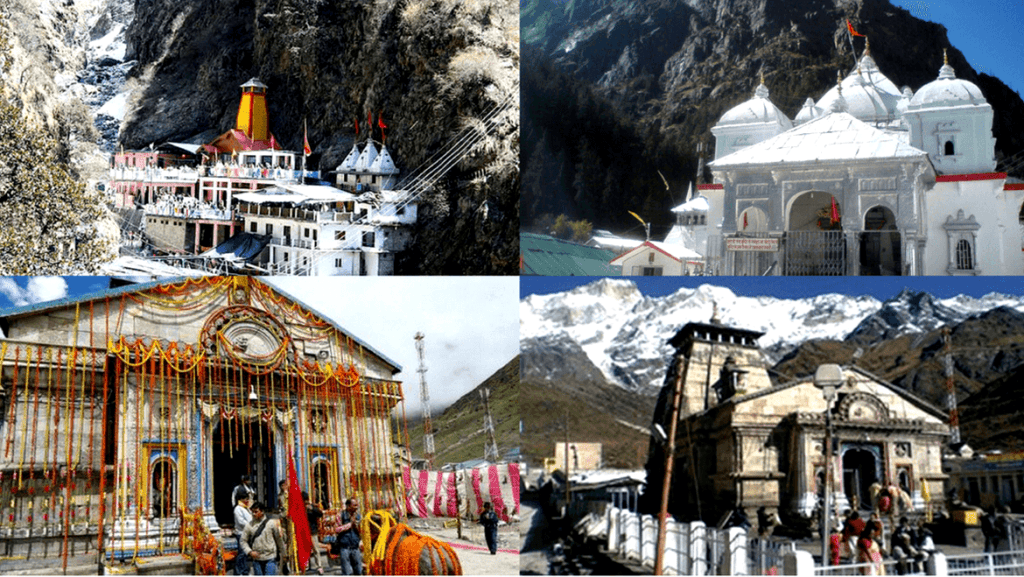 As you may be aware, Char Dham Yatra is situated in the mountainous inaccessible areas of Uttarakhand which are Shri Badrinath Dham, Kedarnath Dham, Gangotri Dham and Yamunotri Dham. If we talk about how is the way to go, then you have to know that the road is built in the mountains and during the rainy times there is a landslide due to which there can be a lot of trouble in the movement. So if you are preparing to go on Char Dham Yatra, then you need to know the weather of Char Dham Yatra. From which you can depart for the journey at the right time.
Check :- Char Dham Yatra Opening Dates 2023
Here you can know when the Char Dham Yatra is going to start and how you can plan your journey.
So let's know about the Char Dham Yatra season.
Weather of Badrinath Dham: – The weather here is pleasant and unique, during Badrinath Yatra you can also stay for a couple of nights after visiting here. This dham is situated at an altitude of about 3300 meters above sea level. The temperature here is up to about 24 degrees during the day and goes up to about 15 degrees at night, so the temperature remains in May and June. After that the rain starts in July and the temperature starts to decrease gradually in September-October. From November to April, the maximum temperature remains around 10 degrees and the minimum temperature falls below zero.
Check :- Badrinath Yatra travel Guide and Tourist Information
To reach Badrinath Dham, one drives to the nearest temple and from where the temple is situated at a distance of a few steps.
Kedarnath Dham Weather: – Kedarnath Dham can be reached after a long climb of 16 km. There is always cold weather here. You can travel here during the summer, in which you will get good sunlight during the day and the temperature here goes up to 7-8 degrees at night. So if you are preparing for the Kedarnath Dham Yatra then you will have to keep some warm clothes here so that your journey will be good. During September-October, the temperature here also starts to fall and the minimum temperature sometimes drops below zero.
Check :- Kedarnath Dham Travel Guide & Details
Kedarnath Dham, which is situated at an altitude of about 3553 meters above sea level, you have to trek 14 km to get here or you can go in horse, palanquin and doli by paying some money. Helicopter facilities are also available from Guptkashi, Sarsi and Phata, the fare starts from 5000 to 8500.
Gangotri Dham Weather: – Gangotri Dham is situated at the foothills of the Gaumukh mountain, Gaumukh which is the origin of the holy river Ganga. The weather here is quite good during May-June and you can take your journey comfortably, the temperature here is 20-25 degrees during the day and reaches 15-16 at night. Along with Gangotri Dham is the Gangotri National Park, where one can roam.
Check :- Gangotri Dham Travel Guide
To reach Gangotri Dham, the car takes you near the temple and from there you can easily reach the temple. During Gangotri Yatra you can roam Harsil which is a wonderful and beautiful hill station and see the apple orchards and enjoy the sweet apples. Before this you can visit and worship at Vishwanath Temple in Uttarkashi.
Yamunotri Dham Weather: – The doors of Yamunotri Dham are opened for the pilgrims to visit on the day of Akshaya Tritiya. After starting the Char Dham Yatra from Haridwar or Rishikesh, Yamunotri Dham is first seen and then proceeded to Gangotri Dham, Kedarnath and Badrinath Dham.
Check :- Yamunotri Dham Travel Information and Nearby Places to Visit
The temperature here ranges from 8 degree to 20 degree during summer and the temperature starts to decrease in September-October.
To reach Yamunotri Dham, you have to climb 5-6 kilometers from Jankichatti and upon reaching here, you can have a glimpse of Mother Yamuna.
Best time to visit Char Dham
If you are willing to visit Char Dham Yatra but you do not know when you can start your journey, then here you will know what will be the best time for Char Dham Yatra.
The Char Dham Yatra commences in April-May and opens for darshan for 6 months till October-November.
Summer is a great time to visit Char Dham during the month of June but it is very crowded at this time. After this, the rain starts in July and the journey is reduced as landslides continue on the mountains. Therefore, traveling in September and October can be done very well. Just you have to keep in mind that you must keep warm clothes with you, because the weather starts to cool down. In this way you can complete your Char Dham Yatra very well.
Things to remember during Char Dham Yatra
During the Char Dham Yatra, there are many winding paths and turns on the mountainous routes, which can cause you to vomit and even worsen your health, for which you should take some first aid medicines with you.
Mostly use bottles of mineral water, because if you drink water from place to place, then there is a fear of worsening health.
Do keep warm clothes with you because the weather in the mountains gets cold at night.
Keep some dry fruits like almonds, cashews and raisins with you.
Carry with you the SIM card number of Airtel, Idea and BSNL, because many other networks are not available.
Keep the money of India's currency with you, because ATMs will not be available everywhere.
We congratulate you for your Char Dham Yatra, and pray to God that your journey be successful.
If you want more information about Char Dham Yatra or booking Char Dham Yatra then contact us on this email id gokeysindia@gmail.com.