Book Now Hotels in Haridwar with our Hotel Krishna with Modern Facilities and best discounted rates. Hotel Krishna also known as Krishna Food Junction is an amazing Hotel property with various facilities mentioned. If you are planning a trip to Haridwar and looking for a perfect accommodation, then you can send us your query and get best discounted rates with us.
Welcome to Hotel Krishna: Best Hotels in Haridwar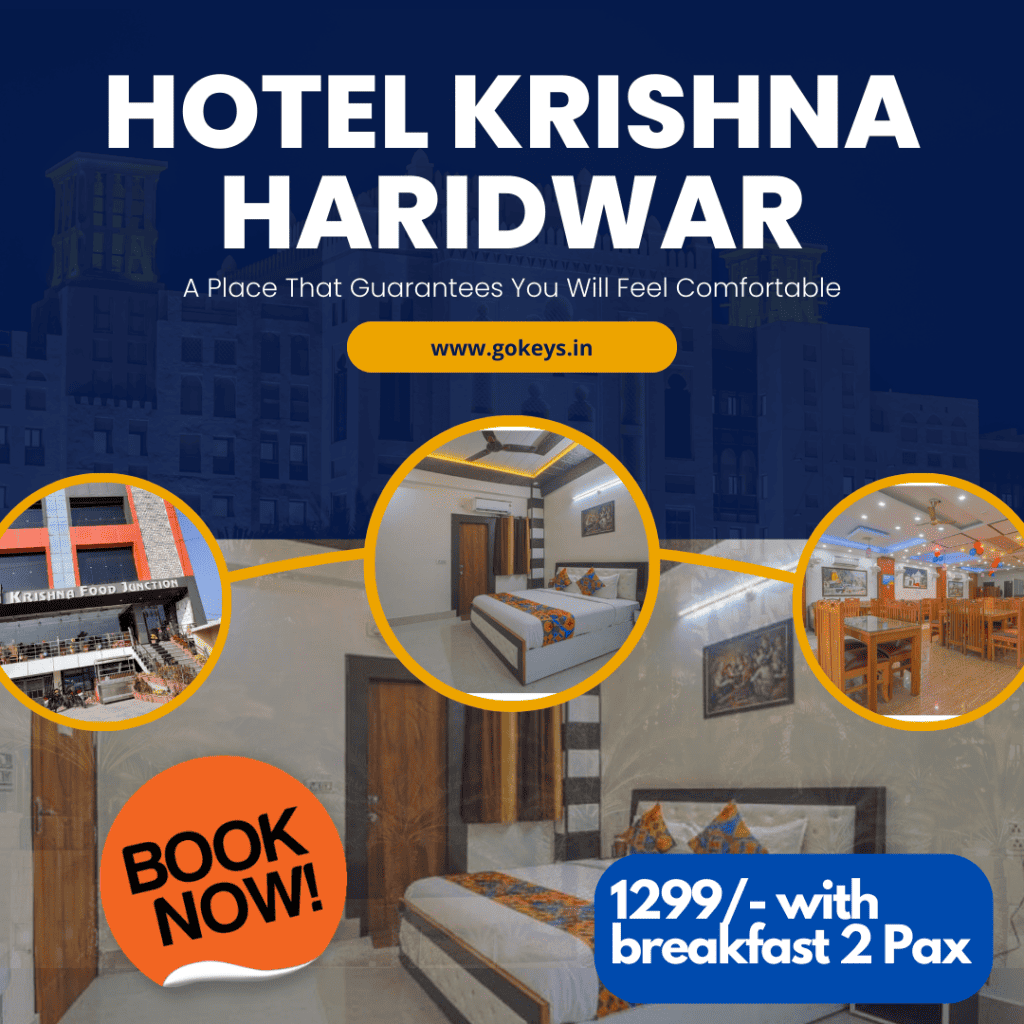 Discover a serene and inviting retreat nestled in the heart of Haridwar – Hotel Krishna best Hotels in Haridwar. With its prime location in Bhupatwala Haridwar, our hotel offers a perfect blend of comfort, convenience, and modern amenities to make your stay truly unforgettable. Whether you're a leisure traveler seeking relaxation or a business traveler with a tight schedule, Hotel Krishna has everything you need for a remarkable experience.
Accommodation: Immerse yourself in the lap of comfort with our 16 well-appointed rooms. Choose from our Double (DBL) and Four Sharing Basis rooms, each designed to cater to your specific needs. We understand that travel companions and preferences vary, which is why our rooms are equipped with extra beds, ensuring everyone enjoys a peaceful night's sleep.
Facilities That Make a Difference: At Hotel Krishna, which is one of the best hotels in Haridwar, we believe in offering more than just a place to rest your head. Our range of facilities ensures your stay is not only comfortable but also convenient:
Restaurant: Savor the finest flavors at our in-house restaurant, where our skilled chefs craft delectable dishes that will delight your taste buds.
Doctor on Call: Your well-being is our priority. With a doctor on call, you can rest assured that assistance is just a phone call away.
24-Hour Reception: We're at your service around the clock, ready to assist you with any inquiries or needs that may arise during your stay.
Parking Area: Traveling by car? Our secure parking area provides you with peace of mind while you explore the city.
High-Speed Wi-Fi: Stay connected with friends, family, or work seamlessly with our high-speed Wi-Fi, available throughout the premises.
CCTV and Generator: Your safety matters. Our CCTV surveillance and backup generator ensure a secure and uninterrupted stay.
Room Service: Enjoy the convenience of room service, allowing you to indulge in delicious meals and refreshments from the comfort of your room.
Banquet Hall: Planning a special event? Our banquet hall provides the ideal setting for parties, gatherings, and celebrations.
Explore and Experience: Haridwar is a city rich in spirituality and culture, and Hotel Krishna's strategic location offers easy access to its vibrant attractions. Whether you're here to attend the Ganga Aarti, explore local markets, or immerse yourself in the city's spiritual aura, our hotel serves as the perfect base for your Haridwar adventures.
Best Deals and Packages: Unlock exclusive deals and packages that cater to your preferences. Whether you're seeking a leisurely escape, a romantic getaway, or a family vacation, our offers are designed to enhance your stay and provide exceptional value.
Book Your Stay Today: Elevate your Haridwar experience by choosing one of the best Standard Hotels in Haridwar, Hotel Krishna as your home away from home. With our commitment to exceptional service, modern amenities, and a serene atmosphere, we invite you to make unforgettable memories with us. Book your stay today and embark on a journey of comfort and discovery.
Contact us at gokeysindia@gmail.com or book online through our website to secure the best rates and experience Haridwar like never before.
For booking you can send us email or directly call us at +91-9045916770, 7830718680, 7830718687 or you can also send us WhatsApp messages on the given numbers, and we will generate a booking for you right away. And don't worry about anything we have ample of parking space where you can park your vehicles.