On 9th Nov 2000 after cutting 13 Himalayan districts from Uttar Pradesh to a new state of India which is today known as Uttarakhand. It became the 27th State of India and 11th Himalayan state under the name of Uttaranchal in 2000 but then in 2007 its named changed to Uttarakhand because it's the people of Uttaranchal have always wanted its name to Uttarakhand.
Uttarakhand is now become an amazing tourist destination, but it is also known for its glorious history and temples and it's another name is Devbhoomi which means Abode of God. The gateway of Uttarakhand is Haridwar (place of Ganga River) and Ganga Aarti. Uttarakhand information can also be found in Mahabharata and Ramayana and Vedas.
As today we know Uttarakhand for its amazing landscapes, rivers, glaciers, Bugyals, Treks, Skiings place, adventure activities and tourist destinations.
Here's some important information about Uttarakhand
State Symbol: – The State Symbol of Uttarakhand is round shaped coin with 3 mountain peaks and 4 waves of Ganga River. The middle mountain peak is bigger than other two peaks and in which Ashok symbol is presented and Satyameva Jayte (means Truth always wins) written beneath it.
State Flower: – Uttarakhand state flower is Brahma Kamal which is a flower from asteraceae family. The flowers are found between 4800 to 6000 meters above from sea level. Its scientific name is Sosuria Abveleta. In Uttarakhand it is found in Valley of Flowers, Kedarnath, Shivling Base and Pindari Glacier etc. In local language it is called Kaunl Padam. The Brahma Kamal Flower color is Violet and the flowers grow between July to September months, which makes the whole valley fragrances.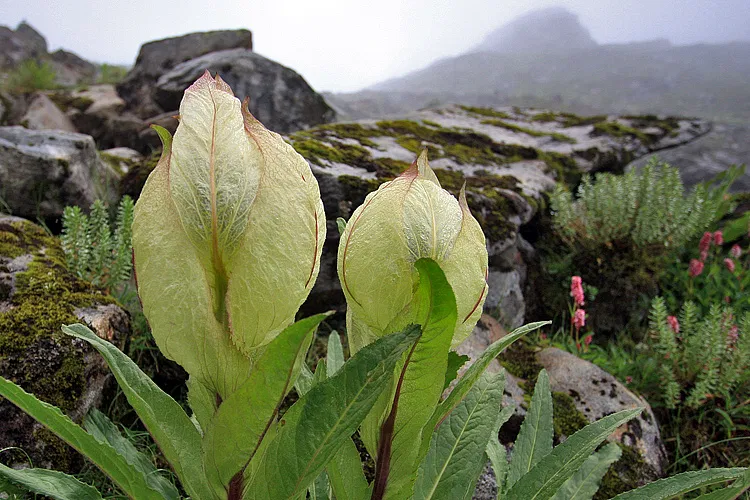 State Bird: – Uttarakhand state bird is Monal, which is found between 2500 to 5000 meters above the sea level, it is known as Manyal or Monal bird. The bird mixed with color of Blue, Black and green its tail is green. It has a crest like peacock with different colors. Monal Bird likes potato's.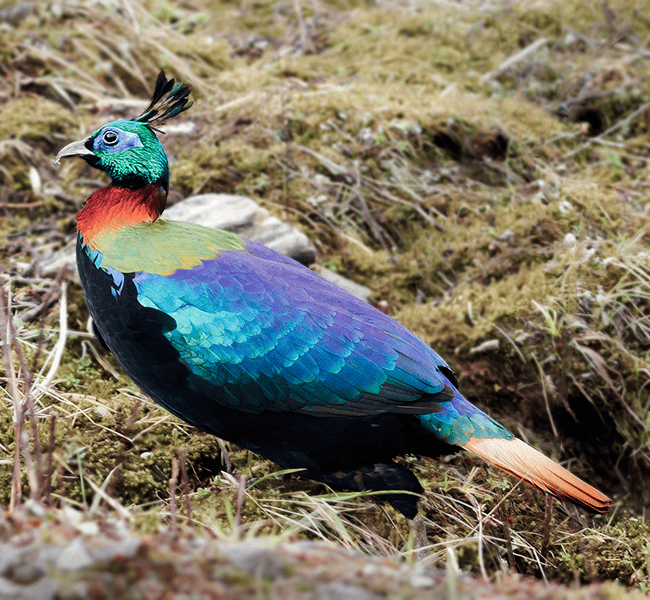 State Animal: – Uttarakhand State Animal is Himalayan Musk deer or Kasturi Mriga. It is found between 3600 to 4400 meters height in the hills of Uttarakhand, mainly in Kedarnath, Valley of flowers, Uttarkashi and Pithoragarh. Its color is brown with black and yellow spots. For self-defense it doesn't have horn but two teeth outside. The Kasturi which is a liquid found in this Mriga is a natural chemical which has amazing fragrance and also used in various disease like Pnuemonia , heart disease, typhoid etc.
To conservation of Kasturi Mriga Government has made conservation center in Chamoli, Askot in Pithoragarh.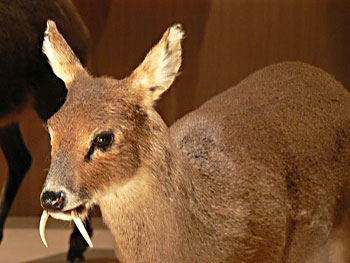 State Tree: – The state Tree of Uttarakhand is Burans Tree, which is scientifically known as Rhododendrons. It's a mountain tree which cannot be found in plains. During spring season you can found its blooming flowers in Uttarakhand Hills. It found between 1500 to 4000 meter height and its color is dark red but going above the height you can find dark red and pale red color of its flowers, above 11000 feet you can also find white color Burans flower.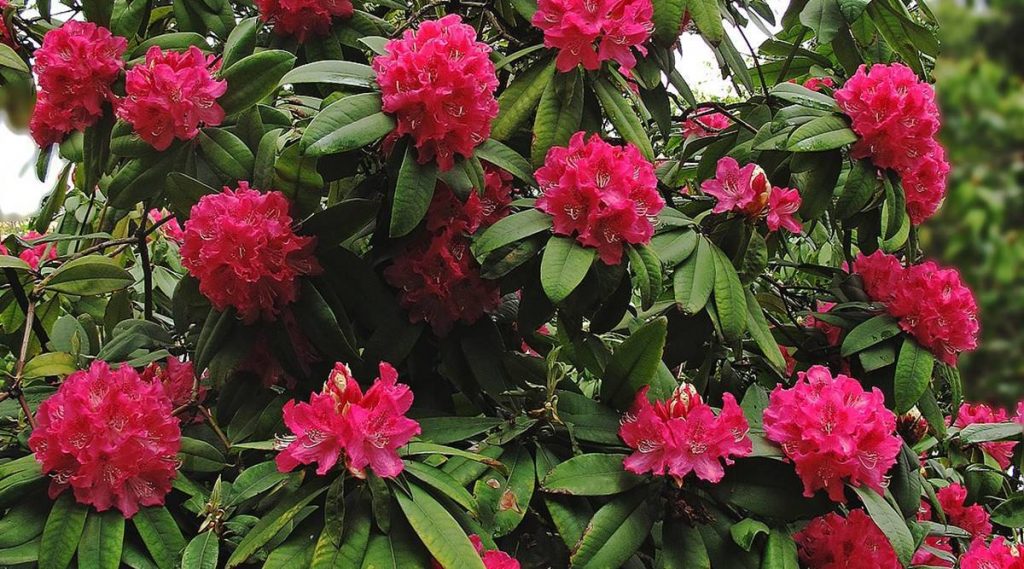 Buransh is also known for its flower Juice which is very useful for heart disease and also used to make colors. Its cutting is prohibited by government and Burans tree is also conserve as per the forest act 1974.
So that's some information about Uttarakhand state, let's go for another topic like Popular Destination in Uttarakhand.
Popular Destinations in Uttarakhand
Uttarakhand is a tourist paradise state which has many amazing destination where you can plan a trip to spend your holidays in the Himalayan valley. Here's a quick list of popular destination in Uttarakhand.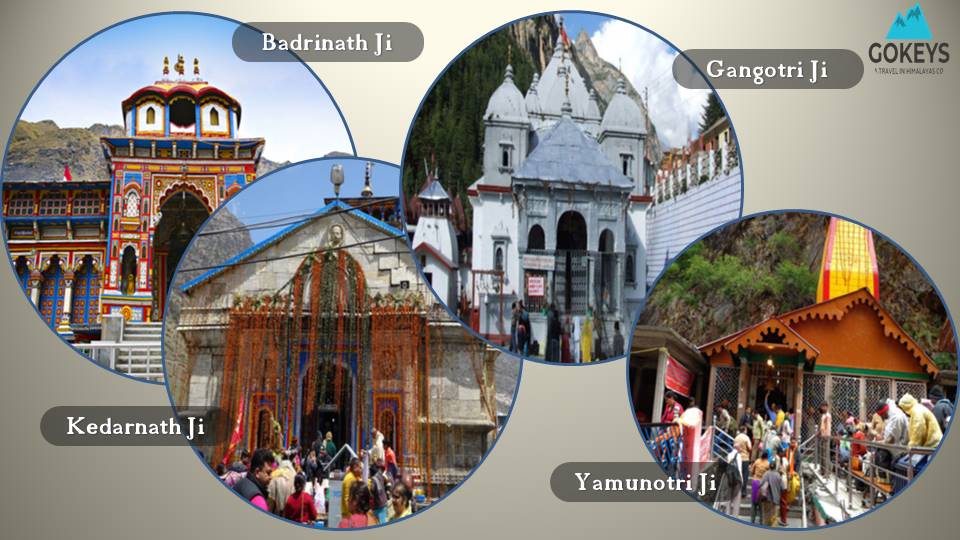 Haridwar: – Haridwar is tourist destination as well as known for religious place. Haridwar is located in the plains of Ganga valley and known for Ganga Aarti at Har Ki Pauri Ghat which is also known as Brahmakund Ghat. Haridwar is also a trip starting place for various destination of Uttarakhand, because its well connected with Interstate Bus and Railways and nearby Airport is about 35 Kms from Haridwar. You can visit various places in Haridwar like Mansa Devi Temple, Chandi Devi Temple, Maya Devi Temple, Har Ki Pauri etc.
Rishikesh: – Rishikesh is known as Yoga city of India which is located around 30 Kms from Haridwar. You can learn yoga and meditation in Rishikesh also you can visit Ram Jhulla, Laxman Jhulla, Neelkant Mahadev temple (35 Kms from Rishikesh), Parmarth Ashram, Triveni Ghat Ganga Aarti etc. Rishikesh is also known for adventure Activities like River Rafting, Bungee Jumping, Flying Fox and Camping.
Mussoorie: – Mussoorie is known as queen of hills located near the capital city of Uttarakhand Dehradun. It's an amazing hill station with sightseeing like Mall Road, Kempty Falls, Company Garden, Lal Tibba and more. You can also enjoy Snow fall in Mussoorie during winter season. The weather of Mussoorie is amazing in summer month.
Nainital: – Nainital is Lake City of India and known for its amazing weather and snow fall during winter. You can enjoy boat ride in Naini Lake and also visit Bhimtal, Khurpatal, Naukuchiyatal, Sattal and more during your visit to Nainital. It is also an amazing honeymoon destination in Uttarakhand.
Auli: – Auli is an amazing skiing destination which is located in Chamoli Garhwal district. Auli known for its amazing skiing slopes, Gurson Bugyal trek, Auli Lake and snow fall in winter.
Corbett National Park: – The tiger reserve and oldest national park of India is Corbett National Park. You can enjoy Jungle Safari here and visit the forest of Corbett. It is surrounded by both Garhwal and Kumaon region.
Valley of Flowers: – Valley of flowers is located in Chamoli district of Uttarakhand and to reach here you need to trek around 25 Kms from Govindghat. The Valley of flowers opens in June month and closed in winter because of heavy snow fall. Here you can find many species of flowers blooms during July to Sept month.
Chopta: – Chopta is called mini Kashmir of Uttarakhand. It is an amazing landscape destination for winter and summer. You can also do some trekking here for Tungnath Temple and Chandrashila. You can also see here Rhododendrons flowers in spring season.
Famous Temples in Uttarakhand | Char Dhams of Uttarakhand
Char Dhams of Uttarakhand also known as Chota Chardham but every year lacs of devotees visit here and now its becomes one of the most visited temples in India. Here's a quick details of Uttarakhand Char Dham Yatra.
Badrinath Dham: – Badrinath Dham is located in Garhwal Himalayas in Chamoli District around 325 Kms from Haridwar. It is known for Badrinath temple which opens during summer and closed during winter season. The Badrinath temple is dedicated to Lord Badri Vishal Ji (Lord Vishnu). Other sightseeing's in Badrinath are Mana Village, Vyas Gufa, Bhim Shila, Vasudhara Falls etc.
Kedarnath Dham: – Kedarnath Dham is a Jyotirling located in Rudraprayag district. It is one of the most famous temples of Lord Shiva, located at the elevation of more than 14000 feet. To reach here you need to trek around 20 Kms from Gaurikund or you can take helicopter, Pony, Palki and doli to reach here. Kedarnath temple opens in summer months and closed during winter.
Gangotri: – Gangotri Dham is located in Uttarkashi District and one can reach to here by roads transportation. Gangotri Dham is dedicated to Goddess Ganga Ji.
Yamunotri Dham: – Yamunotri Dham is dedicated to Goddess Yamuna Ji, daughter of Lord Yama. To reach Yamunotri Dham you need to trek 5-6 Kms from Jankichatti, or Pony, Palki and doli is available.
Adventure Sports in Uttarakhand
There are many adventure sports you can enjoy in Uttarakhand for your trip. Here's a quick details of Adventure sports in Uttarakhand.
You can enjoy White water River rafting in Rishikesh, Bungee Jumping in Rishikesh, Flying Fox and Reserve Jumping in Rishikesh. The River rafting is available for 12 Kms, 25 Kms and 35 Kms; also camping in Rishikesh is another tourist attractions.
If you want to go for the Paragliding then you can visit Mal Devta in Dehradun and Pithoragarh adventure spots.
Skiing in Auli is another adventure sports you can do while your trip to Uttarakhand.
Trekking in Uttarakhand
Trekking in Uttarakhand is now becomes very famous because many places which were unknown for travelers earlier is now visible in this digital era where information is shared at your fingertips.
The trekking locations in Uttarakhand are Kedarkantha, Sankri, Har Ki Dun Trekking, Tungnath and Chandrashila Trekking, Satopanth Trekking, Gurson Bugyal Trekking, Roopkund Trekking, Dodital Trekking, Gaumukh Trekking, Nag Tibba Trek, Valley of flower Trek, Hemkund Sahib Trek, Deoria Tal Trek and more.
The trekking destinations in Uttarakhand are easy to toughest and you can choose according to you while planning a trekking trip to Uttarakhand.
Bugyals in Uttarakhand
Bugyals means Meadows which are grassy landscape and where you can spend your holidays with the nature. There are many Bugyals available in Uttarakhand in which some are Dayara Bugyal, Gurson Bugyal, Bedni Bugyal, Auli Bugyal, Kushkalyani Bugyal, Panwali Bugyal and more.
The Bugyals are located at high elevation and during summer you can see the grassy landscape here but during winter the Bugyals are filled with snow.
Cuisines and Dishes of Uttarakhand
Uttarakhand has two regions which are Kumaon and Garhwal, and every district have its own some other Dishes but many Uttarakhand dishes are found in every district of Uttarakhand. The tastes of Uttarakhand dishes are good with exact amount of spices. The local Uttarakhand Dishes are Kapul, Phanu, Jholi, Chainsoo, Chalkwani, Parantha, Roat, Arsa and more.
And the side flavors dishes for food in Uttarakhand are Bhangjeera ki Chutney, Til Ki Chutney, Dhaniya ka Hara Namak, Lahsun ka Namak and more. The famous sweet dish of Almora is Bal Mithai you can taste while your visit to Almora.
Fairs and festivals of Uttarakhand
Every state has different fairs and festival as per their geographical locations and history. Uttarakhand has many fairs and festivals but some festivals like Diwali, Holi, and Navratri are celebrated throughout the country.
The major fairs of Uttarakhand are Nanda Devi Raj Jat, Sravani Mela, Somnath Mela, Gannath Ka Mela, Shri Purnagiri Mela, Bagwal Mela, Ladi Dhura Mela, Maneshwar Mela, Thal Mela, Jauljivi Mela, Chaity Mela, Magh Mela, Bissu Mela, Genda Kauthig, Baikunth Chaturdashi Mela, Dangal Mela, Ranbhut Kauthig Mela, Hariyali Puda Mela, Timuda Mela, Gaucher Mela, Nunai mela, Jhanda Mela and Kumbh Mela.
The Major festivals of Uttarakhand are Nautha Kothig Utsav, Gendi Ka Khakoti Utsav, Surkhanda Utsav, Sardotsav, Hiljatra Utsav, Ramman Utsav, Kandali Utsav and more.
National Parks in Uttarakhand
There are 6 National Parks in Uttarakhand and also one of the oldest national park in India was Corbett National Park is situated in Uttarakhand. Here are quick details of National Parks in Uttarakhand.
Corbett National Park: – Corbett National Park is located in Pauri and Nainital District of Uttarakhand and in 1973 it becomes a tiger reserve. The Park got its name from a British Sir Corbett. You can enjoy Jungle Safari here and visit local sightseeing.
Rajaji National Park: – Rajaji National Park is situated in 1983 in Haridwar, Dehradun and Pauri District. Rajaji National Park is also became 2nd Tiger Reserve of Uttarakhand in 2015. You can do Jungle Safari, Elephant Safari here.
Govind National Park: – Govind National Park is located in Uttarkashi and established in 1980 is one of the oldest national parks of Uttarakhand.
Nanda Devi National Park: – Located in Chamoli Garhwal District in Hills, mainly home of Himalayan Musk deer, Deer and wide ranges of flora and fauna.
Valley of Flowers National Park: – You must have heard about Valley of flowers, it is located in Chamoli Garhwal District and around 25 Kms from Trekking route from Govindghat. The flowers start to bloom in July to till September month. The Pushpawati River flows between the valley, it was first discovered by Frank Smith in 1931 and he wrote about this valley in his book.
Gangotri National Park: – Gangotri National Park is newly National Park in Uttarakhand established in year 1989, located in Uttarkashi. It is the biggest National park in Uttarakhand with area of 2390 Kms.
Best time to visit Uttarakhand
Uttarakhand can be visited throughout the year but during monsoon it is not advised to visit in Hills due to landslides in hills after heavy rain fall. Here are quick tips for Best time to Visit Uttarakhand as per the weather details of different season.
Summer Season: – summer season in Uttarakhand starts from March and goes till June and its quite great to spend your holidays during summers because the weather is great in hills and not much hot. The temperature in hills ranges between 20 to 30 Degrees and in plains like Haridwar temperature ranges between 32 to 40 Degrees.
Monsoon Season: – Monsoon season in Uttarakhand begins in June end and ends in September month. The rainfall is slightly high in some areas like Dehradun, Narendra Nagar, Mussoorie and other Hills district.
Winter Season: – winter in Uttarakhand starts from November and ends in February month, the coldest month is Uttarakhand is January, during winter you can enjoy snow fall in Uttarakhand hills like in Auli, Mussoorie, Dhanaulti, Chopta, Nainital, Kausani, Munsiyari and more. The temperature ranges between 20 to -2 degrees in different location of Uttarakhand.
Where to Stay in Uttarakhand
There are many hotels, resorts and ashram available at every tourist locations. As well as Garhwal Mandal Vikas Nigam (Uttarakhand Government Enterprise) accommodation available in various Garhwal locations and Kumaon Mandal Vikas Nigam accommodation available in various locations of Kumaon region.
You can book a hotel from us for your Uttarakhand trip and enjoy your stay without any hassle.
Tour Packages of Uttarakhand
Best Uttarakhand Tour Packages
Book below given tour packages of Uttarakhand for your upcoming trip and grab the best discounted rates.
Things to do in Uttarakhand
There are many attractions and things to enjoy in Uttarakhand while your trip. Many adventure activities like River Rafting, Paragliding, Bungee Jumping is available in Rishikesh and Pithoragarh. You can also trek to various trekking locations like Kedarkantha, Satopanth, Deoria Tal, Tungnath, Kedarnath and more.
You can do Jungle Safari in Corbett National Park and Rajaji National Park as well as elephant safari is available in Rajaji National Park.
Bird Watching in Nainital from Naina Devi Bird Sanctuary is also a great thing to do in Uttarakhand.
Helicopter ride, Cable Car rides in Kedarnath and Auli.
Enjoy you days in various falls like Bhatta Fall, Birthi Falls, Tiger Fall in Chakrata, and Kempty Falls in Mussoorie.
You can see ancient cave paintings in Almora Lakhu Udyar, Chamoli Gorkha Udyar.
You can see great emperor Ashoka's inscription in Kalsi Dehradun.
Important Points about Uttarakhand
| | |
| --- | --- |
| State Name | Uttarakhand, Devbhoomi |
| State formed on | 9th Nov 2000 |
| Capital City | Dehradun, Gairsain |
| High Court | Nainital |
| Total Population | 1 Crores. |
| Official Language | Hindi, Sanskrit |
| Local Language | Hindi, Garhwali, Kumaoni |
| Famous Festivals | Diwali, Holi, Harela etc. |
| Total District | 13 |
| Chief Minister | Sh. Purshkar Singh Dhami |
FAQs (Frequently asked questions about Uttarakhand)
How to Plan a trip to Uttarakhand?
You can plan a trip to Uttarakhand after checking our above given tour package and plan accordingly. You can also send us your tour details and make any customize tour package.
What are the most visited tourist destinations in Uttarakhand?
The most visited tourist destinations in Uttarakhand are Mussoorie, Nainital, Auli, Char Dham Yatra, Haridwar and Rishikesh. You can plan a trip to Uttarakhand by checking our tour packages.
How many days are required to do Uttarakhand Trip?
There are many tour packages available for Uttarakhand, in which you choose according to your needs. The tour packages are Auli 3 Days Tours, Mussoorie 2 Days Tours, Char Dham Yatra 9 Days Tour, Badrinath Yatra 3 Days Tour, Kedarnath Yatra 3 Days Tour, Chopta 3 Days Tours, Haridwar Rishikesh 1 Days Tour and more.
Who is the best Travel Agent in Haridwar for Uttarakhand Tour Package?
Gokeys is best Travel Agents/ Travel Agency in Haridwar for any tour packages of Uttarakhand, Himachal and Jammu & Kashmir.
What are the taxi charges for Uttarakhand tour?
Taxi Charges for Uttarakhand tour is depends on which tour package you wants to avail and what type of tour you want to book, by suppose you want to book 1 Day Haridwar Rishikesh tour then its charges for taxi is around 1800/- including toll, tax and parking.
How to reach Uttarakhand via Trains?
You can reach to Haridwar, Rishikesh, Dehradun, Kathgodam, and Kotdwar via trains and major states trains are connected with here.
What is the capital of Uttarakhand?
The capital of Uttarakhand is Dehradun.
What is the official language of Uttarakhand?
The official language of Uttarakhand is Hindi.
What is the main religion practiced in Uttarakhand?
Hinduism is the main religion practiced in Uttarakhand.
What is the climate like in Uttarakhand?
The climate in Uttarakhand varies depending on the region. The northern parts of the state, which are located in the Himalayas, have a cold and snowy climate, while the southern parts of the state have a more temperate climate. The summers in Uttarakhand are generally warm and humid, while the winters are cold and dry.
What are some popular tourist destinations in Uttarakhand?
Some popular tourist destinations in Uttarakhand include the Char Dham (four sacred Hindu pilgrimage sites), the Nainital hill station, the Jim Corbett National Park, and the Rishikesh and Haridwar religious sites. The state is also home to the Valley of Flowers National Park, a UNESCO World Heritage Site.
What is the weather of Uttarakhand like?
Uttarakhand has a varied weather, with cooler temperatures in the higher elevations and warmer temperatures in the lower elevations. The state experiences hot summers and cold winters, with the temperature ranging from as low as -2°C to as high as 45°C.
What are the major tourist attractions in Uttarakhand?
Some of the major tourist attractions in Uttarakhand include the Char Dham (four holy temples of Badrinath, Kedarnath, Gangotri, and Yamunotri), Nanda Devi National Park, Rajaji National Park, Jim Corbett National Park, and Rishikesh.