Once we have completed our Kedarnath Trip by trekking in 2 days then we thought of doing Chopta Tungnath Chandrashila Trek. We have started at around 4 pm evening from Sonprayag to Chopta by car, but we were very tired because of Kedarnath Dham trekking which is about of 20 Kms one side. So, from Sonprayag we reached to Kund and then we thought of staying some places nearby. So, we stopped before Ukhimath for tea break, but then we thought to stay there only because it was around 6 PM and night was starting to show herself.
Chopta Tungnath Chandrashila Trek Details Blog
We took our hotel, our foot was paining, and then we took our rooms and slept for that night. Yes, we had dinner at night after waking up at 9 Pm and then again slept, before discussing that we will wake up at 4am and then proceed to Chopta, where we will start our trek to Tungnath and Chandrashila.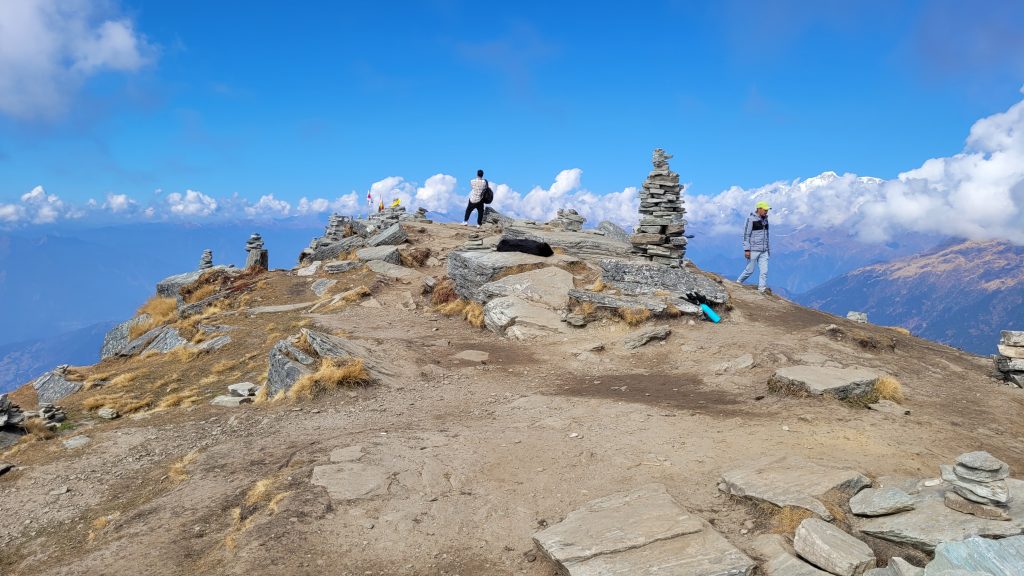 So, after a good sleep, we woke up at 4am and then got ready to leave for the day exploration of Chopta Tungnath Chandrashila, where we can trek, enjoy and take blessings at temple as well.
So, after 1 and half hours of drive we reached to Chopta where we parked our car and then came to a hotel, where we can have some easy breakfast and of course morning tea. Then we had Parantha, Butter Toast and tea for our breakfast and then took our water bottles to trek to Chopta Tungnath and Chandrashila.
Way to Tungnath Chandrashila
We also took bamboo stick from there to make our trek easy, the trek was about of 5 Kms from Chopta to Tungnath to Chandrashila where Chopta to Tungnath is 4 Kms and then 1 Kms to Chandrashila from there. The route is good, and we can say approx. 6-foot walking route. So, no need to worry.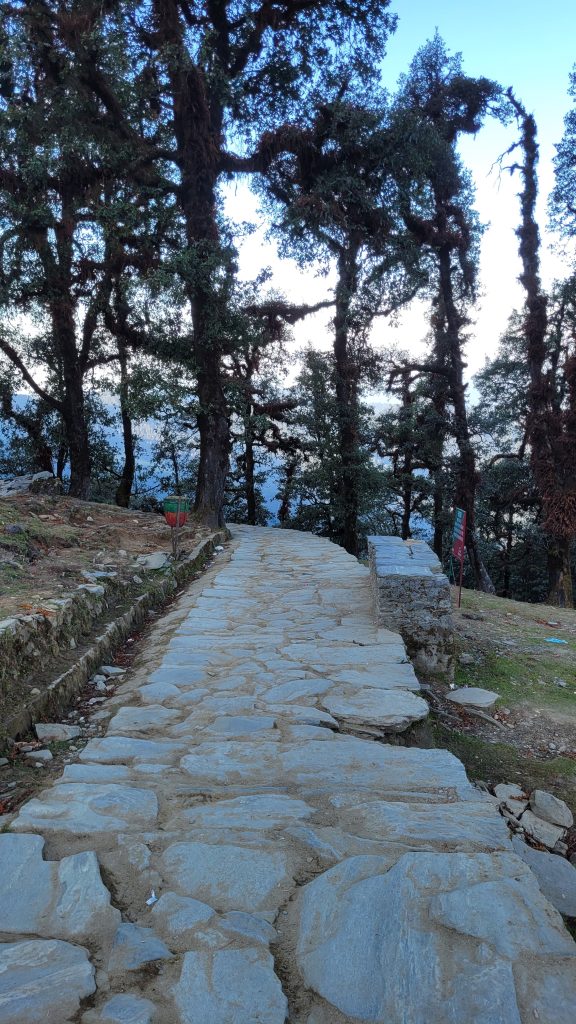 As we started to trek there is a check post where you need to pay 200/- entry fees to do further trek because its area of Kedarnath Wildlife Sanctuary, but the check post opens at 8am, and we have reached there before that, so no one was there when we left.
So, we started trekking, our foot and complete leg was paining because of yesterday Kedarnath Dham trekking, but we still managed to trek there, yes, we also took pain killers while having breakfast.
Chopta Grass Land and Amazing Views
The trekking route is good, which is lies between the long trees of Rhododendrons and other Himalayan trees. There you can see many signs board stating that don't take a shortcut route and it can cause you fine of 500/- INR to 25000/- INR. So, you should note that don't take any shortcut route because it will also be problematic, and you will be exhausted by shortcut because its steep climb and you will be out of breath.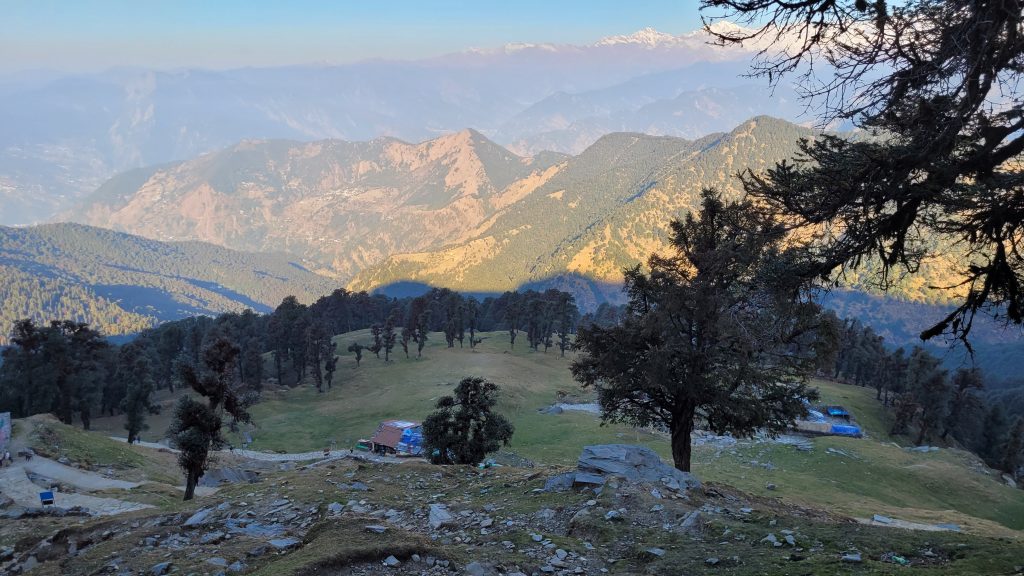 After entering in Chopta Grass lands, we started wondering everywhere and saw the Chopta grass lands, where peoples were seating, but it was time of starting winter, so we didn't find big grass, it was small only. We took photographs there and saw the amazing mountain ranges filled with snow surrounding the valley.
We didn't stop, but we kept trekking slowly, also we were taking photographs in between and also capturing some videos of the routes.
After that, we stopped there for some time at a local tea shop, where we had some milk tea and enjoyed the weather as well. It was morning time so; the sunrise was already started but we the weather was not so hot because it was starting of winter season, and we also had worn on jackets. After having tea and some biscuits we started again to trek.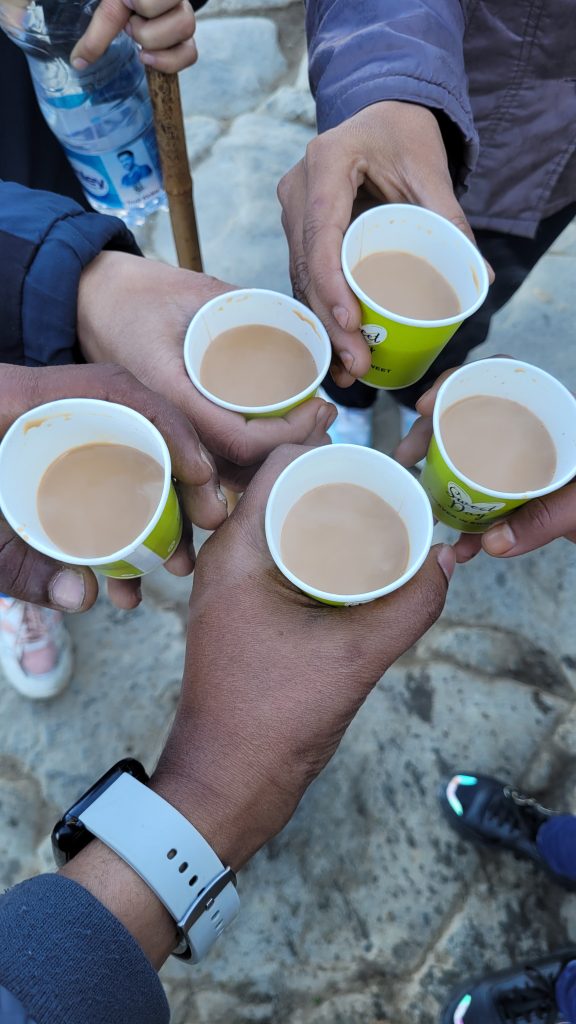 Then between 9 and 10 am we reached to Tungnath Temple. It was closed because the Kapat was closed of the temple for the winter season and the temple Doli was shifted to Makku Math. So, we took Darshan of Baba Tungnath from outside, clicked some photographs and give some toffees to nearby monkeys there and then left for Chandrashila trekking. It was 4 Kms from Chopta to Tungnath which took around 2-3 hours to reach by trekking.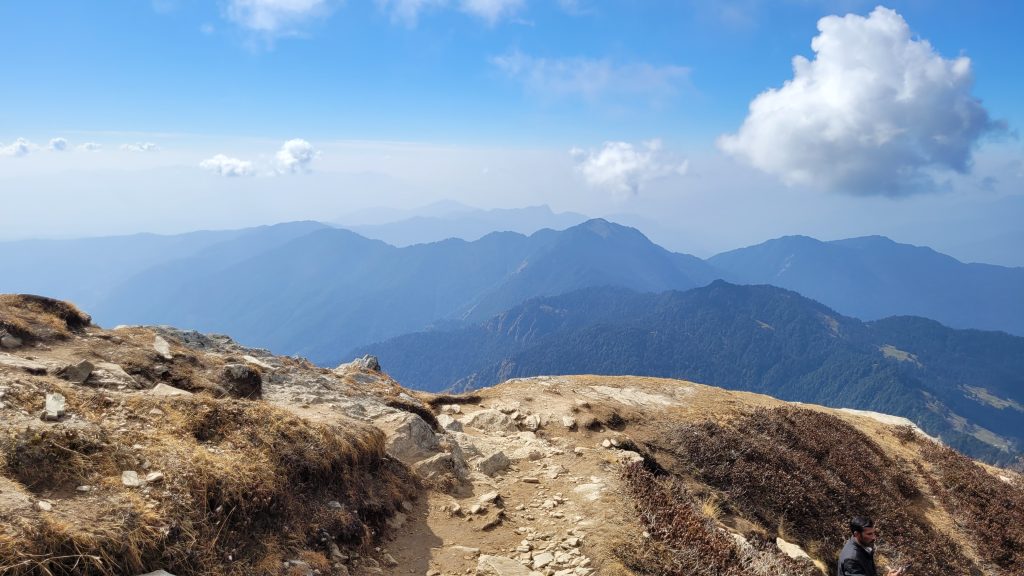 Then we forgot the route and took wrong route for about 200 meters but once we saw we are going wrong because the route was going down and we have to go up to reach top hill where Chandrashila located. Then we returned back to take the right route which is about 1 Km from Tungnath.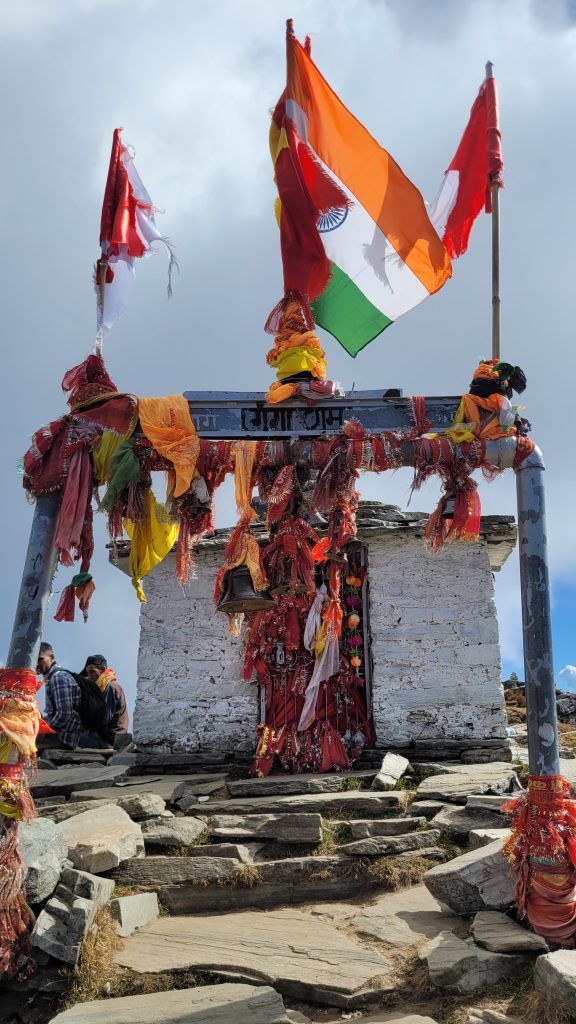 After that, it was steep climb to reach there but the weather was good and cold enough to not get much sweat. So finally, after stopping at many points and then slowly trekking we reached to Chandrashila peak, where a small temple made up of Stone is situated, where we pay visit and prayed and then started wondering.
We took photographs, made some videos of our group and also of amazing views and stayed there for about an hour. It was an amazing experience to reach top of the hill and the views from there was also mesmerizing. You can see the given photographs we took from there.
After that we started to return back to Chopta, it took us about more than 1 hours to trek back to Chopta. We were group of peoples, so some were reached early at Chopta, but as I was reach last to the Chopta but one thing happened, the person who reach early than us had to pay 200/- entry fees at the check post, because they were stopped by the forest official, but when we reached no one stopped us and we didn't pay the fees.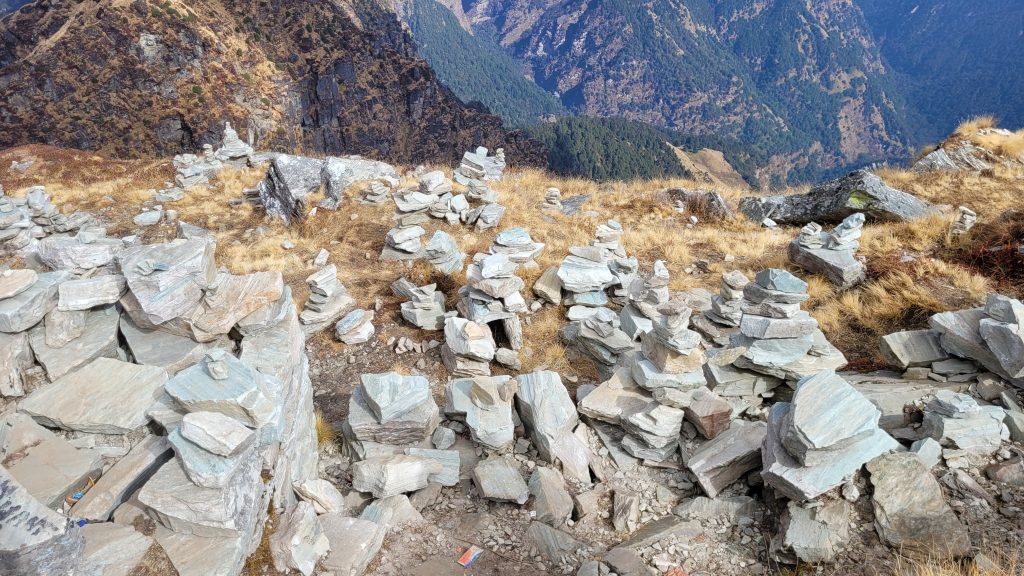 actually, it was not our intentions to not pay the fees, but we didn't know about this when we started to trek there but once we reached to Chopta at market, our group persons who reached early told us that about the fees, then only we knew they was charging entry fees.
So, after that we had some snacks at market and we were tired, so we took our car and then started our return journey and once we sit in the car, we all started to deep sleep till we reach Rudraprayag, where we had our lunch and then we return back to Haridwar.
So, this was our journey to Chopta Tungnath Chandrashila Trekking points and it was amazing and beautiful. If you are also planning to visit these places, then you can also send us query and tell us about your journey dates. We will plan a perfect trip for you.
For more you can email us at gokeysindia@gmail.com, helpdesk@gokey.in