Bageshwar is a small town located in the Kumaon Hills and also the municipal board in Bageshwar district. It is known for various ancient temples, Scenic beauty and amazing views of Snowcapped Mountains.  Bageshwar is situated at the confluence of Saryu and Gomti River and surrounded by Bhileshwar and Nileshwar mountains in east and west.
Bageshwar is particularly known for the ancient temples also known as Jageshwar Temples. You can see here the ancient temples and check out the design is different from modern architecture. The local language of here is Kumauni and Hindi. The place Bageshwar got its name after the Bagnath temple here.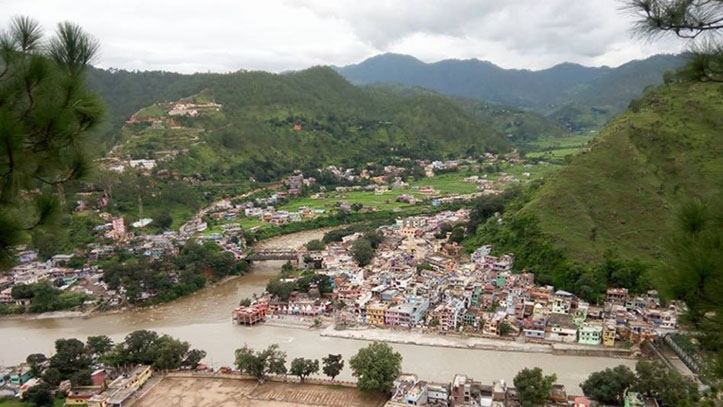 Bageshwar Travel Guide, Tourist Information
Bageshwar is located at the height of 960 meters above from sea level and it is holy town you can plan a trip with your family to here. The Bagnath temple of Bageshwar is mentioned in the Mansakhand of Shiva Puranas.  The Bagnath temple is dedicated to Lord Shiva and you can visit the temple during Shivratri and take blessings of Lord Shiva.
Apart from Holy town it is also the starting place of great trekking routes to Himalayas which reaches to Pindari, Kafni and Sunderdunga glaciers.
Weather in Bageshwar:-
During January to February its cold here, you can think of below 5 degree temperature and you can plan accordingly a trip to Bageshwar.
From March to April, the temperature rises during day time but still cold in night, but it is also a great time to explore Kumaon.
May-June is great weather and generally hot days you can plan a trip to Bageshwar in these months.
July-August is monsoon and its heavy rain fall sometime, so avoid during snowfall.
Sept- Oct is one of the best time to visit any hill station in Uttarakhand because of less rush and great time to explore the Hills.
Nov-Dec is generally cold days in the Bageshwar and you can plan a trip to Kumaon to see snowfall.
Best time to Visit Bageshwar:-
You can visit Uttarakhand Hills anytime in the year but the best time to visit Bageshwar is April to June and Sept to Oct month because of great and pleasant weather and you can see many amazing places nearby.
How to Reach:-
By Air: – The nearest airport to Bageshwar is Pantnagar Airport, which is located at a distance of 206 Km. You can take a bus or cab from Pantnagar airport to reach here,
By Train:- The Nearest rail head is Kathgodam Railway Station from here, which is located at a distance of 190 Km. There are local taxis and buses from Kathgodam railway station to reach here.
By Road: – Bageshwar city is well connected with Roads transport from major cities and you can easily drive here.  You can also take a Bus from Delhi ISBT to Bageshwar.
Nearby City Distance from Bageshwar:-
Where to Stay in Bageshwar:-
There are many good accommodation options available in the Bageshwar to stay. There are many good hotels, Lodge, Guest Houses are available here, as well as you can book the Kumaon Mondal Vikash Nigam Tourist rest house from their official website.
What to Eat in Bageshwar:-
You can take taste of local cuisine here because there are many good restaurants and local Dhabas where you can eat food and taste the north Indian food and also explore some different cultural food here. The Dhabas are cheap here and food is very tasty.
So that's the little information about Bageshwar and you can check out this Travel guide to plan a trip to Kuamon Hill Station during your holidays. This is a great place for spirituality and leisure, so what are you waiting for, just send us your query of your travel plan and our experts will make a best travel package for you.