Almora is known as the Cultural capital of Kumaon Uttarakhand. It is a good hill station located in the Kumaon hills of Uttarakhand state at the elevation of 1642 Meters above from sea level. It is one of the perfect places to spend your holiday trip in the Uttarakhand Himalayas. It is also a district in Uttarakhand.
Almora Tourist Places in Uttarakhand | Almora Travel Guide
It is nested in Himalayas of Uttarakhand Almora offers various beautiful places to explore. You can plan a trip to Kumaon and you should add this place in your list.
Almora is surrounded by Oak and pine trees that make it more beautiful, it spread over 5 Km and you won't be disappointed while visiting here. The Snowcapped mountains view from the city is also mesmerizing.
You must know about the famous Nanda Devi Rajjat and for your information you can visit the Nanda Devi Temple here.
Almora was founded by Chand Kings who ruled over the Kumaon for many year and its details also founded in Mahabharata that people came to settle here and nearby places during the 8th 9th century BC. Almora was earlier known as Rajapur but after the Chand King Bhishm Chand was crowned it changed its name to Alamnagar but the names were also not taken further.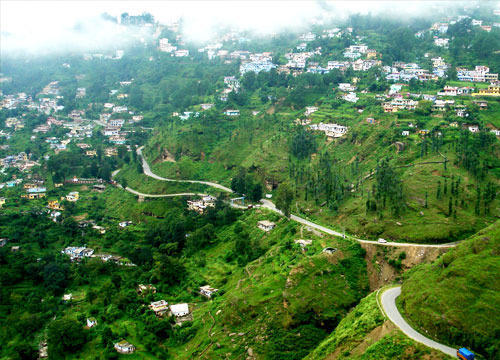 The name Almora came from "Kilmora" a small tree with thorns and purple sweet and sour fruits founded in Uttarakhand hills was used to wash utensils at Sun Temple at Katarmal. The people who were bringing the Tree were called Kilmori/Almori and then the place becomes Almora from that.
Weather in Almora
Almora is located in the Kumaon Himalayas, so the weather is always amazing. You will feel the cold winds coming from the Himalayan peaks during the morning and evening as well as the day temperature is also good to walk through the town and nearby places.
During summer season from April to June the temperature goes to 12-28 degree Celsius, the sun is brighter during the day but cold evening will fascinate your mind.
After that July and August is famous for Monsoon season and the temperature goes further down and pleasant, so you can enjoy in the rain showers in Almora.
After October month the weather in Almora changes to cold and during day time you will feel the cold wind and for evening and morning you would have to wear warm clothes.  During January February you can enjoy the Snowfall here and very cold weather.
Why Visit Almora?
There are many attractions and things to do in Almora like Trekking, Hiking, Sightseeing, Temple Darshan, Bird Watching and Photography. The 200 hundred year old Lal Bazzar of Almora is one of the famous attractions to check out in Almora. You can buy some local traditional items from this market.
The Sun rise and Sun set point at Bright End Corner is amazing and you can start your day while seeing the amazing sun rise here.
The rich species of various trees and plants makes an amazing surrounding through the town and nearby places.
Almora is famous for panoramic views of Snowcapped Mountains, rich cultural heritages and amazing delicious food.
Take a bite of Almora own famous sweet Bal Mithai.
Best Time to Visit Almora:-
Almora is open for tourists throughout the year; you can visit here in any season. The weather of Almora is always good and mind fascinating, if you want to see snowfalls and want play with snow it's better to visit during winter in January and February. If you want to visit a place away from cities crowd during the summer months then you can come to Almora and spend some days here.
How to Reach Almora:-
By Air: – The Nearest Airport is Pantnagar which is located at a distance of 115 Km from Almora. You can take flight from Delhi and then take a local taxi form there to reach Almora.
By Trains: – Kathgodam Railway Station is the nearest rail head to Almora, which is located at a distance of 83 Km.  There are trains available to Delhi and Haridwar and Dehradun from Kathgodam.
By Roads: – Almora is well connected with Roads transport and can be reached by drive from Delhi. You can also take Buses from Delhi ISBT to Almora at budget price.
Where to Stay in Almora:-
There are many good hotels and guest houses available in Almora to accommodate tourists. All types of travelers from Luxury to Budget can easily find a good accommodation in Almora. You can also go with KMVN Tourist rest house (A state Govt. hotel) and book it through their official website.
What to Eat in Almora?
All the Indian and some Chinese dishes are available in various restaurants and cafes in Almora. You can also test the local foods at the Dhabas and restaurants in Almora market. The north Indian dishes are mainly you can avail at any restaurant and Dhabas in Almora.
Route Map of Almora and Distance from the Nearby Cities:-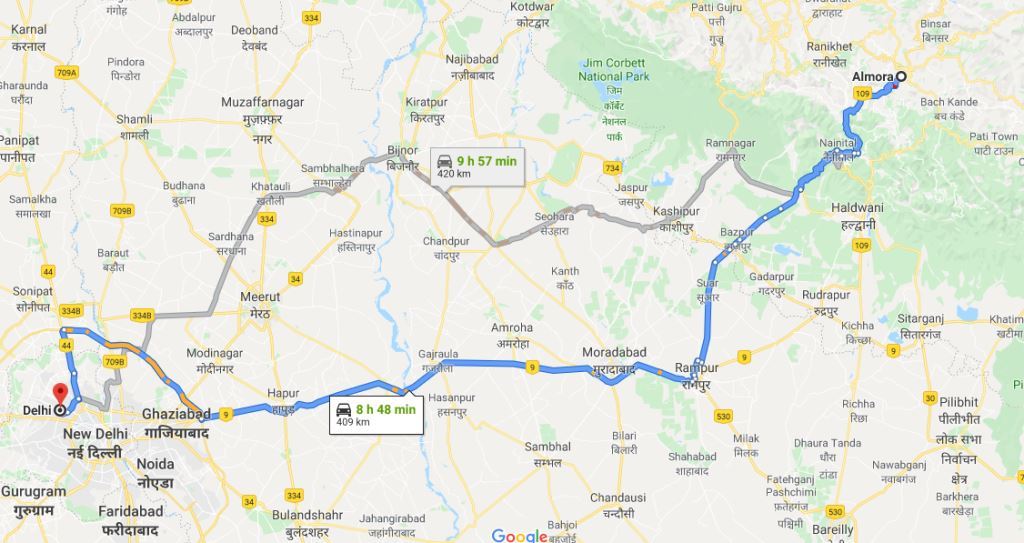 The distance of Delhi to Almora by roads is 409 Km which takes around 11-12 Hours to reach. Nainital is located at a distance of 78 Km, Pithoragarh at 115 Km, Kathgodam at 83 Km and Haridwar at a distance of 300 Km.
So that's the information about Almora Travel Guide and how you can plan a trip to Almora. You can also share your thoughts about Almora in below comment sections.  As well if you are thinking of Almora trip just let us know and we will customize a Kumaon trip package for your with best deal and better support.