Welcome to a transformative journey of faith and devotion, where the majestic Himalayas cradle ancient temples, and the spiritual aura permeates the air. Our exclusive Chardham Yatra packages from Delhi offer you the chance to embark on a soul-stirring pilgrimage to the four sacred abodes – Yamunotri, Gangotri, Kedarnath, and Badrinath. Let the divine call guide you as we curate an unforgettable itinerary that combines reverence, adventure, and serenity.
Char Dham Yatra is one of the most visited sacred places in Uttarakhand and India. So, if you are planning a trip to Chardham Yatra from Delhi then you can check out the below given details and send us your query to make a perfect spiritual trip for you.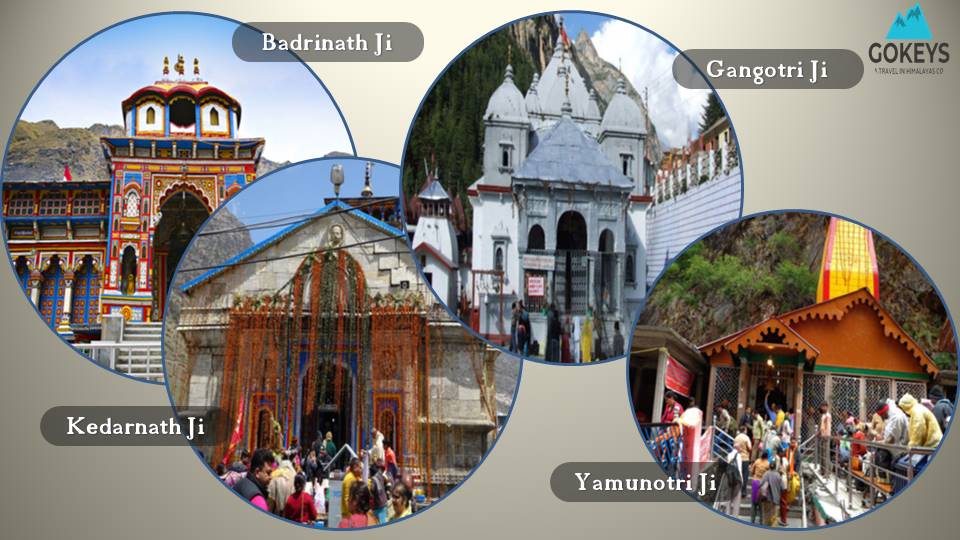 Chardham yatra Packages from Delhi for 11 Days with All Sightseeing
Yamunotri: Begin your sacred expedition of chardham yatra packages from delhi and start with Yamunotri, the birthplace of the holy river Yamuna, the daughter of God of Death Yama. Nestled amidst the breathtaking Garhwal Himalayas, this tranquil town houses the Yamunotri Temple. Immerse yourself in the soothing hot springs (Tapt Kund) and be captivated by the pristine beauty of the Yamunotri Glacier. Our package ensures a seamless journey to this divine haven.
Read more about: Yamunotri Dham
Gangotri: The revered town of Gangotri awaits, where the holy Ganga River originates. Seek blessings at the Gangotri Temple, dedicated to Goddess Ganga Ji, a stone's throw away from the Bhagirathi River. The picturesque landscapes and refreshing climate create the perfect backdrop for your spiritual introspection.
Read more about: Gangotri Dham
Kedarnath: As you ascend to Kedarnath, let the breathtaking landscapes awe you. The Kedarnath Temple, dedicated to Lord Shiva, perched at an altitude of 3,583 meters, beckons devotees and trekkers alike (trekking route of 20 Kms). Our expertly designed packages ensure your comfort and safety, allowing you to focus solely on your spiritual quest.
Read more about: Kedarnath Dham
Badrinath: Concluding your pilgrimage is the iconic Badrinath Temple, dedicated to Lord Vishnu. Surrounded by the Nar and Narayana Mountain ranges, Badrinath offers not only a divine experience but also a chance to soak in the Himalayan grandeur. Our packages cater to your every need, ensuring a seamless and enriching journey.
Read more about: Badrinath Dham
Why Choose Our Chardham Yatra Packages from Delhi?
Expert Guidance: Our experienced guides accompany you throughout the journey, providing spiritual insights and historical knowledge.
Comfortable Accommodation: Rest in comfort after your soul-stirring expeditions, with handpicked lodgings that combine modern amenities with local charm.
Safe Transportation: Travel in safety and style with our well-maintained vehicles and skilled drivers, ensuring a smooth and secure journey.
Customized Itineraries: Tailor the pilgrimage according to your preferences, whether you seek a more leisurely exploration or an adventurous trek.
Spiritual Fulfillment: Immerse yourself in the profound spirituality of the Chardham sites, where your devotion will find its truest expression.
Chardham Yatra Packages from Delhi Tour Itinerary
Day 1: Delhi to Haridwar
Depart from Delhi in a comfortable, air-conditioned vehicle.
Arrive in Haridwar, a city steeped in spirituality and the gateway to the Char Dhams.
Witness the mesmerizing Ganga Aarti at Har Ki Pauri.
Day 2: Haridwar to Barkot
Begin your journey to Barkot, the base for Yamunotri.
En route, visit Mussoorie, the 'Queen of Hills.'
Rest and rejuvenate in Barkot for the upcoming spiritual adventure.
Day 3: Barkot to Yamunotri and Back
Early morning departure for Janki Chatti.
Trek or ride a pony to Yamunotri Temple (5-6 Kms one side), dedicated to Goddess Yamuna.
Bathe in the natural hot springs and seek blessings before returning to Barkot.
Day 4: Barkot to Uttarkashi
Head to Uttarkashi, known for its religious and historical significance.
Visit the Kashi Vishwanath Temple and experience the town's serene ambiance.
Day 5: Uttarkashi to Gangotri and Back
Drive to Gangotri, the source of the holy Ganga River.
Visit the Gangotri Temple and offer your prayers.
Return to Uttarkashi and explore the local attractions.
Day 6: Uttarkashi to Guptkashi
Depart for Guptkashi, your stopover before Kedarnath.
Witness the confluence of rivers Mandakini and Alaknanda at Rudraprayag.
Day 7: Guptkashi to Kedarnath
Drive to Sonprayag and trek or take a helicopter to Kedarnath.
Attend the mesmerizing evening aarti at Kedarnath Temple.
Day 8: Kedarnath to Guptkashi
after morning prayer trek back to Sonprayag and drive back to Guptkashi.
Spend a peaceful evening amidst the picturesque surroundings.
Day 9: Guptkashi to Badrinath
Head to Badrinath, the final destination of the Chardham Yatra.
En route, visit Joshimath, home to Adi Shankaracharya's math (Jyotirmath).
Day 10: Badrinath to Mana and Back
Attend the Badrinath Temple's morning aarti.
Visit Mana Village, India's last village (now first village) before the Tibet border.
Explore the sacred Tapt Kund and experience the divine tranquility.
Day 11: Badrinath to Delhi
Depart from Badrinath and commence your journey back to Haridwar.
After arriving at Haridwar, visit the Ganga aarti and travel back to Delhi overnight.
Reflect on the spiritual journey and cherish the memories made.
Sightseeing to visit during the Chardham Yatra packages from Delhi.
Rishikesh: Begin your journey in the tranquil town of Rishikesh, renowned as the 'Yoga Capital of the World.' Nestled on the banks of the Ganges River, Rishikesh offers an array of ashrams, yoga centers, and spiritual retreats. Immerse yourself in yoga and meditation practices, witness the evening Ganga Aarti, or explore the Laxman Jhula and Ram Jhula suspension bridges.
Haridwar: As the gateway to the Chardham Yatra, Haridwar boasts an unparalleled spiritual aura. Participate in the Ganga Aarti at Har Ki Pauri, visit the Chandi Devi and Mansa Devi temples, and experience the tranquility of the Ganges ghats.
Mussoorie: En route to Barkot, take a detour to Mussoorie, the 'Queen of Hills.' Enjoy panoramic views of the Himalayas, stroll along Mall Road, and visit Kempty Falls for a refreshing break.
Uttarkashi: Beyond Gangotri, Uttarkashi offers the Nehru Institute of Mountaineering and the historic Kashi Vishwanath Temple. Immerse yourself in the local culture and witness the traditional craftsmanship.
Auli: Near Badrinath, Auli is a haven for adventure enthusiasts. Engage in skiing, trekking, and cable car rides while soaking in stunning vistas of snow-clad peaks.
Valley of Flowers: For nature aficionados, a side trip to the Valley of Flowers is a must. Located near Badrinath, this UNESCO World Heritage Site boasts a vibrant tapestry of alpine flowers during the blooming season.
Hemkund Sahib: An alpine lake surrounded by seven peaks, Hemkund Sahib is a revered Sikh shrine near Badrinath. Embark on a trek to this sacred site, which is also a hotspot for botanical enthusiasts.
Chopta: Known as the 'Mini Switzerland of India,' Chopta offers splendid meadows and pristine beauty. The Tungnath Temple trek starts from here and rewards you with breathtaking views.
Mana Village: Adjacent to Badrinath, this charming village is known for its unique culture and proximity to the Himalayan landscapes. Don't miss the opportunity to visit Vasudhara Falls and the Vyas Gufa.
Dehradun: On your return journey to Delhi, consider exploring Dehradun. Visit the Robber's Cave, Tapkeshwar Temple, and the picturesque Sahastradhara Waterfalls.
Precautions and Majors to take while visiting Chardham yatra packages from Delhi
We understand the importance of ensuring a safe, comfortable, and enjoyable pilgrimage experience for families with children and seniors on the Chardham Yatra. Here are some essential precautions and measures to consider when planning the trip:
Health Check and Medical Kit:
Before the journey, consult a medical professional to ensure everyone's physical fitness for the trip.
Carry a well-stocked medical kit with essential medications, first aid supplies, and any prescribed medications for seniors.
Acclimatization:
Gradually acclimate to the altitude to prevent altitude sickness. Spend a day in Haridwar or Rishikesh before proceeding to higher altitudes.
Stay hydrated and avoid strenuous activities during the initial days.
Accommodation:
Choose accommodations that offer comfortable and accessible facilities for seniors and children.
Prioritize clean and hygienic rooms with amenities that cater to diverse age groups.
Transportation:
Opt for well-maintained vehicles with experienced drivers who are accustomed to the hilly terrain.
Ensure the availability of vehicles with seating arrangements suitable for children and seniors.
Trekking and Walking:
If planning to trek, choose manageable routes that are suitable for children and seniors.
Arrange for mules or palanquins to assist those who may find trekking challenging.
Rest Stops and Breaks:
Plan regular breaks during travel to allow children and seniors to rest, stretch, and use restroom facilities.
Schedule longer breaks during the journey to minimize fatigue.
Dietary Considerations:
Accommodate dietary preferences and restrictions of both children and seniors when arranging meals.
Prioritize clean and hygienic eateries to avoid any health issues.
Weather Precautions:
Pack appropriate clothing for varying weather conditions, including warm clothing, rain gear, and sun protection.
Keep children and seniors well-covered to protect against temperature fluctuations.
Professional Guides and Assistants:
Hire knowledgeable guides who can provide historical and spiritual insights while ensuring everyone's safety.
Consider having additional assistants for seniors who may require extra support.
Travel Insurance: – Purchase comprehensive travel insurance that covers medical emergencies, trip cancellations, and unforeseen events.
Flexibility in Itinerary: – Design a flexible itinerary that allows for adjustments and rest days if needed. – Be prepared to alter plans in case of unforeseen circumstances or health concerns.
Communication: – Keep open communication with all members of the group to address any discomfort or issues promptly. – Have a designated point of contact in case of emergencies.
By prioritizing these precautions and taking necessary measures, you can ensure a memorable and harmonious Chardham Yatra experience for families with children and seniors. Your journey will not only be spiritually enriching but also a testament to the bond that generations share in exploring the divine Himalayan abodes together.
So, this is the details of our Chardham Yatra packages from Delhi where you can visit all sightseeing, Chardham temples with our perfect tour itinerary. If you want to customize our tour packages then you can tell us or mail us at gokeysindia@gmail.com, helpdesk@gokeys.in