Nestled within the captivating Garhwal Region, Pauri in Uttarakhand stands as a testament to nature's sheer magnificence. A haven of untouched natural beauty, this destination is renowned for its exceptional landscapes and unique charm. Its allure lies in the lush forests, majestic snow-clad peaks, cascading waterfalls, and revered spiritual sites that together create a picturesque tapestry. Like a hidden gem waiting to be uncovered, Pauri invites travelers to embrace its unparalleled beauty and revel in its treasures. Let's embark on a journey to Pauri, where the soul meets serenity.
Explore the Enchanting Beauty of Pauri, Uttarakhand: A Nature Lover's Paradise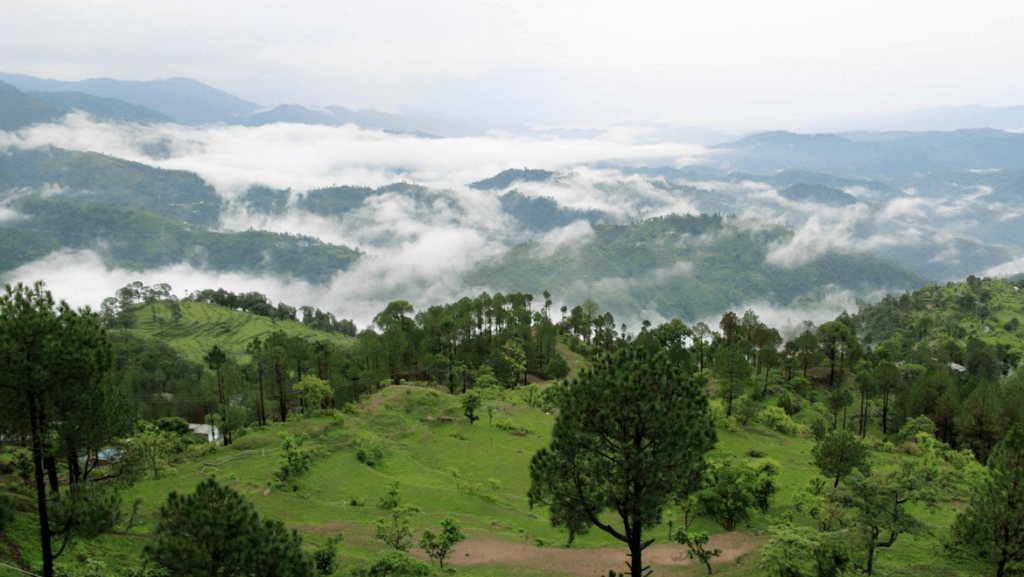 Pauri District, a prominent gem of Uttarakhand, sits at an elevation of 1785 meters above sea level, embraced by the gentle slopes of the Kandoliya Hills. This elevation draws in countless visitors, making it a sought-after destination. Among the prominent hill stations in Uttarakhand, Pauri offers a glimpse of the awe-inspiring Himalayan Peaks, including Swargarohini, Bander Poonchh, Thaliyasagar, Sumeru, Kedarnath, Neelkanth, Chaukhamb, Nandadevi, Hathiparvat, and Trishul. Witnessing the sun's embrace as it sets behind these majestic summits is a spectacle of unparalleled grandeur. The treasures to explore in Pauri seem endless.
At the heart of Pauri, the town beckons with key attractions such as the serene Danda Nagraja Temple, the divine Kandoliya Temple, and the tranquil Buda Bharsaar Temple. Yet, Pauri's charm stretches beyond its core. The district is adorned with captivating sites like the quaint Khirsu Village, the revered Kyunkaleshwar Mahadev Temple, the breathtaking Chaukhamba Viewpoint, and the mighty Ramganga Dam.
Venture further, and you'll find the revered Binsar Mahadev, a spiritual sanctuary located roughly 114 km from Pauri. The captivating Kanvashram, nestled on the banks of the Malini River, captivates visitors with its tranquil allure. Amidst all this, Adwani, a quaint village just 17 km away from Pauri, offers a peaceful escape, perfect for relaxation and introspection. Here, picturesque landscapes invite picnics, and nature's beauty is at its unadulterated best.
For the adventurous souls, Pauri offers more than meets the eye. Trekking and camping enthusiasts find their haven here, with a plethora of options like the Binsor-Gairsain trek and the Doodhatoli trek. These trails weave through nature's canvas, promising exhilarating experiences and unforgettable memories. And for those with a love for angling, Beas Ghat presents an alluring fishing spot, a perfect pastime for those seeking leisure by the waterside.
Our guide to Pauri Garhwal is a trove of valuable insights, designed to elevate your travel experience. It's an indispensable companion for those who seek to immerse themselves in the beauty and serenity of Pauri. Additionally, Tour My India offers meticulously crafted holiday packages that promise a vacation like no other. These packages ensure that your journey to Pauri is seamless and truly exceptional, allowing you to savor every moment of this enchanting escape.
Discover the Perfect Time to Explore Pauri Garhwal's Natural Beauty
Embrace the Enchanting Summers: When the sun warms the land, Pauri comes alive with its summer charm. Situated at an altitude of 1650 meters, the destination remains comfortably cool, with temperatures ranging between 20 and 30 degrees Celsius. Exploring Pauri's wonders during the evening is a delight, and a light woolen layer is the perfect companion.
Monsoon: A Symphony of Rain and Nature: As the monsoon clouds gather, Pauri experiences a gentle shower of nature's blessings. The destination comes to life with periodic rain showers that enhance its natural beauty. The temperature dances between 15 and 25 degrees Celsius, making the surroundings even more enchanting for those who love the rain-kissed scenery.
Embrace the Crisp Winters: When winter descends upon Pauri, a magical transformation takes place. The destination adorns itself with a blanket of snow and a crisp chill in the air. Temperatures gracefully range from 0 to 15 degrees Celsius, inviting you to experience the unique charm of winter in the hills. This season unveils a different side of Pauri's allure, painting the landscape in hues of serenity.
The Best Times to Visit Pauri: While every season brings its own magic to Pauri, there are two prime periods that stand out. From March to June, the destination basks in the gentle warmth of spring, making it an ideal time for explorers seeking pleasant weather. Alternatively, September to October ushers in a touch of autumn, offering another window to experience Pauri's beauty.
Plan Your Perfect Pauri Getaway: As you plan your journey to Pauri, consider the seasons that resonate with your heart. Whether you're drawn to the vibrant summers, the refreshing monsoons, or the serene winters, Pauri promises an experience unlike any other. Feel the embrace of Uttarakhand's beauty and embark on a journey that will linger in your memories for years to come.
Unveiling the Best Tourist Spots near Pauri Garhwal for Memorable Getaways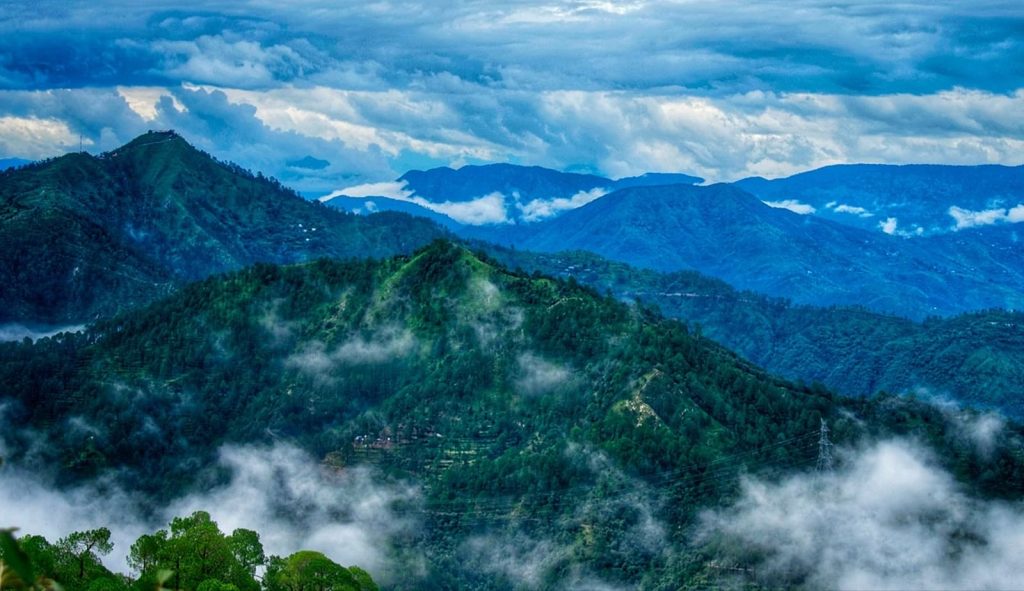 A Tranquil Abode at Tarkeshwar Mahadev Mandir:
Nestled amidst towering cedar and pine trees, the Tarkeshwar Mahadev Mandir stands as a serene haven. Dedicated to Lord Shiva, this temple offers a tranquil escape in the lap of nature. Located in Lansdowne, a mere 82 km from Pauri City, this spiritual gem enchants with its peaceful ambiance.
Exploring History at Garhwali Museum:
Lansdowne unveils another gem in the form of the Garhwali Museum. This attraction is a treasure trove of the Garhwal Regiment's artifacts, giving visitors a glimpse into the district's historical significance. Immerse yourself in the rich heritage of the region through this museum's captivating exhibits.
Seek Blessings at Kaleshwar Temple:
Around 41 km from Kotdwar, the Kaleshwar Temple beckons with its divine aura. Dedicated to Lord Shiva, this temple is more than just a spiritual site—it also houses the Samadhis of numerous revered sages. Pay a visit to this temple to experience its sacred tranquility.
Wildlife Wonders at Jim Corbett National Park:
Stretching between Nainital and Pauri districts, the Jim Corbett National Park stands as a testament to India's rich biodiversity. This haven is famed for its diverse flora and fauna, including the majestic Royal Bengal Tigers. A wildlife enthusiast's paradise, it promises thrilling encounters with nature's finest creations.
Encounter Nature's Majesty at Rajaji National Park:
Encompassing a sprawling 820 sq. km, Rajaji National Park extends its embrace across Dehradun, Haridwar, and Pauri Garhwal districts. A sanctuary for elephants and tigers, it holds a vital role in wildlife conservation. This park offers the perfect setting for a captivating wildlife tour, immersing you in the beauty of Uttarakhand's natural wonders.
Unveiling the Best Activities in Pauri Garhwal for a Memorable Getaway
Step into Adventure with Trekking: For those with an adventurous spirit, Pauri Garhwal holds the promise of exhilarating treks. If the thrill of conquering heights excites you, the Dudhatoli and Gujrugarhi treks are calling your name. These trails not only challenge your limits but also reward you with breathtaking vistas that make every effort worthwhile.
Reconnect with Nature through Fishing: Indulge in a leisurely escape with one of the region's most cherished recreational activities—fishing. Cast your line into the Nayar River, a serene tributary of the Ganga River that meanders through Pauri Garhwal. As you wait for a gentle tug, the tranquility of the surroundings soothes your mind and rejuvenates your spirit.
Picnic Amidst Nature's Embrace in Khirsu: Located just 43 km away from Pauri, the hilly village of Khirsu beckons as a peaceful haven for families and friends seeking an idyllic retreat. Here, amongst the sprawling Oak and Deodar trees, you'll discover the perfect setting for a picnic. The serene ambiance and breathtaking views create a small paradise for nature enthusiasts and those who cherish romantic getaways.
Add-On: Explore Local Cuisine: While engaging in these activities, don't miss the chance to savor the flavors of Pauri Garhwal. The region's local cuisine offers a delightful journey for your taste buds. From traditional Garhwali dishes to mouthwatering local treats, every bite tells a story of the region's rich cultural heritage.
Easy Ways to Reach Pauri Garhwal: Your Guide to Seamless Travel
Embrace Convenience by Air: If you're looking for speed and comfort, consider flying to the nearest Domestic Airport, Jolly Grant Airport in Dehradun. Just about 130 km away from Pauri city, this airport offers a convenient starting point. Once you land, grab a taxi or hop on a state-run bus to complete your journey to Pauri.
Travel by Rail: Prefer the charm of train journeys? The nearest railway station to Pauri is Kotdwara, located around 101 km away. Once you disembark, the rest of your trip can be easily covered with a hired cab or a local bus, ensuring a seamless transition to your final destination.
Effortless Roadway Connections: For a flexible and scenic journey, hitting the road is a fantastic option. Pauri is nestled on NH 119, making it accessible via a network of public and private buses. These buses conveniently ply from various major cities, including Delhi, ensuring that your journey is comfortable and enjoyable.
More Than One Route: For those arriving by train, a smart choice is to board buses from Haridwar to reach Pauri. This route adds a touch of adventure to your travel, allowing you to soak in the sights as you make your way to your destination.
Add-On: Unwind and Explore: As you travel to Pauri Garhwal, consider extending your journey by exploring the charming towns and landscapes that lie along the way. Uttarakhand's beauty knows no bounds, so why not make the most of your travel experience?
So, if you are planning a trip to Pauri Garhwal and want to explore various places Like Khirsu, Lansdowne, Dudhatoli Ranges and more than you can send us query at gokeysindia@gmail.com, helpdesk@gokeys.in. You can also directly contact us via phone numbers and tell us about your query, and we will make a perfect holidays trip for you.