Bhimtal Lake is located near Nainital is one of the biggest lakes in Uttarakhand and also 2nd largest lakes in Uttarakhand after Tehri Lake. Bhimtal lake is situated at the elevation of 1375 meters above from sea level and have a total catchment area of 17.12 Sq. Kms. As of now the lake is become tourist attraction and having a fish aquarium on the lake.
Bhimtal Lake is like a calm and quiet place in the beautiful hills of Kumaon in Uttarakhand. It's a special spot to relax and escape from the busy city life. The lake is so clear and nice, surrounded by green trees. There are many fun things to do there. We'll talk about how to get there, the best time to visit, cool things to do, where to stay, and more.
Bhimtal Lake: Nainital Uttarakhand
How to Reach Bhimtal:
You can easily reach Bhimtal from big cities and towns in Uttarakhand. The closest train station is Kathgodam, which connects to places like Delhi and Dehradun. From Kathgodam, Bhimtal is about 22 kilometers away. You can take a taxi or a local bus to the lake. If you're flying, Pantnagar Airport is the closest, about 58 kilometers from Bhimtal or you can drive from Delhi/ Dehradun or Haridwar to reach here and enjoy your holidays.
Best Time to Visit Bhimtal Lake:
The best time to visit Bhimtal is from March to June when the weather is nice for outdoor activities. Another good time is after the rainy season, from September to November, when the air is fresh, and you can see the lake and around it very clearly.
Check Out: Best Kumaon Trip for 5 Days
Places Nearby to See:
Naukuchiatal: Not far from Bhimtal about 7 Kms, there's a cool lake called Naukuchiatal. It has nine corners and is really pretty. You can go boating, watch birds, and have a picnic by the lake.
Sattal: Sattal is great for people who love nature. It's a group of seven connected lakes, each with its own special beauty. You can see lots of different plants and animals here and take a nice walk. It is about 12 Kms from Bhimtal Lake.
Hanuman Garhi: This is a special temple for Lord Hanuman. You can see the whole Bhimtal from there, and it's very peaceful and beautiful. The temple is around 23 Kms from Bhimtal, so you can drive while your trip to Uttarakhand.
Nainital Lake: You have must heard about Naini Lake which is very famous throughout India. So, if you are visit the Nainital you can see all the lakes of Nainital which is also known as Lake City of India.
Check Out: Nainital Tour Packages
Fun Things to Do in Bhimtal Lake:
Boating: You can ride colorful paddle boats or rowboats on the peaceful lake and enjoy the quietness around you.
Nature Walks: Take easy walks by the lake, breathe in the fresh mountain air, and look at all the green trees.
Aquarium Visit: There's a really cool aquarium in Bhimtal with lots of different kinds of fish. It's a fun place for families and kids to learn about fish.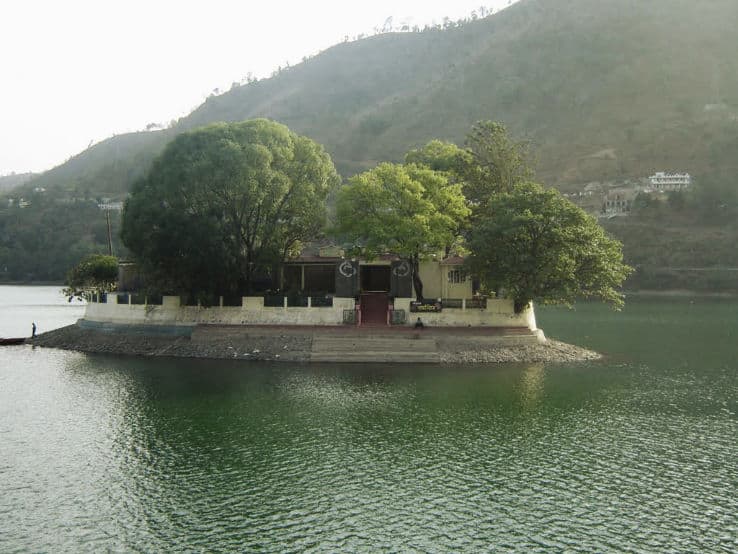 Where to Stay near Bhimtal Lake:
Bhimtal has many different places to stay. You can choose a cozy guesthouse with an old-fashioned feel or a fancy resort with a view of the lake. There's something for everyone, also you can stay in Nainital or Pangot because there so many accommodations options where you can enjoy your stay with best delicious food.
So, Bhimtal Lake is a calm and peaceful place for people who want a break from their busy lives. The pretty views, water activities, and nearby places to visit make Bhimtal a great destination. Leave the noise of the city behind, pack your bags, and go have a relaxing time in Bhimtal – you'll make memories that will stay with you forever.
Now if you are planning a trip to Uttarakhand and want to explore some amazing places then you can opt for Bhimtal Lake which is located in Nainital, and you can also visit many other nearby places. For Booking you can send us query and you can customized the tour package according to your needs.
Thanks.