Embark on a transformative journey through the ethereal landscapes of Tungnath and Chopta, guided by our meticulously crafted Tungnath Chopta 3 days tour from Haridwar. Nestled in the breathtaking Garhwal Himalayas, this expedition promises an escape into the heart of nature's grandeur, where ancient spirituality intertwines seamlessly with awe-inspiring vistas.
Tungnath Chopta 3 Days Tour from Haridwar
As you leave the bustling cityscape of Haridwar behind, the winding roads lead you to Chopta, a hidden gem often referred to as the 'Mini Switzerland of India.' Here, you'll find yourself surrounded by lush meadows, dense forests, and majestic peaks, creating an ambiance of serenity and tranquility. The journey itself is an enchanting experience, with every turn revealing new facets of the region's natural beauty.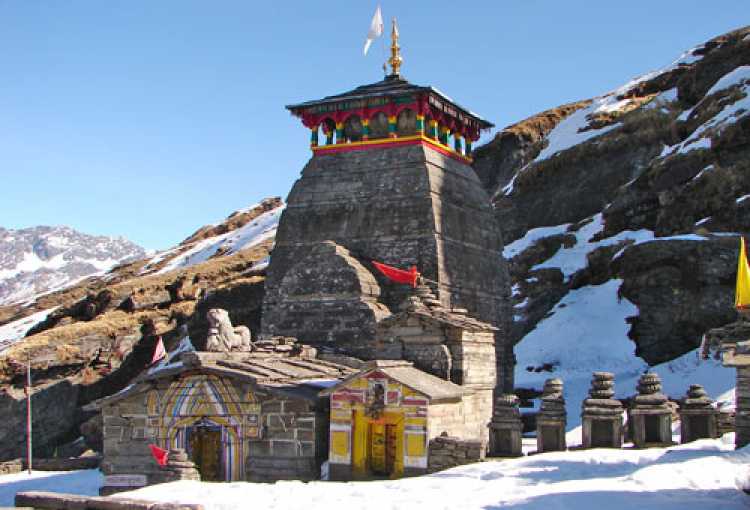 The focal point of this adventure is the revered Tungnath Temple, perched at an altitude of 3680 meters. that makes it the highest Shiva temple globally. The trek to Tungnath is about 3 Kms from Chopta, which is a pilgrimage in itself, as you traverse through ancient forests and meandering paths, absorbing the profound energy that emanates from this sacred site. Upon arrival, the temple's ancient stone architecture stands in stark contrast to the sprawling mountains that serve as its backdrop, creating a scene that is both humbling and awe-inspiring.
Chandrashila in the Tour of Tungnath Chopta
As the golden hues of dawn paint the peaks, you'll ascend further to Chandrashila which is about 3 Kms from Tungnath located at the height of 3690 meters, a vantage point that offers a panoramic view of the Himalayan range, a sight that etches itself into memory forever. The crisp mountain air and the ethereal stillness at this height create a sense of spiritual communion that is both invigorating and calming.
Throughout your journey, our seasoned guides ensure your safety and share insights into the rich history and mythology woven into this sacred land. Comfortable accommodations and delicious meals provide the nourishment needed for every step of the adventure.
Join us on this soul-stirring expedition, where every moment is an invitation to connect with nature's grandeur and timeless spirituality. This Tungnath Chopta 3 Days Tour promises an experience that lingers long after the journey ends, leaving you with memories to cherish and a renewed spirit.
You can check out: Char Dham Yatra Details
Overview
Our 3 days Tungnath Chopta tour from Haridwar is a remarkable journey that blends spirituality and natural beauty seamlessly. Trek to the sacred Tungnath Temple, the highest Shiva temple globally, and witness the awe-inspiring sunrise at Chandrashila. Explore the pristine landscapes of Chopta, often dubbed as the 'Mini Switzerland of India.'
With comfortable accommodations, delicious meals, and expert guidance throughout the tour, you can immerse yourself in this enchanting Himalayan experience worry-free. This tour offers an ideal getaway for both adventure enthusiasts and nature lovers.
Highlights
Trek to Tungnath, the world's highest Shiva temple.
Witness the stunning sunrise from Chandrashila peak.
Explore Chopta, India's "Mini Switzerland."
Immerse in ancient forests and lush meadows.
Immerse in ancient forests and lush meadows.
Merge spirituality with Himalayan splendor.
Capture unforgettable moments in stunning landscapes.