Jyotirlinga is form of Lord Shiva who himself manifested in the form of Linga in the world. There are originally 64 Jyotirlinga mentioned in Shiva Purana (Ancients Sanskrit religious book), but out of these 12 Jyotirlinga are very important with various significance. These Jyotirlinga are scattered in different part of India starts from North to South.
12 Jyotirlinga name, place list, images and information with Map
Jyotirlinga is made of two words in which Jyoti means light and Linga means form of Lord Shiva. So completely it becomes light of Lord Shiva.
Lord Shiva is known for destroyer of evil and Jyotirlingam are representation of Lord Shiva, which is highly revered among the Hindu and worshipped.
So, if you are looking for the 12 Jyotirlinga name, place lists and images with various information then here we are giving you complete details about Lord Shiva 12 Jyotirlinga, where they located, what are the timing of Darshan and Prayer, how you can reach to these sacred places and more.
Legends about Jyotirlinga
As per the Vishnu Purana once Lord Vishnu and Lord Brahma was debating about who is supreme, then Lord Shiva produced a vast pillar of light which scattered in Universe and asked both of them to find the end of the Light in both directions, so both Lords started to find the end but didn't find it. In which Lord Brahma lies about he found the one end, but Lord Vishnu accepted his defeat.
So, lord Shiva then cursed Lord Brahma and said that as you are the creator of Universe but you will not be worshipped and then it is believed that from the infinite light produced by Lord Shiva, Jyotirlinga are appeared in the earth. In India and Nepal there are 64 Jyotirlinga that has known but out of them 12 are considered highly auspicious and holy.
List of 12 Jyotirlinga
Somnath Jyotirlinga Gir, Gujarat
Mallikarujuna Jyotirlinga Sirsailam, Andhra Pradesh
Mahakaleshwar Jyotirlinga Ujjain, Madhya Pradesh
Omkareshwar Jyotirlinga Khandwa Madhya Pradesh
Baidyanath Jyotirlinga Deoghar, Jharkhand
Bhimashankar Jyotirlinga Maharashtra
Ramanathswamy Jyotirlinga Rameshwaram, Tamil Nadu
Nageshwar Jyotirlinga Dwarka Gujarat
Kashi Viswanath Jyotirlinga Varanasi Uttar Pradesh
Trimbakeshwar Jyotirlinga Nasik, Maharashtra
Kedarnath Jyotirlinga Rudraprayag, Uttarakhand
Ghrishneshwar Jyotirlinga Aurangabad Maharashtra
Now we will get to know the each of sacred Jyotirlinga with various details about Legends, how to reach, timing of Darshan and more.
12 jyotirlinga map with states mark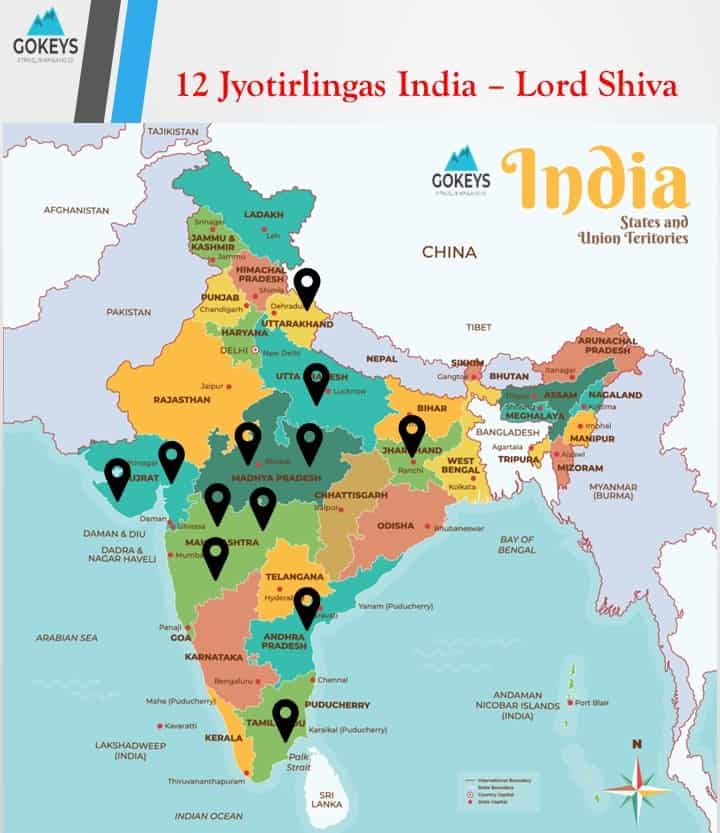 Somnath Jyotirlinga Gir, Gujarat
The first of 12 Jyotirlingas of Lord Shiva is Somnath Dham which is located in the western coast of India in Gujarat state. It is also known as the earliest Jyotirlingas among all the twelve Jyotirlinga in India.
As per the legends, Chandra the Moon God married to King Daksh Prajapati 27 Daughters, but his affection leaned towards Rohini, which caused anger to other queens. So, Daksh Prajapati cursed him which lose the shining of Moon. After that Lord Moon worshipped and prayed to Lord Shiva and then Lord Shiva touched by his devotions gave him blessings and cast away the curse.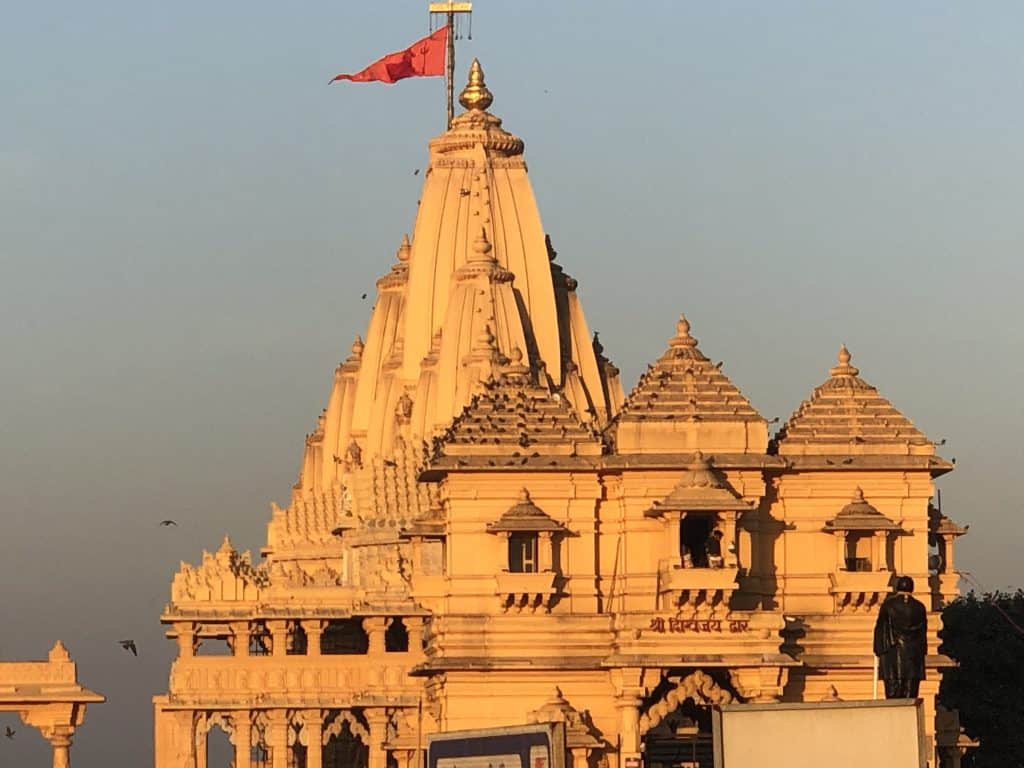 Lord Moon worshipped Lord Shiva in Prabhas Teerth and then also made a golden temple there, later Ravan also made silver temple there.
It is also known in ancient scriptures that Lord Krishna himself graced Somnath with a temple made with Sandalwood.
The temple is and Jyotirlinga also mentioned in various ancient Hindu scriptures.
We have also known that around 27 times foreign invaders also robbed the temple, but still, it is one of the most visited and worshipped temples in India.
After that Independence of India Sardar Patel started restoration work of this temple.
12 jyotirlinga images with name and place
How to Reach Somnath Temple Gujarat:
By Rail: Ahmedabad, a well-connected hub, serves as the gateway to Somnath. Regular train services link Ahmedabad to Somnath, ensuring a smooth journey.
By Road: For rode journey, the distance between Ahmedabad and Somnath is approximately 408 km, making it an accessible and scenic drive.
By Air: If you are flying from various cities of India then you can take a flight to Diu Airport from where it is located at the distance of 85 Kms.
Accommodation:
There are many accommodations options are available near the temple, also Somnath Ji trust is there where you can book an accommodations as best price and also there is VIP Guest house available with economical dormitory as well.
Timings to Remember: Plan your visit with these important timings in mind:
Darshan at Somnath Temple: From 6:00 AM to 10:00 PM, the timing is perfect for Darshan at temple and you can plan accordingly.
Aarti: Join in for the Aarti at 7:00 AM, 12:00 Noon, and 7:00 PM for a truly amazing experience.
Srisailam Jyotirlinga, Andhra Pradesh
Srisailam also known as Mallikarjun Swamy temple, is one of the places which is favourite of Lord Shiva, when asked by Goddess Parvati about his favourite place in the universe, Lord Shiva choose is amazing place which is nested in the nature.
It is also known for one of the twelve Jyotirlinga of Lord Shiva.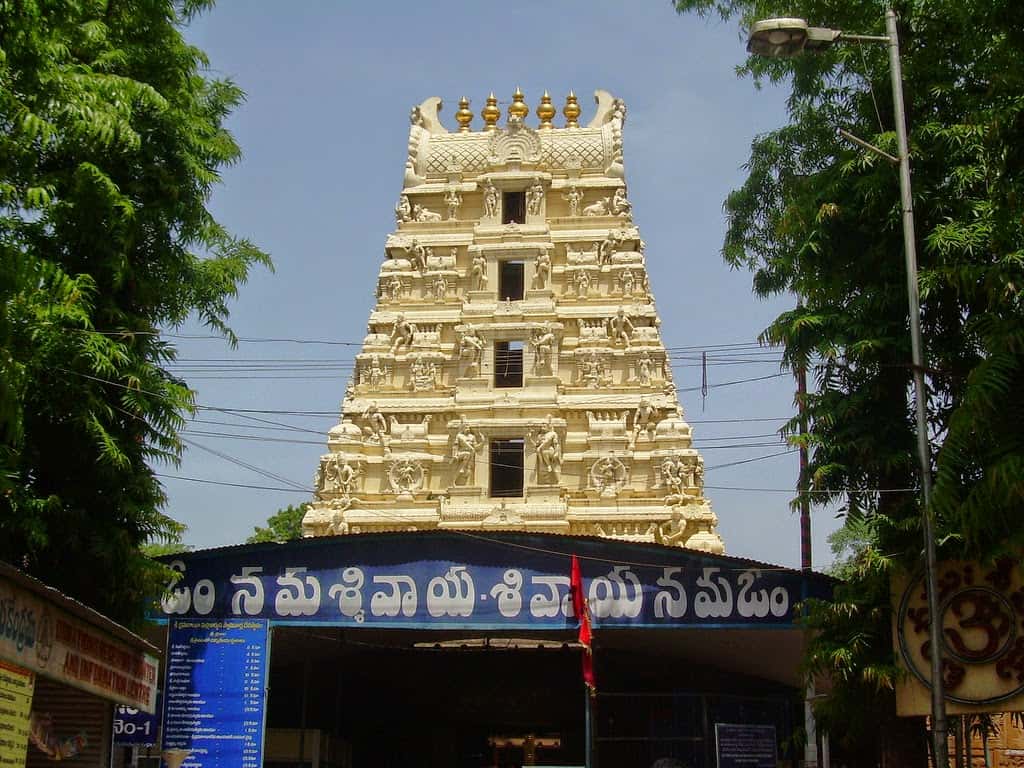 Sri Mallikarjuna Bhramaramba, a manifestation of Shiva and Shakti, showers their blessings on devoted pilgrims at this sacred location. As the home of the sixth Mahashakthi Peetha, Sri Bhramaramba Devi Temple, and the second Jyotirlinga, Mallikarjuna Swamy Lingam, Srisailam has long held special significance in Hindu traditions. Srisailam is a unique pilgrimage destination because of this unusual coexistence.
Temple Timings of Mallikarjun Swamy Temple
Monday to Sunday: 4:30 am – 3:30 pm, 6:00 pm – 9:00 pm
How to reach Mallikarjun Jyotirlinga:
By Road: You can take a bus or taxi from Hyderabad to reach Mallikarjun Temple which is about 214 Kms.
By Air: The nearest airport to temple is Hyderabad, where you can reach from various cities of India like Delhi, Mumbai, Jaipur, Dehradun and more.
By Trains: – Nearest Railway station is Marakpur road, Ongole, Nandyal, from where you can locally taxi and buses to reach Shri Mallikarjun temple in Andhra Pradesh.
Shri Mahakaleshwar Temple Ujjain
One of India's twelve holiest Jyotirlingas, Shri Mahakaleshwar of Ujjain, is a symbol of enduring spirituality. Sun has been used to symbolize it in the poetry of Kalidasa and other renowned Sanskrit poets. Discover the temple's interesting past, stunning architecture, and lore surrounding this revered location.
Meaning of Mahakaleshwar Temple: The significance of the temple is rooted in both its spiritual resonance and historical importance. Lord Shiva, who reigns eternally as Mahakal, the "Lord of Time," has a close link to the city of Ujjain.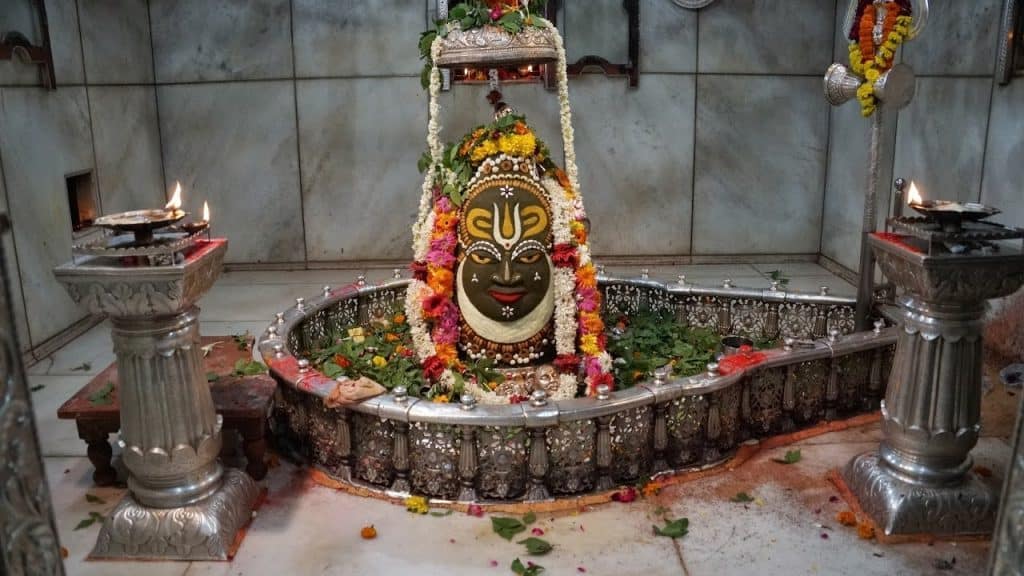 Specifications of the Temple: Learn about the unique qualities of the Mahakaleshwar Temple, such as the swayambhu lingam and the unique dakshinamurti idol. It stands apart from the other twelve jyotirlingas due to these distinctive features.as Maheshwara, and the divine events that led to his manifestation as Mahakaleshwar.
Architecture style of the temple:
Explore the harmonious fusion of Bhumija, Maratha, and Chalukya architectural traditions that adorn this five-story temple in Architecture and Sacred Deities. The sanctified idols of Omkareshwar Shiva, Ganesh, Parvati, Karttikeya, and Nandi can be found inside; each one adds to the temple's purity.
History of Mahakaleshwar Temple:
Explore the fascinating history of the Mahakaleshwar Temple, from its early years under the reign of King Chandrasen to its nineteenth-century renovation by the Scindia family.
Discover the fascinating myths surrounding Mahakaleshwar, also known as Lord Shiva or Maheshwara, and the heavenly occurrences that led to his emergence as Mahakaleshwar.
How to Reach Shri Mahakaleshwar Temple:
By Air: Reach the nearest Devi Ahilyabai Holkar Airport in Indore (53 km) with regular flights from major cities like Delhi, Mumbai, Pune, Jaipur, Hyderabad, and Bhopal.
By Train: Ujjain, with its railway station code UJN, is part of the Western Railway zone. Trains connect Ujjain to various major cities.
By Road: you can avail regular bus services that link Ujjain to Indore, Bhopal, Ratlam, Gwalior, Mandu, Dhar, Kota, and Omkareshwar. Well-maintained roads also connect Ujjain to major cities like Ahmedabad, Bhopal, Bombay, Delhi, Gwalior, Indore, and Khajuraho.
Temple Timings and Rituals:
Darshan: 4:00 am – 11:00 pm
Bhashma Aarti: 4:00 am – 6:00 am
Morning Aarti: 7:00 am – 7:30 am
Evening Aarti: 5:00 pm – 5:30 pm
Shree Mahakaal Aarti: 7:00 pm – 7:30 pm (Note: No entrance fee is required for darshan.)
Omkareshwar Jyotirlinga
Omkareshwar Jyotirlinga, a symbol of everlasting trust, is located on an island in the middle of the Narmada River. Omkareshwar is one of the twelve Jyotirlinga temples, which are revered all over the world. Learn about this hallowed sanctuary's lengthy history, distinctive architectural characteristics, and mystical lore.
Omkareshwar Jyotirlinga's importance: Omkareshwar, which means "Lord of Om," is adored for both its deep spiritual resonance and historical stature. Both the Omkareshwar and Mamleshwar temples are regarded equally by visitors, who regard them as sacred Jyotirlingas.
A Pilgrim's Journey to Omkareshwar: Devout Hindus congregate in Omkareshwar after finishing their pilgrimage to offer holy water, sanctifying their journey and enhancing their visit to other holy locations.
Indulge in the splendor of the Omkareshwar Jyotirlinga Temple complex, which is breath-taking, where a vast assembly hall with enormous gray stone pillars narrates stories of devotion.
There are numerous temples in Omkareshwar, a city that is revered by Hindus. Look more closely at the specifics of the most crucial ones.
The Past is revealed: Omkareshwar Follow Mandhata Omkareshwar's medieval history as it passes through numerous dynasties from the time of the Bhil Sardars to the British era.
Sacred Parikrama Path: Set out on a 7 kilometer hike at varied elevations along the path that circles Omkar Hill. Discover ashrams, temples, and the meeting of two rivers as you go.
Omkareshwar: A Paradise for Spiritual Travelers Omkareshwar has evolved from its status as a sleepy village to a well-established spiritual destination with a variety of lodging and dining options.
How to Reach Omkareshwar:
By Air: The nearest airport is Devi Ahilyabai Holkar Airport in Indore (87 Kms), well-connected to major Indian cities.
By Train: The closest railhead is Omkareshwar Road (Mortakka), 12KM away. Which is connected with various railways station of India.
By Road: Regular bus services connect Omkareshwar to cities like Indore, Ujjain, Jalgaon, Khandwa, and Bhopal. Good road connectivity further facilitates travel.
Omkareshwar Temple Timings:
Darshan Timings: 5:00 AM to 9:30 PM
Entry Fee: Free
Poojas: Maharudrabhisek, Laghurudrabhisek
Best Time to Visit: October to March
Festivals: Shravan, Shivratri
Baba Baidyanath Dham Temple
One of the twelve famous Jyotirlingas in India, Baba Baidyanath Dham, also known as Baidyanath Jyotirlinga Temple, maintains a place of unmatched sanctity in the hearts of the worshippers of Lord Shiva. This article clarifies the background, significance, and traditions of this sacred place.
Baidyanath Dham's sanctum sanctorum: Baidyanath Dham, a sacred site in Jharkhand's Deoghar district, is regarded as the sixth Jyotirlinga. According to legend, Sati is said to have lost her heart here, uniting Shiva and Shakti's powers for all time.
Legends and History: The significance of Baidyanath Dham has been reflected throughout history, from the Gupta Dynasty to the Mughal era. The temple's architecture, with its enormous pyramidal tower and gilded shikhara, embodies centuries of devotion.
The mythological significance of this hallowed area is enhanced by the story of Ravana's failed attempt to bring the Jyotirlinga to Lanka and the heavenly intervention that prevented it. The Jayatirlinga is permeated throughout with echoes of Ravana's steadfast faith and tribulations.
Reaching Baidyanath Dham:
By Air: The nearest airport is Ranchi Airport and also can be reached by Dumdum Airport Kolkata. From where you can take buses or taxi to reach Baidyanath Dham.
Baidyanath Dham Temple Timings:
Opening Time: 04:00 AM
Morning Darshan: 04:00 AM to 03:30 PM
Evening Darshan: 06:00 PM to 09:00 PM
Temple Remains Closed: 03:30 PM to 06:00 PM
Pooja and Abhishekam Timings:
Shodashopachara Pooja: From 04:00 AM
Sringar Pooja (Linga Covered with Sandal Paste): 07:30 PM to 08:00 PM
Abhishekam: 04:30 AM to 03:30 PM
Nearby Places of Interest: Other sacred and popular locations nearby, such Harilajori, Tirkut Parvat, and Nandan Pahar, allow visitors to meditate on heaven.
Shri Bhimashankar Jyotirlinga Temple
The Sri Bhimashankar Jyotirlinga Temple appears as a place of holy energy between the reserve forest and the national park. One of the twelve prominent Jyotirlingas, it encourages followers to set out on a spiritual quest that combines tranquility with the magnificence of nature.
a Divine Abode and a Work of Art: The temple, a tasteful fusion of traditional and contemporary architectural styles, is located in Maharashtra's Sahyadri hills. In its sanctum sanctorum, Nandi Maharaj and Kachhapa Dev bow in reverence. At the entrance, Lord Ganesha and Lord Kalabhairava greet guests, while a Shivalinga represents both Shiva and Shakti. In front is a statue of Goddess Parvati.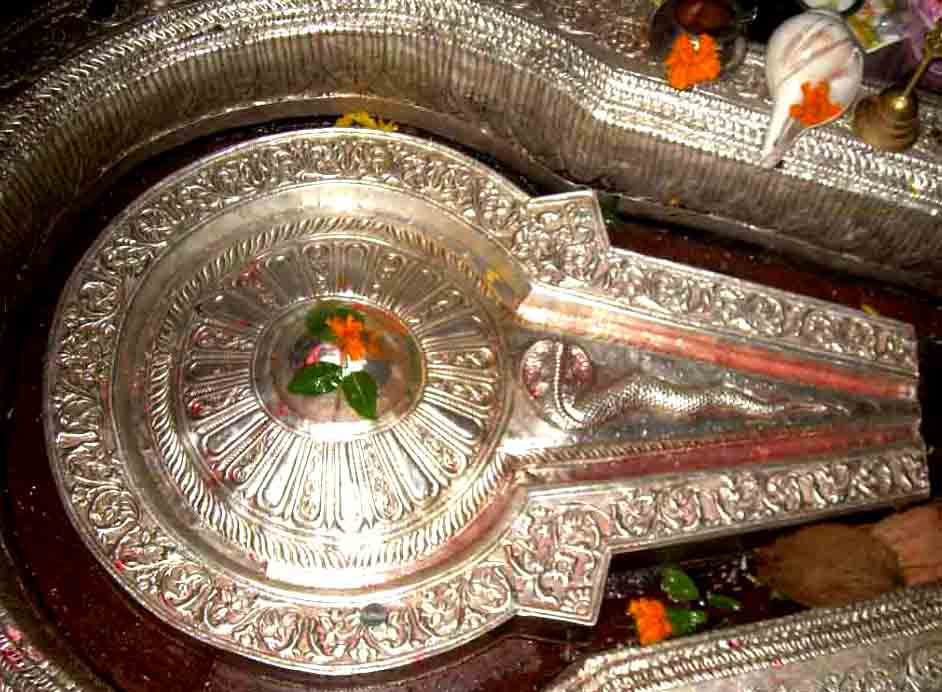 A Tapestry of Devotion: The temple's finely carved sculptures of Lord Krishna, Hanuman, and Sri Mahishasura Mardini depict the story of its past. On the walls of temples, rishis and sages find their place, whispering age-old knowledge.
Legends and Restoration: The founding narrative of the temple, which has ancient roots, is tied to stories of Ravana's voyage. It was rebuilt in 1212 and still displays evidence of centuries of adoration. The meeting hall was finished in 1962 and stands as a tribute to commitment. The devotion of Chhatrapati Shivaji Maharaj to Bhimashankar adds to the historical tapestry.
Investigating the fascinating surroundings: Around Bhimashankar Jyotirlinga, there is a tapestry of spiritual and leisurely locations to be discovered. A glimpse of spiritual and natural grandeur can be seen at Shri Ram Temple, Gupta Bhimashankar, Shri Hanuman Temple, and other locations. However, those who enjoy trekking are recommended to stay away from monsoon.
Darshan Timings:
Monday to Sunday: 4:30 AM to 9:30 PM
Aarti Timings:
Kakada Aarti: 4:30 AM
Nijarup Darshan: 5:00 AM
Regular Pooja, Abhishek starts: 5:30 AM
Naivedya Pooja (No Abhishek inside): 12:00 PM
Regular Pooja, Abhishek starts: 12:30 PM
Madhyan Aarti (No Darshan for 45 min): 3:00 PM
Shringar Darshan (No Abhishek inside): 4:00 pm – 9:30 PM
Aarti: 7:30 PM
Mandir Closed: 9:30 PM
How to Reach:
Accessing Bhimashankar from the nearest town, Manchar, is facilitated by regular bus services. The last bus departs at 7 PM, subject to local arrangements. The temple nestled just 1 km from the Bus Stand.
Ramanathaswamy Temple
The Ramanathaswamy Temple in Rameshwaram is regarded as the sacred residence of Lord Shiva, who is connected to the famous Ramayana story. According to legend, Lord Rama, his devoted brother Lakshman, and Hanuman went back to Rameshwaram after killing the demon Ravana. To get to Lanka, he constructed a sea stone bridge over the Setu Canal. By sanctifying the location through Lord Shiva worship, Lord Rama represents the fusion of Shaivism and Vaishnavism in this sacred place.
Architectural splendor and spiritual significance: The temple's magnificent 38-meter-tall gopuram and its elaborate architectural embellishments enchant tourists. Sethupathi Maravar added up to the temple, which was originally built in the 12th century, resulting in Asia's longest corridor, measuring 197 meters from east to west and 133 meters from south to north. The dedication of Swami Vivekananda to this temple in 1897 adds to its spiritual renown.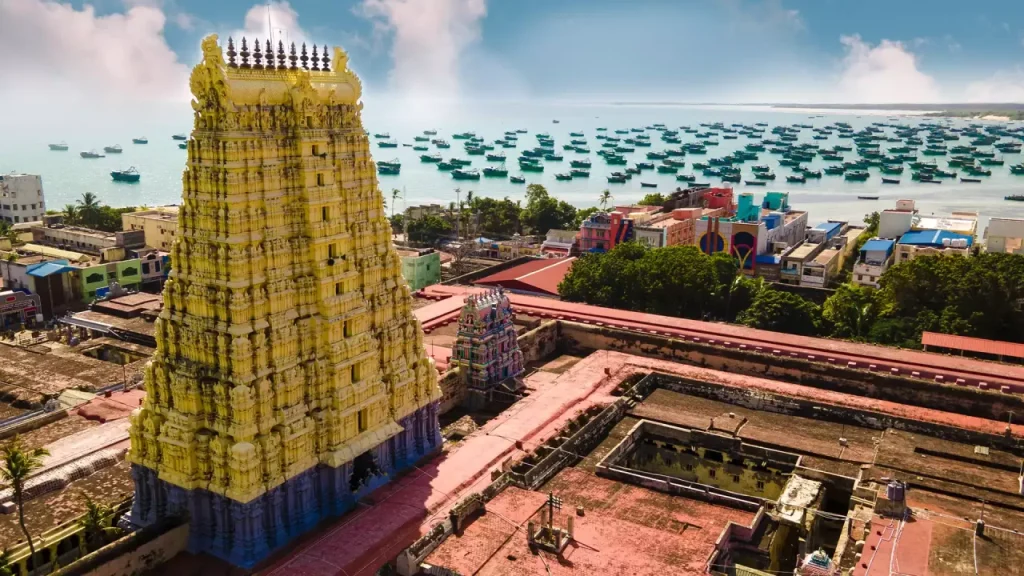 Journeying and Worship: This sacred location, one of the twelve Jyotirlingas, is extremely important to devotees. It features 22 'Theertham', or natural springs, which cleanse and enlighten seekers. For spiritual fulfillment, pilgrims believe that a trip to both Varanasi and Rameshwaram is necessary.
Ramanathaswamy Temple Mythology: According to the temple's myth, Lord Rama worshiped Lord Shiva. In search of redemption following Ravana's defeat, Lord Rama worshiped Lord Shiva using the Lingam that Goddess Sita had crafted. The holy Lingam, which is thought to represent Lord Shiva's presence, is now kept in the sanctum sanctorum.
Historical Wonder and Architectural Wonder: The temple underwent modification beginning in the 12th century from a thatched cottage. The kings of Mysore and Travancore helped it grow significantly. Over the ages, significant augmentations were made, eventually leading to the current breathtaking 15-acre structure. Its brilliant architectural design is evident in the roomy corridors, enormous pillars, and elaborate gopurams.
Temple Timings:
Monday to Sunday:
Morning: 5:00 AM to 1:00 PM
Evening: 3:00 PM to 9:00 PM
How to Reach Rameswaram:
Rameswaram, an island linked by the Pamban Bridge, is home to the Sri Ramanathaswamy Temple. Here you can reach by taking local taxi and buses from Chennai and more nearby places.
Nageshwar Temple, Dwarka Gujarat
Nageshwar temple is one of the ancient temples dedicated to Lord Shiva. It is one of the known 12 Jyotirlinga temples, representing the cosmological radiance of Lord Shiva, and is situated in the peaceful Gujarati village of Nageshwar. This holy place is visited by pilgrims and seekers from all over because of its great historical and spiritual significance.
Spirituality and Architectural Wonder: The Jyotirlinga is located in a beautiful underground shrine at the nearby Nageshwar Temple. The 25-meter-tall statue of Lord Shiva that is encircled by a peaceful pond and lush gardens is the temple's identifying feature. Its straightforward yet moving architecture is a reflection of the rich spiritual history it supports.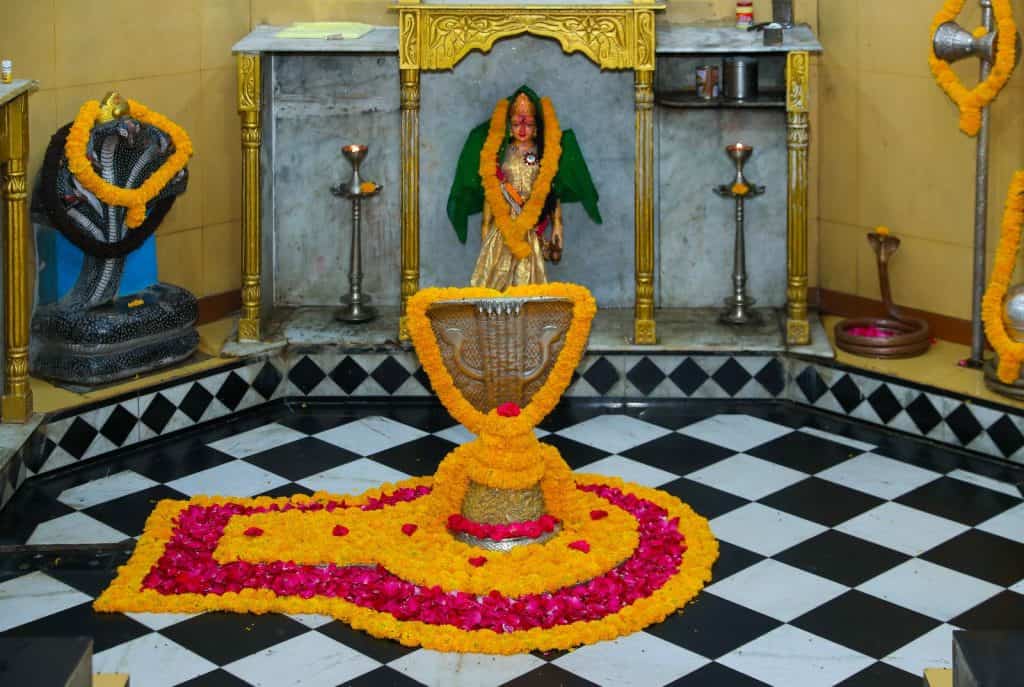 The Nageshwar Temple has a long history of devotion and conquering, according to tradition. It is said that the renowned devotee Supriya was once imprisoned by a demon by the name of Daruka. When Lord Shiva heard Supriya's earnest chants of "Om Namah Shivay," he immediately arrived to destroy the demon. A self-declared Shivalinga that is still revered today emerged at this point of victory.
Festivals and their significance: The Rudraksha-shaped oval lingam in the Nageshwara temple represents Lord Shiva's favor, who is renowned for protecting followers from both literal and symbolic poisons. During the vast and reverent Mahashivratri celebration, the temple vibrates with spiritual excitement.
Temple Timings:
Darshan: 6 AM – 9 PM
Shringar Darshan: 4 PM – 4:30 PM
Shayan Aarti: 7 PM – 7:30 PM
Nightly Aarti: 9 PM – 9:30 PM
How to Reach Nageshwar Temple:
By Air: Nearest airport is Jamnagar Airport, located 128 km away.
By Rail: It is well-connected by train routes, with Vadodara, Surat, Mumbai, Goa, Karnataka, and Kerala providing accessible rail links.
By Road: Direct buses available from Jamnagar and Ahmedabad, with amazing highway.
Nearby Temples and Attractions:
A 2,200-year-old wonder honoring Lord Krishna that features complex architectural and spiritual importance is the Dwarkadish Temple.
Gomti Ghat Temples: A collection of temples dedicated to different gods that provide a beautiful view of the River Gomati.
Rukshmani Mandir is an architectural marvel dedicated to Devi Rukmini that features beautiful carvings and a rich past.
The colourful fair that takes place during Mahashivratri is held at the Bhadkeshwar Mahadev Temple, which is perched on a hillside close to the sea.
Kashi Vishvanath Temple
The Kashi Vishwanath Temple, which is located in Varanasi, Uttar Pradesh, on the western bank of the well-known the Ganga River, is a witness to eternally devotion to Lord Shiva. It is regarded as one of the twelve Jyotirlinga temples, which breathe a sacred aura from the divine. Many pilgrims are attracted to this spiritual retreat by the presiding god, Vishwanath, which means lord of the universe. Varanasi, also known as Kashi, recognizes this temple as the buzzing center of the city.
Architectural Wonder and Spiritual Importance: The 18th-century Kashi Vishwanath Temple, constructed by Queen Ahilyabai Holkar of Indore, is a masterpiece of Hindu architecture and is situated close to Dashashwamedh Ghat. This holy place of worship for Lord Shiva is also referred to as the Golden Temple because of its majestic spire, which is covered in 800 kg of gold. The temple has experienced extensions and repairs over the years, maintaining its enduring beauty and admiration.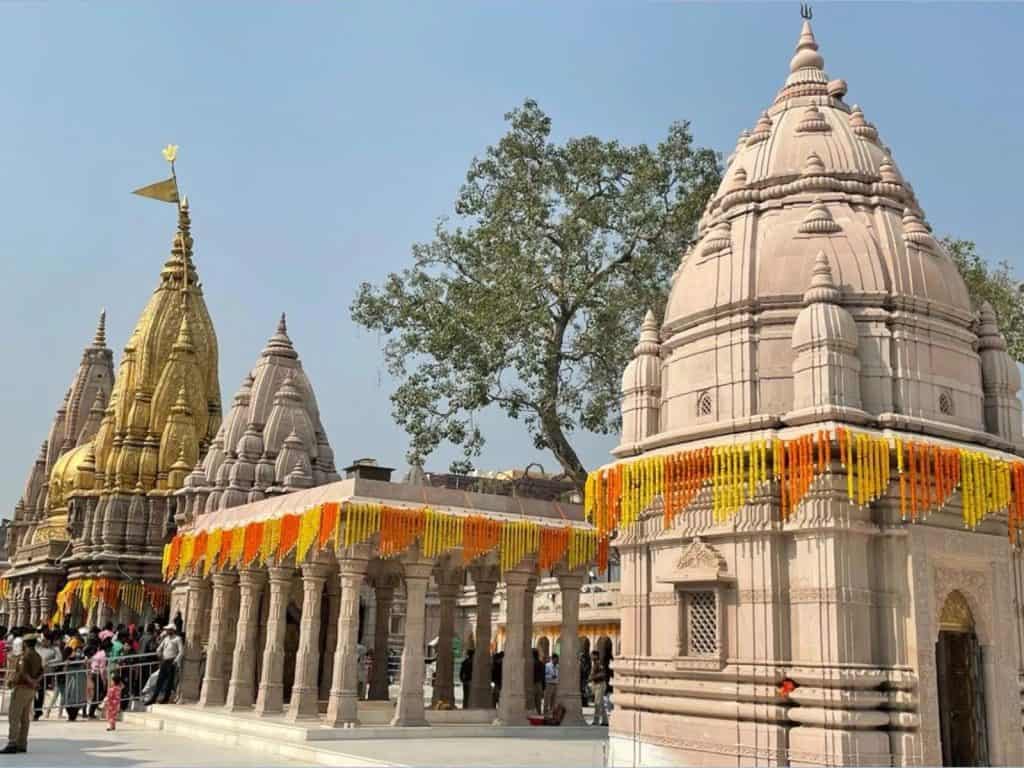 Legends & History: The precise beginnings of this holy spot are shrouded in secrecy and lost in the sands of time. The fact that it is mentioned in ancient works like the Skanda Purana and the Kashi Khand attests to its age. Each stage of the temple's history, including its demolition and reconstruction, left a permanent mark. This temple serves as a testament of perseverance and spiritual endurance, from Qutubuddin Aibak's rule to Ahilyabai Holkar's efforts.
Legends of Creation: A fascinating story about Lord Vishnu and Lord Brahma's search for the supreme creator is told in the Skanda Purana. They were tasked with tracing its origin by Lord Shiva, who appeared as an endless pillar of light. Brahma proclaimed victory, but Vishnu graciously conceded defeat. When Lord Shiva made himself known, Jyotirlinga was born. The Kashi Vishwanath Temple is currently graced by the holy site where the Lord manifested.
How to Reach Kashi Vishvanath Temple:
By Air: Varanasi is well-connected to New Delhi, Agra, Khajuraho, Calcutta, Mumbai, and other major cities, offering daily flights.
By Train: Varanasi serves as a big rail junction for northern India, with links various trains to other cities of India.
By Road: You can reach here by road, the well-connected road networks connect Varanasi to Agra, Allahabad, Bhopal, Bodhgaya, Kanpur, Khajuraho, Lucknow, Patna, and more.
Grishneshwar Jyotirlinga
Among the twelve holy Jyotirlingas, the Ghrishneshwar Jyotirlinga in Ellora, close to Daulatabad, Maharashtra, represents the heavenly presence of Lord Shiva. Lord Shiva is said to have manifested as a pillar of light in the Jyotirlingas, and Grishneshwar, who is known as the "Lord of Compassion," has a special place in the hearts of his followers.
Spiritual significance and awe-inspiring architecture The Grishneshwar temple, which is made of vivid red rocks, includes a five-tiered shikhara with elaborately carved images of Lord Vishnu's Dashavatars. An east-facing linga and a majestic court hall with 24 pillars decorated with carvings of Shiva stories and mythology may be found in the sanctum sanctorum.
Legends and History: The ancient Shiva Purana and Padma Purana both give a brief history of the Ghrishneshwar Jyotirlinga. The temple was destroyed during the unrest of the 13th and 14th centuries, but Maloju Bhisle, the Maratha king of Verul, restored it in the 16th century. Queen Ahilyabai Holkar of Indore oversaw the crucial task of rebuilding the temple in the 18th century.
Legends of Karuna: Grishneshwar is known for his piety according to two intriguing legends. One recounts the story of Kusuma, a devout woman whose unshakable faith inspired Lord Shiva to restore her son and build the Jyotirlinga. Another describes Ghushma, who through her unshakable devotion begged pardon for her sister's horrific deed. As a result, Lord Shiva appeared in the form of Jyotirlinga.
The UNESCO World Heritage site, Ellora Caves, is located less than a kilometer away.
Temple Timings and Visit Information:
Opening Hours: 5:00 am – 8:00 pm (Open every day)
Nearest Railway Station: Aurangabad Railway Station (Approx. 29 km from Ghrishneshwar Temple)
Nearest Airport: Aurangabad Airport (Approx. 37 km from Ghrishneshwar Temple)
Best Time to Visit: October to March (Early morning, before 7:00 am)
Trimbakeshwar Jyotirlinga
Trimbakeshwar Jyotirlinga, commonly referred to as Shri Trimbakeshwar Jyotirlinga Temple, is a revered spiritual site in Hinduism. It has a distinctive place among the twelve admired Jyotirlingas, signifying the heavenly presence of Lord Shiva, and is situated in the tranquil town of Trimbak, Maharashtra.
Spiritual significance and awe-inspiring architecture This temple, which was constructed in the characteristic Hemadpanthi architectural style, is nestled among the charming Brahmagiri, Nilgiri, and Kalagiri hills. Built from beautiful basalt, it stands as a tribute to the skilled craftsmanship of the era. Three Lingas representing Shiva, Vishnu, and Brahma are present within the temple complex, and they are surrounded by holy waterbodies like Amritvarshini, Bilvatirtha, Vishwanathtirtha, and Mukundatirtha.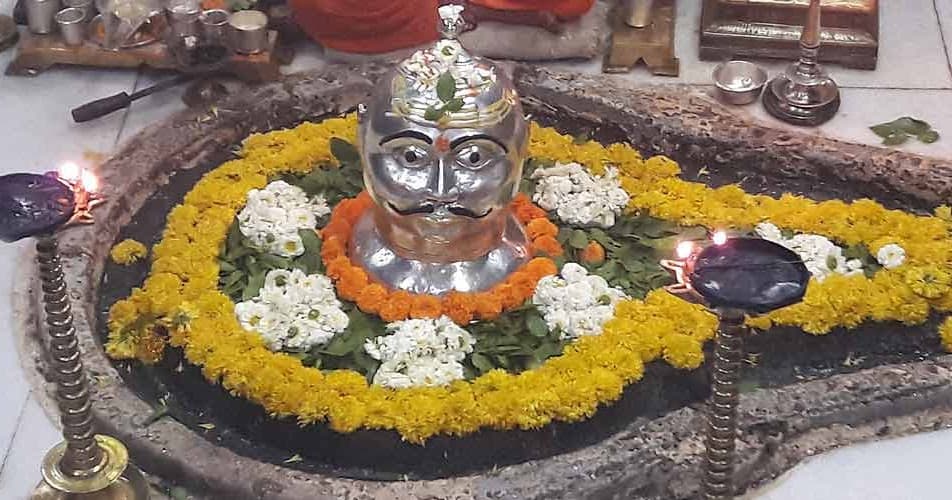 History: The Jyotirlinga story and the history of the temple are inseparably connected. Both are rooted in the ancient Shiva Purana. It talks of the argument between Brahma and Vishnu, which was settled when Lord Shiva appeared as an endless pillar of light. This Jyotirlinga is thought to be the starting point of the sacred Godavari River.
Registers for Hindu ancestry and their spiritual significance: Pandits who work within the temple complex keep meticulous records of pilgrims' ancestry in Hindu genealogy registers. This custom has been kept alive for many years, giving Trimbakeshwar a special historical and spiritual depth.
Temple Timings
Opening Hours: 5:30 am – 9:00 pm (Open every day)
Location: Trimbakeshwar, Nashik, Maharashtra, 422212, India
How to Reach:
Trimbakeshwar is situated approximately 28 kilometers from Nashik and 40 kilometers from Nashik Road, offering a tranquil escape amidst lush green hills.
The nearby Anjaneri mountain, the birthplace of Lord Hanuman, and the Shri Nilambika/Dattatreya/Matamba Temple on Neel Mountain, enhance the spiritual aura of the region, which are best places to visit nearby Trimbakeshwar Temple.
Shri Kedarnath Dham:
Kedarnath Dham is located in the Rudraprayag district of Uttarakhand state in India. It is one of the 12 Jyotirlingas of Lord Shiva, and it is one of the most visited Lord Shiva temples in India which opens only for 6 months in summer season but closed during winter because of heavy snow fall.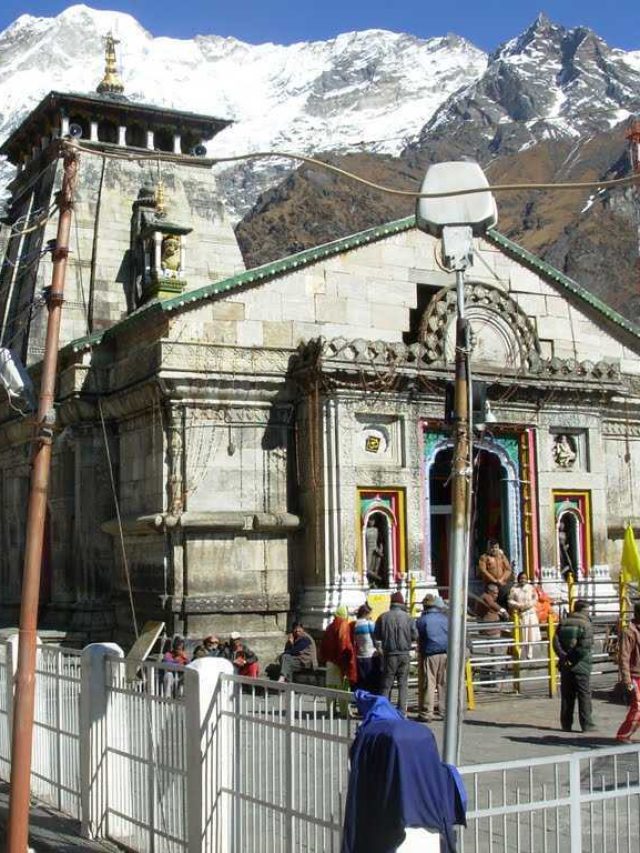 There are many legends about Kedarnath Dham associated with Shankaracharya and also with Mahabharat epic.
The Kedarnath Dham is situated at the elevation of 14000 feet above the sea level and one can reach there by trekking 20 Kms from Gaurikund which is the starting point of Shri Kedarnath Dham trek.
There are also Panch Kedar temples in Uttarakhand which are part of series of Kedarnath Ji temples where different parts of Lord Shiva are worshipped.
You can plan a trip to Shri Kedarnath Dham or Char Dham Yatra Uttarakhand and tell us about it, we will make a perfect trip for you at Gokeys Haridwar.
Best Time to Visit: –
The Best time to visit Shri Kedarnath Dham is from May-June and Sept- Oct months.
For more details about Kedarnath Dham Puja Timings and more you can check out the given Articles of Kedarnath Dham Yatra.
How to Reach Kedarnath Dham: –
By Air: The Nearest Airport is Jollygrant Airport Dehradun which is connected with various cities airports.
By Trains: – The nearest railway station is Rishikesh, from where you can take a bus or taxi to reach there.
By Road: Roads are well connected with Gaurikund near Kedarnath Dham from where trekking of Kedarnath Dham starts but other options like Pony, Palki, Helicopter is available at different prices.
Check Out: Route Map of Char Dham Yatra Uttarakhand
So, these are the 12 Jyotirlingas of Lord Shiva in India which are worshipped by devotees to get blessing of Lord Shiva.
If you have any questions and queries about the given article then you can comment below or contact us for more details.
Frequently asked questions about 12 Jyotirlingas of India
Where are the 12 jyotirlingas located?

12 Jyotirlingas are located in different parts of India from North Uttarakhand to South Tamil Nadu, you can check the above Jyotirlinga Map for more details.

How many jyotirlingas are there in Maharashtra out of 12?

There are 3 Lord Shiva Jyotirlinga in Maharashtra.

which is the first of 12 are the jyotirlingas in india?

Somnath Jyotirlinga Gir Gujarat is first Jyotirlingas of Lord Shiva.

what are the 12 jyotirlingas?

Jyotirlinga are 12 manifestation of Lord Shiva in the India and highly worshipped Jyotirlingam.

What is a Jyotirlinga and why are they significant in Hinduism?

A Jyotirlinga is a sacred form of Lord Shiva, symbolized as a divine pillar of light. There are 12 highly revered Jyotirlingas in Hinduism, believed to be the most potent manifestations of Lord Shiva's divine energy.

How many Jyotirlingas are there originally mentioned in ancient scriptures?

There are originally 64 Jyotirlingas mentioned in the ancient Sanskrit religious book, the Shiva Purana.