Budha Kedar temple is located in Tehri Garhwal District in the hills at the elevation of 5000 Ft above the sea level, so it won't be difficult to visit the temple for any age group people. The Budha Kedar Temple is dedicated to Lord Shiva and it is said that Lord Shiva gives Darshan or appear here in the form of old age.
The place is surrounded by five mountain ranges which are Satopanth, Swaragarohini and many more.
The temple is located at the confluence of two holy river Bal Ganga and Dharam Ganga. The Bal Ganga name arrives from Balkhilya Rishikesh, who said to be meditated here years ago.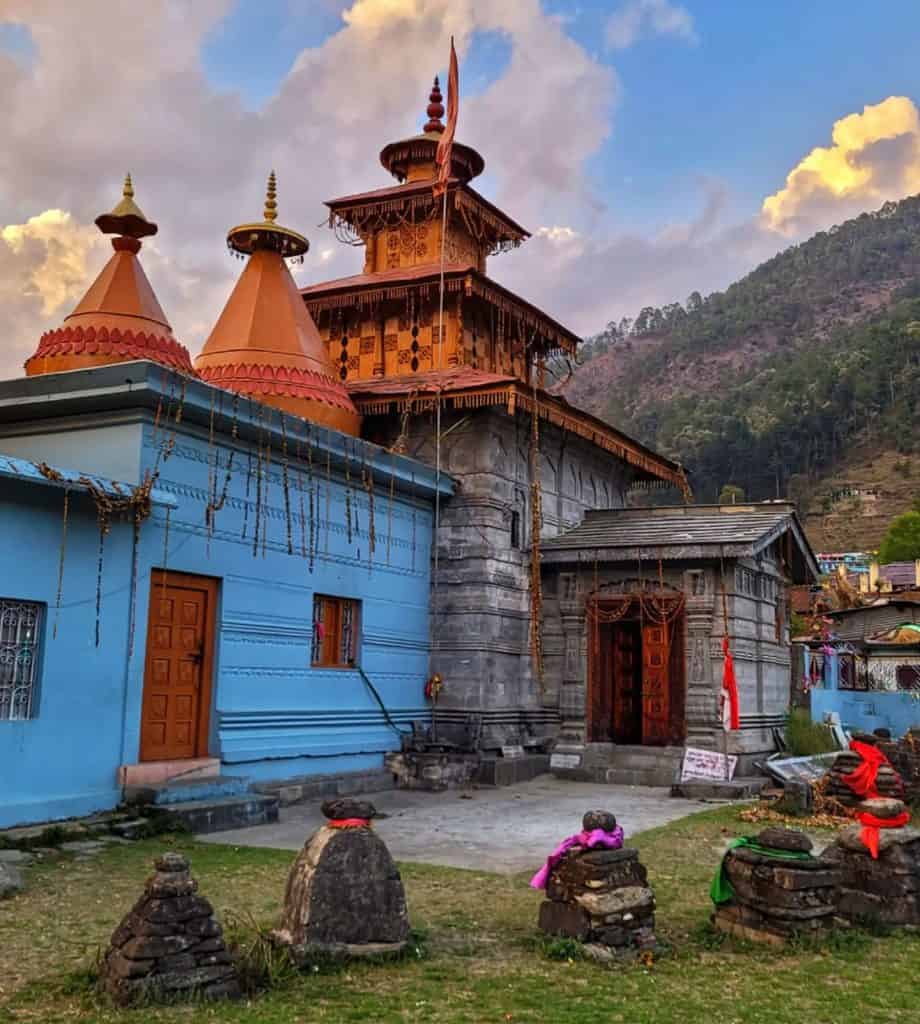 The temple is known as 5th Dham or Panchwan Dham as you have known about Char Dham of Uttarakhand which are Badrinath Dham, Kedarnath Dham, Gangotri Dham and Yamunotri Dham. So, it is said that if you are doing Char Dham Yatra then you can should also visit the Panchwan Dham in Budha Kedar.
Check Out Gokeys Instagram
Legends and History about Budha Kedar Temple:
You have heard about Kedarnath Dham which is dedicated to Lord Shiva and here Budha Kedar means Lord Shiva in the form of Old. As per the legends during the period of Mahabharata, Pandavas came here to prey lord Shiva and Lord Shiva gave them Darshan in his old Man form. After the Mahabharata war of Kurukshetra, Pandavas was seeking salvation, so they started to prey Lord Shiva. Then they reach to Budha Kedar, where lord Shiva gave them blessings in the form of Old Man. And also gave them blessing to get Moksha.
So, it has very significance in the spirituality and that's why it is called 5th Dham of Uttarakhand.
The temple shows amazing ancient architecture style with carvings which shows Garhwali style, and you can see the inside Lingam in the Garbha Garh where Lord Shiva is worshipped.
Religious Festival and Celebration:
During the Maha Shivaratri you can expect a great fair here, when peoples from different area come to visit the temple and also take blessing of Lord Shiva and take Prasadam. In Maha Shivaratri the temple is decorated with various light lamps and Diyas also garlands, which makes the temple beauty more and the surrounding also make it wonderful place.
Another Things to do in Budha Kedar:
Trekking: You can enjoy trekking to nearby hills and mountains from here, also the scenery from here makes it a wonderful place. You can also do camping in the trekking route to upper side of the hill.
Photography: If you want to do some photography in the hills then it is one of the perfect places where you can see various Himalayan Mountain ranges from all sides and also the Village area and nearby hill with green natural forest can make your day.
Enjoy Local Cuisines: If you are in Budha Kedar Dham then you should also try some local cuisine where you can taste the food of Garhwal and enjoy the delicacy.
So, you can also do many things like try some yoga technics and do meditation here and enjoy your trip to Budha Kedar temple Uttarakhand.
How to Reach Budha Kedar Temple:
Located at the distance of 180 Kms from Capital city of Uttarakhand Dehradun, which takes around 5 to 6 Hrs to reach here. The temple is well connected with road transportation and nearby Railway Station is Dehradun as well as Airport in Jolly Grant Dehradun.
Here's a quick route map to reach Budha Kedar Temple from Dehradun: Dehradun – Rishikesh – Narendra Nagar – Agrakhal – Fakot – Chopariyali – Chamba- Panchkoti – Tehri- Barkot- Ghansali – Chamiyala- Chattiyara – Chani – Ragsya- Boodha Kedar Temple or Dham.
Where to Stay:
There are quite good Lodge and Guest Houses available near Budha Kedar Temple where you can directly go and get yourself an accommodation or if you want to spend your stay with locals then you can go for Homestays in the Budha Kedar Dham.
For food, there are Small Dhabas available, so it won't be a problem for your meals.
So, that's the complete information about Budha Kedar Temple, and if you want to book a trip to Budha Kedar and want to know about the price of tour then you can send us your query by email at gokeysindia@gmail.com, helpdesk@gokeys.in