In the heart of the picturesque Trijuginarayan village, nestled in the Rudraprayag district of Uttarakhand, lies a temple that holds a celestial significance. This temple is none other than the revered Trijuginarayan Temple, a destination not just for pilgrims, but also for those seeking a unique wedding location.
Trijuginarayan Temple, a Hindu shrine dedicated to Lord Vishnu, is nestled in the Rudraprayag district of Uttarakhand. The name "Trijuginarayan" stems from 'tri' meaning 'Three', 'Yug' denoting 'a period of time', and 'Narayan', an epithet for Lord Vishnu. Devotees have been offering wood to the temple's fireplace for three Yugas. The temple holds a special place due to its association with divine weddings.
Trijuginarayan Temple in Uttarakhand: The Sacred Wedding Venue of Lord Shiva and Parvati
The Legend of a Divine Union: Trijuginarayan village gained its name from a legend that dates back to ancient times. It was here that Lord Shiva, the divine ascetic, and Goddess Parvati, the embodiment of beauty and grace, united in holy matrimony. The temple itself is dedicated to Lord Vishnu and stands as a testament to the wedding of Shiva and Parvati, witnessed by none other than Lord Vishnu.
The Eternal Flame and Sacred Ponds: At the heart of the temple, an eternal fire called the "Akhand Dhuni" continues to burn, a fire that was ignited during the auspicious occasion of Shiva and Parvati's wedding. This flame symbolizes the eternal bond between the divine couple. Around the temple, there are four sacred water tanks or "kunds" – Rudra Kund for bathing, Brahma Kund for sipping water, Vishnu Kund for cleansing, and Saraswati Kund for offering libations. These kunds hold not just mythological significance but also offer a spiritual experience to the pilgrims.
A Symbol of Divine Union: As the legend goes, Lord Brahma officiated the celestial wedding of Lord Shiva and Goddess Parvati, with Lord Vishnu as the witness. The stone called "Brahma Shila" in front of the temple marks the exact spot of this divine union. Pilgrims believe that carrying ashes from the sacred fire and keeping them in a clean place at home brings conjugal happiness.
Architectural Resemblance and Celestial Blessings: The architecture of the Trijuginarayan Temple bears resemblance to the famous Kedarnath Temple. It was established around 1200 years ago by Adi Shankaracharya, the philosopher-saint. Inside the temple, you'll find silver idols of Lord Vishnu, Goddess Lakshmi, and more. The temple's surroundings are adorned with breathtaking views of snow-capped peaks and serene beauty.
From Celebrities to Spiritual Seekers: Trijuginarayan has attracted not only pilgrims but also celebrities seeking a spiritual and unique wedding experience. TV actress Kavita Kaushik and TV actress Nikita Sharma both chose this divine abode as the venue for their marriages.
Reaching the Sacred Abode: To reach Trijuginarayan, you can take a 12 km motorable road from Sonprayag or embark on a 5 km trek from Sitapur on the Guttur – Kedarnath route, passing through lush forests. Haridwar, 275 km away, serves as the nearest railway station, while Dehradun airport, 240 km away, offers air connectivity.
Accommodation and Sacred Serenity: Accommodation is easy to find in the vicinity of the temple, with options ranging from affordable lodges to guest houses that offer stunning views of the region. Staying here provides an opportunity to soak in the spiritual ambiance and serenity of the place.
A Place of Eternal Blessings: Trijuginarayan Temple stands as a beacon of divine love, a witness to the sacred wedding of Shiva and Parvati. With its eternal flame, sacred ponds, and mythological significance, it draws devotees, couples, and seekers of spirituality alike. Whether you're a pilgrim seeking blessings or a couple yearning for a unique wedding experience, Trijuginarayan Temple offers an extraordinary journey into the realm of the divine.
Temple Timings and Opening Hours
The Trijuginarayan Temple typically follows a daily schedule for its opening and closing timings. Please note that these timings might vary based on seasonal changes, festivals, and other factors. It's always a good idea to check with local authorities or the temple itself before planning your visit to ensure accurate timings.
Temple Timings: The temple welcomes visitors with its spiritual aura during specific timings:
Morning: 7:00 AM to 2:00 PM
Evening: 4:00 PM to 8:00 PM
Please keep in mind that these timings might change based on the time of year and local regulations. If you're planning a visit, especially during special occasions or festivals, it's recommended to verify the current timings from reliable sources. Additionally, during peak pilgrimage seasons or specific festivals, the temple might extend its opening hours to accommodate the influx of visitors.
Festivals: Trijuginarayan Temple comes alive during festivals, including:
Navratri: A celebration symbolizing the triumph of good over evil. It involves stage decorations, recitals of legends, enactment of stories, and Hindu scripture chanting.
How to Reach Trijuginarayan Temple: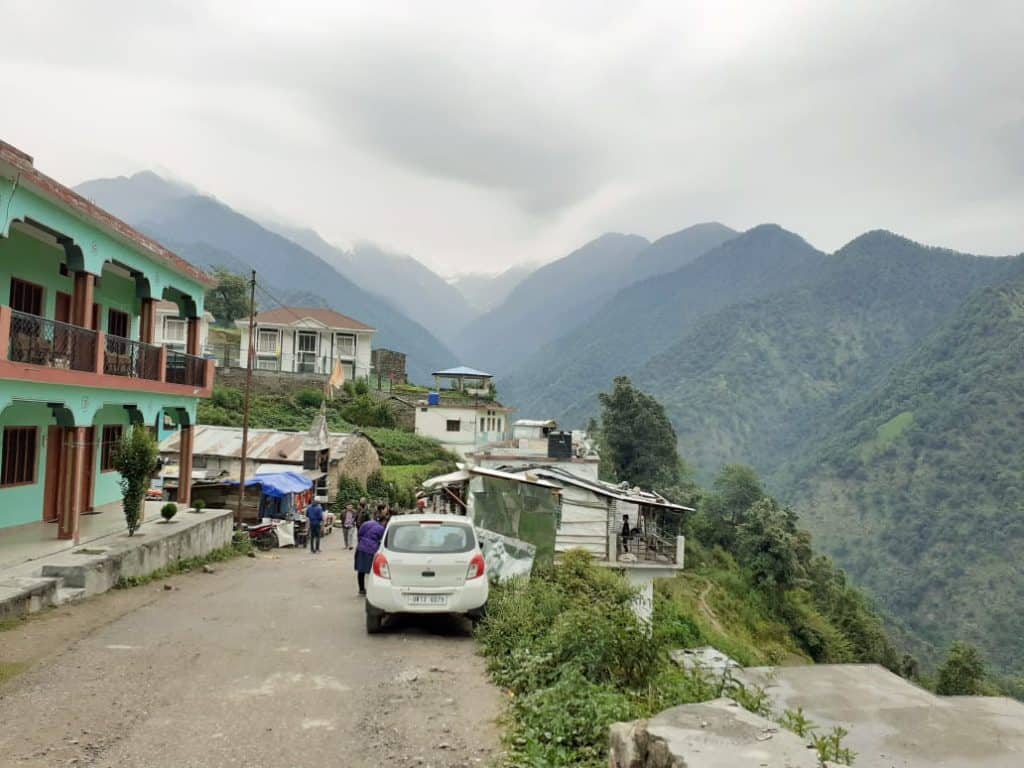 To visit the temple, you can:
Air: Reach the nearest Jolly Grant Airport in Dehradun (244 km away).
Train: Access the nearest Rishikesh Railway Station (261 km away).
Road: Travel to Sonprayag (12 km away) and trek to the temple.
Accommodation: Several options for accommodation near Trijuginarayan Temple include:
Shivalik Valley Resorts, Kedarnath
Kedar River Retreat, Gaurikund
Nearby Temples: Explore neighboring temples like:
Kedarnath Temple: One of the twelve Jyotirlingas of Lord Shiva, known for its spiritual significance. Read more about Kedarnath
Ukhimath Temple: Mahakaleshwar Temple at Ukhimath.
Frequently Asked Questions:
Marriage Ceremonies: Yes, the temple allows marriage ceremonies, blessing couples with the grace of Shiva and Parvati.
Best Time to Visit: The ideal months to visit Trijuginarayan Temple are October to March.
Photography: Photography is prohibited within the temple premises.