Adi Badri Temple Details and Travel Guide
Adi Badri is a place with series of various temples and also known for one of the Panch Badri Temple. The other Panch Badri Temples are (Badrinath Dham, Bhavishya Badri, Yogdhyan Badri and Vridha Badri). If you are planning a trip to Visit Panch Badri, then you have to visit Adi Badri Temples or you can directly visit Adi Badri because here you will find the ancient temple structure with legends.  The Adi Badri is temple complex of sixteen temples which are said to be built during Gupta Period in India.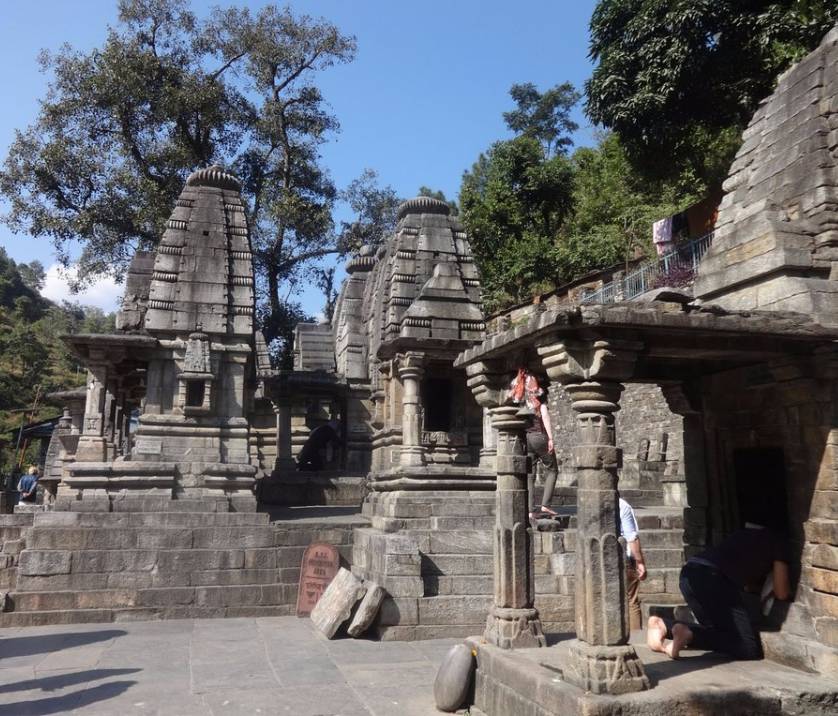 It is dedicated to Lord Vishnu and the Narayan Temple in Adi Badri is a black stone Idol of Lord Vishnu.
Adi Badri Temple is located in Chamoli Garhwal district, and it is about 19 Kms from Karanprayag sub-district. The roads are good, and you can drive there by yourself or just take a shared taxicab from Karanprayag to reach here.
Adi Badri is also known for point of origin of Holy River Saraswati.
History of Adi Badri
It is said that Lord Vishnu resided in Adi Badri during the periods of Satyug, Treta Yug and Dwapar Yug and then moved to Badrinath which is also known as Vishal Badri in Kalyug period. It is also said that Adi Sankaracharya built these Badri Temples and spread Hinduism in 8th Century.

As per another legend, Maharishi Vedvyas who was a sage divided the Holy Vedas into four parts here. The Four Vedas are Rigveda, Yajurveda, Samved and Atharvaveda.
It is also said that during Mahabharat Period Pandvas built the temple is one night while going to Swargarohini and some parts of temple was not constructed till the morning, so they left the construction and moved to another place. So that's why it is called Adi Badri which means half Badri.
How to Reach Adi Badri Temple
Adi Badri temple is well connected with roads transportation, and you can easily drive here or get a shared taxi from Karanprayag to reach here.
The Nearest Railway Station is Rishikesh and as we know that the railway construction till Karanprayag is going on and it will be completed by June 2024, then the nearest railway station would be Kaleshwar Karanprayag.
The Nearest Airport is Jolly Grant Airport Dehradun, and the nearest helipad is Gaucher in Chamoli, where Helicopter shuttle services are available from Dehradun Shahastradhara Road.
If you want to visit here and you have less budget than the best option, you can choose is to take a bus from Haridwar to Karanprayag and then take a shared taxi from there to Reach Adi Badri Temples.
Best Time to Visit Adi Badri
You can visit Adi Badri throughout the year because the roads are good but during monsoon it is not advised to visit here due to heavy rains falls and sometime landslide happens. Other than monsoon season you can visit Adi Badri and also visit some nearby places like Karanprayag, Ranikhet, Gairsain, Pindar River, Gwaldam and more.
Timings to Visit Adi Badri Temple
The Temple opens at 5 Am and till 12 Pm and then 2 Pm to 9 Pm Evening. So, you can visit the temple accordingly.
Where to Stay in Adi Badri
You can find GMVN (Garhwal Mondal Vikas Nigam) Tourist Rest House here or you can stay in Karanprayag which is about 19 Kms from here and visit here for a day or two. There are good food cafes or Dhaba are available near the temple, so you can have some delicious meals there at best price.
So that's some tourist information about Adi Badri temples, and if you are planning a trip to Uttarakhand and want to explore these places than you can send us your enquiry for tour package at gokeysindia@gmail.com or helpdesk@gokeys.in or just simply fill the side form and tell us some little information about your trip and rest we will do.