Auli is known as ski resorts of India located the higher altitude of 2800 meters above sea level and one of the best places for Skiing in the India. Auli Travel Guide is information about how you can make your trip and what are the preparation you should do while planning a trip to Auli. And what are the best Places to visit in Auli Uttarakhand.
This place is surrounded by amazing and beautiful snowcapped mountains with many trekking routes for different locations of the Himalayan ranges. The nearby mountains are Nanda Devi Peak, Mana Parvat, Kamat Kamet and others.  As well as you can see the marvelous Apple orchards and pine, oak trees while going to Auli from Joshimath.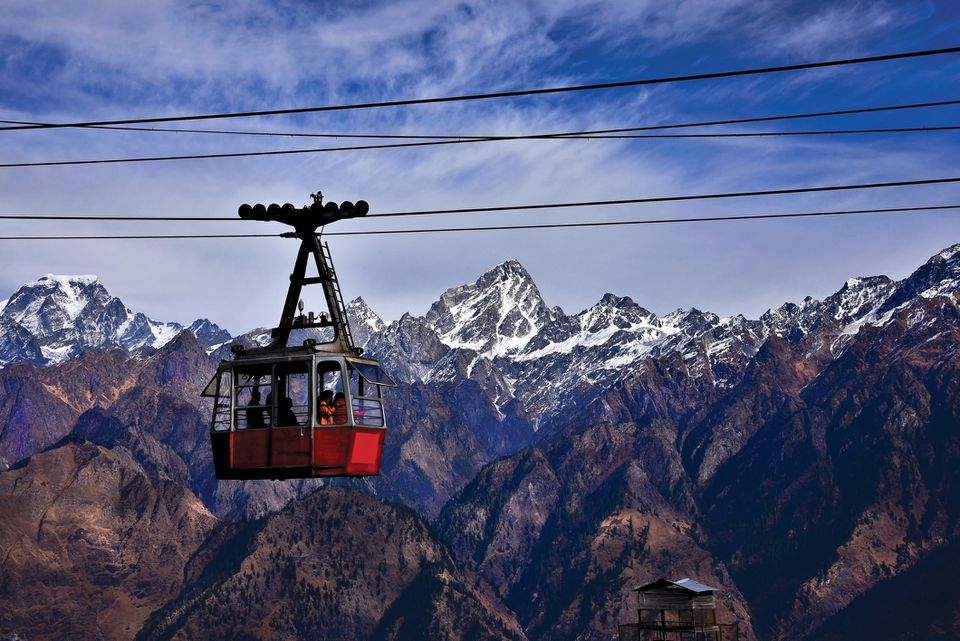 Auli is one of the perfect destinations for snow lovers and nature explorers; you can visit it any time of the year except monsoon and June month because of Heavy rain fall and less snow during June month.  During winter you can easily witness the snow fall in Auli and also make a honeymoon trip to Auli.
| | |
| --- | --- |
| State | Uttarakhand |
| District | Chamoli |
| Town | Joshimath |
| Local Languges | Garhwali & Hindi |
Location
Places to visit In Auli Uttarakhand | Auli Travel Guide
There are many amazing places nearby Auli you can visit during your trip to Uttarakhand. Check out the Best Places to Visit in Auli in detail.
Gurso Bugyal:-
It is just 3 Km trekking route from Auli but a great picturesque place with nature at its best.  The views of Himalayans Mountains Nanda Devi, Trishul and Dron Parvat can easily see from here.  It is Located at the altitude of 3056 meters above from sea level surrounded by oak and conifer tree as well as with rare wild animals.
Kwani Bugyal:-
It is one of the great trekking destinations in Uttarakhand located at the altitude of 3380 meters above from sea level. Kwani Bugyal can be reached by trekking of 12Km from the Gurso Bugyal. You can make a trekking trip to Uttarakhand great Himalayan escapes.
Chenab Lake:-
It is an offbeat destination to visit in Uttarakhand. To reach there you need visit the last villages of Joshimath town which is Dang Village. To reach Chenab Lake from Dang Village your need to do hiking due to no motorable roads.
Joshimath:- Joshimath is an amazing hill station you can visit in Uttarakhand and one of the best places to visit near Auli. It is well connected to roads transport so you can drive here or Book a Cab from us.
Read More about:- Joshimath Travel Guide | Places to Visit in Joshimath.
Chattrakund:-
You can visit the Chattrakund to explore a crystal clear lake located in the Hills of Himalayas. To reach Chattrakund it's a trekking route of 1 Km from Gurso Bugyal and you can trek to the on one day trip. You can enjoy this amazing lake and beautiful views around it.
Check out: Auli Tour Packages Details Book Now
Enjoy the Best Auli tour package with Gokeys
Check out our Best Auli Trip and Tour Package here and know about Auli with our Auli Travel Guide.
Things to do in Auli | Activities in Auli
You should know this while planning a trip to Auli about thing you can do in your holidays. Check out given list in detail.
As we know that Auli is known as ski resort of India, so it is best places to do skiing in Uttarakhand and you can amaze yourself with the Skiing adventure in Auli? You can do the skiing in Auli with finest and longest slopes of snow.
The Safe Winter games also take place here and you can visit the games during winter season in your trip.
This is one of the best attractions of Joshimath Auli. You can book a cable car ride from Joshimath to Auli which cost you around Rs. 500/- Per side and enjoy the amazing views of Himalayas and Auli and Joshimath from the Cable Car.
Auli Artificial Lake Visit
This is one of the highest manmade lakes in the world. It is built by the Government for Skiing Games purpose and you can also enjoy here and watch the Games during winter. As well as you can see the lake covered with snow and beautiful views of mountains from here.
Trekking is one of the famous this to do in Auli. As we wrote above that there are many peaks nearby of the Auli hills and you can trek to Gurso Bugyal, Nanda Devi Peak, Trishul peaks from here.
There are many camp resorts nearby Auli and you can book one of them to enjoy the camping in Auli and experience the lifetime opportunity with the great adventure.
Best Time to Visit Auli | Weather of Auli Uttarakhand | Auli in December
January Month:- Freezing Cold Temperature with Snowfalls.

February Month:-  Still Freezing Temperature with beautiful views of snowcapped mountains.

March:- Still Very cold but not like January and February.

April:- You can easily plan a trip to Auli because it is one of the best time to visit Auli. You will enjoy the great weather in April as well as you can do Skiing here.

May: – Good weather cold during night and morning.

June: – Good time to visit Auli. You can enjoy the great weather of Auli during June month.

July: – Enjoy the Rains in Auli.

August: – Cold weather but warm during day time.

September: – Cold weather as August month but warm during day time.

October: –  You can see winter in coming because of Cold weather in Auli.

November: – Very cold weather can enjoy this month.

December: –  It is very cold in Auli and snow fall started.
So you can plan trip accordingly to the given weather details of Auli.
How to Reach Auli
By Air:- The Nearest Airport to Auli is Jolly Grant Airport Dehradun which is approx. 7-8 Hours journey from here located at the distance of 286 Km.
By Train: – Rishikesh is the nearest railway station to Auli which is about 264 Km from here and you drive then to Auli from Rishikesh. As well as you can reach Haridwar from your native because of multicity railway network.
By Road: – Auli is well connected with Roads transport can be reached by drive easily. As well as there are many buses available from Haridwar/Rishikesh/Delhi to Joshimath.
Where to Stay in Auli
There are many Hotels and Resorts available in Auli you can easily accommodate yourself.
So that's the details of Auli Travel Guide. You can check out the above details and make a trip to Auli according to your requirement.  You can also book a Auli Trip from us and enjoy the best deals for your holidays of Garhwal hills.