There are many great Hill Stations Like Kanatal located in Uttarakhand and also the mainly part of Uttarakhand is located in the Hills. So If you are planning a trip to Uttarakhand and don't know about the perfect locations where you should go? Just check out our blog and you will find many place details of Uttarakhand to know about. Today we are sharing information about a great Hill Station and small village of Uttarakhand "Kanatal". If you want to explore some offbeat locations in Uttarakhand then you should visit Kanatal.
It is one of the best hill stations in Uttarakhand with many attractions. Kanatal is located at the height of 2590 Meters above sea level. It has pleasant weather throughout the year and you can plan a trip to Kanatal with your family and friends. It is situated near the Dhanaulti Hill Station in the Tehri Garhwal District of Uttarakhand State.
Kanatal Travel Guide and Tourist Information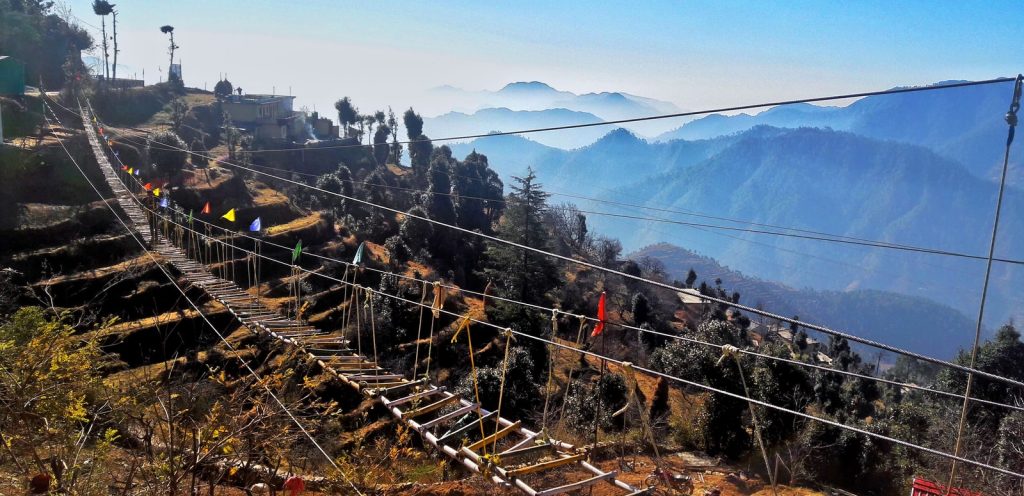 Kanatal is known for various scenic beauties and it is surrounded by mountains and rivers also great for small trekking. The breathtaking views of snowcapped mountains from here can easily be seen. It is also one of the weekend destinations from Delhi and nearby cities.
In Kanatal you can enjoy a walk through the Kodia forest of Rhododendrons, Pine and Oak trees. It is a great escape from busy life of cities and be sometime in the nature.
There is a story how Kanatal got its name. Early there was a Small Pond or in Hindi it's called Taal. So once the Pond dried up, there was no water, so local peoples usually call it Kaana Tal. After some time its name formed to Kanatal.
Weather of Kanatal:-
The weather of Kanatal is generally cold during nights because of its high altitude and cold wind flown from mountains. The Temperature of Kanatal in summer goes around 10-25 Degrees and in winter goes around 10 to -5 Degrees.  During winter you can also find here snowfall and you can plan a winter trip to Kanatal to enjoy in snowfall. It is also one of the great Honeymoon destinations in Uttarakhand.
During winter season sometime roads to Kanatal got stuck with heavy snow fall, so while making a trip to here, just check the weather and news.
During monsoon from July-August its heavy rainfall here, so it's good to avoid because of sometime land sliding.
Otherwise Kanatal can be visited throughout the year and it is one of the perfect destinations to spend your holidays with your loved ones.
Best Time to Visit Kanatal:-
You can visit Kanatal through the year because of its pleasant weather and scenic beauties. You can explore the many places near Kanatal and stay here for some days to relax you in the lap of nature. It is not very far from Mussoorie, Dhanaulti or Dehradun, so you can also plan a weekend trip from Delhi, Haryana and nearby cities. The Best time to visit Kanatal is during April to June and Sept to Oct months, because of good weather and also not very cold and hot.
Where to Stay in Kanatal:-
There are many good cottages and Star category hotels located in the Kanatal and you can easily choose one of the Hotels or Cottages to stay in and enjoy your holidays in the great hill station of Uttarakhand. You can also make a day trip to Kanatal from Dhanaulti which is located at a distance of 13 Km.
How to Reach Kanatal:-
By Air: – The nearest Airport is Jolly Grant Airport Dehradun, which is located at a distance of around 78 Km via Chamba-Rishikesh route.
By Trains: – The nearest railhead is Dehradun Railway Station, which is located at a distance of 50 Km and connects major cities railway network.
By Roads: – It is well connected with Roads Transportations and you can easily drive here or take a cab from Local taxi stand to reach here. Otherwise there are buses available from Dehradun to Dhanaulti and then take a local taxi from there to reach.
Kanatal is located 38 Km from Mussoorie and from Delhi around 330 Km. You can easily plan a trip to Uttarakhand Hill Stations including Kanatal, Mussoorie, Dhanaulti and many other places. If you have any doubt about your trip just let us know and our experts will get back to you with all the details and information.