Rishikesh is known for one of the best tourist places with spiritual importance, but do you know about top Hill Stations Near Rishikesh where you can visit and explore some amazing natural beauty? Check out our complete guide below and know about these places near Rishikesh and go explore them.
If you are planning a trip to Garhwal Uttarakhand then, Rishikesh is a starting point of various tours and trip. It is well known for various Sightseeing, Adventure Sports, Yoga Programs and Spirituality where you can enjoy your days by visiting Ram Jhulla, Laxman Jhulla, Neer Waterfalls, Neelkanth Mahadev Temple, Ganga Aarti at Parmarth and Triveni Ghat and also visit some cool Ganga Beaches.
Check Out best Hill Stations Near Rishikesh to Visit
You can also do Adventure Sports in Rishikesh like Bungee Jumping, Zip Line, Paragliding, White Water River Rafting, Rock climbing and the list goes on.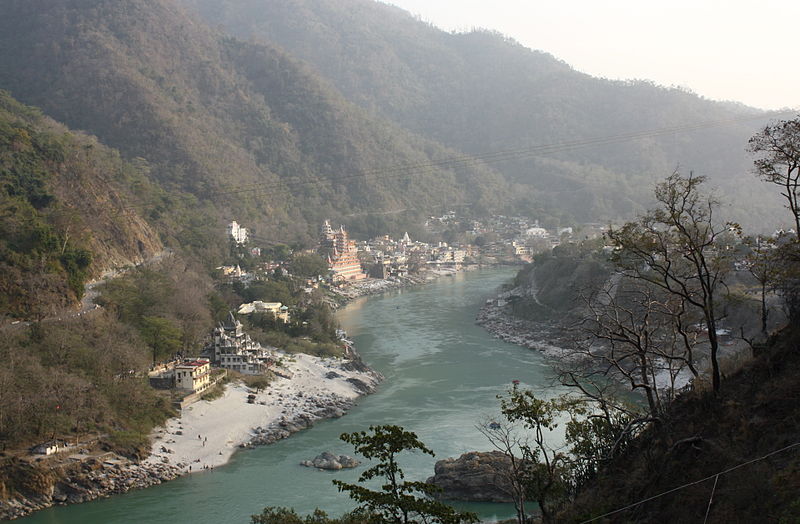 Rishikesh is also known as Yog Nagri which mean the place of Yoga, here you can explore some tactics of Yoga and experience a lifetime experience with the great institutions of Yoga and Nirvana.
So, if you are in Rishikesh and Planning a trip to Nearby Places, here's a complete list of Top 10 Hill Stations Near Rishikesh, which you can explore is one day, two day or three days with our tour packages.
1.

MUSSOORIE: The Perfect Hill Stations near Rishikesh
Nestled just a scenic drive away from Rishikesh, the captivating hill station of Mussoorie offers a rejuvenating haven amidst the majestic Himalayan landscape. Situated around 75 kilometers from Rishikesh, Mussoorie stands out as an ideal choice among hill stations near Rishikesh, providing a perfect escape into nature's embrace.
Places to Explore:
Kempty Falls: Amazing Water Fall in Mussoorie, with lush greenery and cold temperatures, you can spend your day in here and enjoy the amazing bath with full Masti in Kempty Falls.
Gun Hill: For panoramic vistas that leave a lasting impression, Gun Hill is a top choice. Ascend its heights via a cable car ride to witness breathtaking sunsets and a mesmerizing bird's-eye view, also top point of Mussoorie.
Lal Tibba: Marvel at the snow-dusted Himalayan peaks from the vantage point of Lal Tibba, the highest summit in Mussoorie.
Camel's Back Road: Immerse yourself in nature's tranquility with a leisurely walk along Camel's Back Road. The panoramic views and serene atmosphere make it a cherished spot for relaxation.
Must-Visit Attractions:
Mall Road: Indulge your senses on Mall Road, a bustling hub of shops, boutiques, and eateries. Here, you can shop local handicrafts and savor delectable cuisine, enriching your experience in Mussoorie.
Adventure Escapades: Thrill-seekers will find their heart's desire in Mussoorie's array of adventure sports, including trekking, paragliding, and zip-lining—adding an adrenaline rush to your exploration.
Check Out: Paragliding in Mussoorie
Mussoorie Lake: Embark on a tranquil boating experience at Mussoorie Lake, set against a backdrop of lush hills, and relish the serenity that epitomizes the essence of this charming hill station.
As you plan your getaway to Mussoorie, prepare to be captivated by its natural splendor, invigorating climate, and a myriad of attractions that promise an unforgettable escapade. Whether you're seeking adventure, relaxation, or a harmonious break from routine, Mussoorie stands ready to weave cherished memories in the heart of the Himalayas.
2. Chamba, Tehri Garhwal
Nestled in the breathtaking embrace of the Himalayas, the serene town of Chamba in Tehri Garhwal is a hidden gem that promises an enchanting retreat. Located amidst the splendor of nature, Chamba offers a tranquil escape from the bustling world. Situated at an approximate distance of 63 kilometers from Rishikesh, this charming destination awaits your discovery. Chamba is located at the elevation of 1524 meters and a tiny hamlet where you can explore some amazing natural beauty of hills and mountains. The Dobra-Chanti New Suspension bridge is one of the best attractions of Chamba.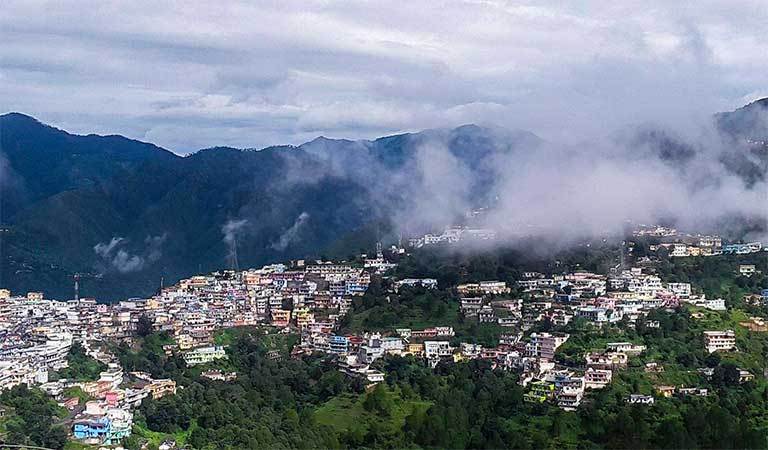 Read More About: Chamba
Unveiling Chamba:
Tehri Dam: A testament to engineering marvel, the Tehri Dam offers stunning views of the clear blue waters against the backdrop of the rugged mountains. The sight is an awe-inspiring spectacle that shouldn't be missed during your visit to Chamba.
Surkanda Devi Temple: Embark on a picturesque trek to the Surkanda Devi Temple, perched atop a hill. The panoramic vistas along the journey and the spiritual aura of the temple make it a captivating experience.
New Tehri: A modern township born out of the construction of the Tehri Dam, New Tehri presents a blend of modernity and natural beauty. The serene waters of the lake and the pleasant weather create a perfect setting for relaxation.
Bhagirathi River: For those seeking adventure, the Bhagirathi River offers thrilling opportunities for white-water rafting. The gushing waters against the backdrop of lush valleys provide an exhilarating experience.
Charm and Tranquility:
Picturesque Landscapes: Chamba is a canvas painted with lush meadows, dense forests, and panoramic vistas. The tranquility of the surroundings makes it an ideal escape to unwind and rejuvenate.
Local Culture and Cuisine: Immerse yourself in the local culture, adorned with warm hospitality and traditional customs. Savor local delicacies that tantalize your taste buds and provide a glimpse into the region's rich culinary heritage.
3. Chakrata: A Hidden Gem of Tranquility Amidst the Himalayas
Nestled amidst the captivating Himalayan ranges, Chakrata emerges as a serene haven that beckons weary souls to embrace nature's splendor. This unspoiled destination, located approximately 130 kilometers from Rishikesh, is a testament to nature's artistry and a haven for those seeking a tranquil escape.
Chakrata's Natural Charms:
Tiger Falls: Embark on a scenic trek to Tiger Falls, a majestic cascade enveloped by lush greenery. The journey to this hidden gem is as captivating as the waterfall itself, offering a revitalizing experience.
Chilmiri Neck: Witness breathtaking panoramic views of the Himalayas from Chilmiri Neck. The tranquil surroundings and cool mountain breeze make it an ideal spot to unwind and soak in nature's grandeur.
Deoban: Explore the dense Deoban forests, a haven for wildlife enthusiasts and nature lovers. The diverse flora and fauna, along with the serene atmosphere, create a captivating ambiance.
A Retreat of Tranquility:
Peaceful Ambiance: Chakrata's untouched beauty and calmness provide a perfect setting for relaxation and rejuvenation. The absence of commercialization allows you to connect with nature in its purest form.
Village Experiences: Immerse yourself in the local way of life by interacting with the friendly villagers. Experience their warm hospitality and gain insights into the local culture and traditions.
Adventure Awaits: Chakrata offers ample opportunities for adventure enthusiasts. Engage in activities like trekking, rappelling, and camping, allowing you to explore the region's natural wonders up close.
Check Out: Tiger Fall Chakrata Tour
4. Kanatal: Embrace Tranquility in the Himalayan Hideaway
Tucked away amidst the towering peaks of the Himalayas, Kanatal beckons as a serene haven where one can find solace in nature's beauty. Situated approximately 78 kilometers from Rishikesh, this captivating destination offers a tranquil escape that rejuvenates the spirit and soothes the soul.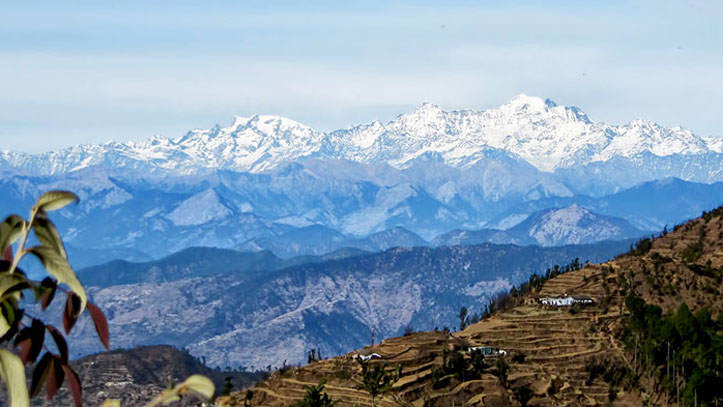 Kanatal's Natural Treasures:
Kodia Jungle: Immerse yourself in the lush expanse of Kodia Jungle, a paradise for nature enthusiasts and birdwatchers. The melody of birdsong and the vibrant foliage create an enchanting oasis of serenity.
Uncharted Trails: Discover the lesser-known trails around Kanatal that lead to hidden viewpoints and quiet spots. These off-the-beaten-path journeys offer a chance to connect intimately with nature.
Check Out: Kanatal Travel Information
A Haven of Peace:
Sunset Delights: Witness the mesmerizing spectacle of the sun bidding adieu behind the majestic mountains. Kanatal's sunsets cast a golden glow over the landscape, creating an atmosphere of serene enchantment.
Starry Nights: Gaze upon the star-studded skies in the crisp mountain air. Kanatal's remote location and unpolluted skies provide a canvas for stargazing and contemplating the universe.
Local Culture: Engage with the warm-hearted locals to gain insights into the Garhwali way of life. Embrace the authenticity of the region's culture through interactions and shared stories.
Reconnect with Nature:
Kanatal invites you to unwind in its serene embrace, away from the hustle and bustle of modern life. Whether you seek quiet contemplation, a deeper connection with nature, or a chance to embark on unexplored adventures, Kanatal offers a sanctuary where tranquility reigns supreme. Prepare to lose yourself in the natural splendor of this Himalayan hideaway, where every moment is an opportunity to find peace and rediscover the beauty of simplicity.
5. Dhanaulti: Embrace Serenity Amidst the Enchanting Himalayas
Nestled amidst the enchanting embrace of the Himalayan peaks, Dhanaulti beckons as a tranquil escape for those seeking respite in nature's lap. Located approximately 70 kilometers from Rishikesh, this picturesque haven offers a serene retreat where you can rejuvenate your senses and reconnect with the beauty of the great outdoors.
Discovering Dhanaulti's Charms:
Eco-Park: Immerse yourself in the lush tranquility of Dhanaulti's Eco-Park, where meandering pathways lead you through a verdant oasis. The deodar trees and serene ambiance make it a perfect spot for relaxation.
Camp Thangdhar: Embark on a camping adventure at Camp Thangdhar, surrounded by pristine landscapes and panoramic vistas. The campfire tales and starry nights create unforgettable memories.
Check Out: Dhanaulti Travel Guide
Tranquility and Natural Beauty:
Apple Orchards: Wander through the charming apple orchards, where the sweet scent of apples fills the air. The orchards offer a serene escape and a chance to experience rural life.
Spectacular Sunrise: Wake up early to witness the breathtaking sunrise over the Himalayan peaks. The changing hues of the sky create a serene spectacle that's worth every moment.
A Sanctuary of Peace:
Dhanaulti offers a haven of serenity where time seems to slow down and the beauty of nature takes center stage. Whether you seek quiet contemplation, a leisurely stroll through orchards, or a chance to indulge in camping amidst nature's embrace, Dhanaulti promises an unforgettable experience. Prepare to immerse yourself in the tranquil beauty of this Himalayan retreat, where every step is a step closer to inner peace and a deeper connection with the world around you.
6. Lansdowne: Where Tranquility Meets the Himalayas
Nestled gracefully amidst the serene Himalayan ranges, Lansdowne emerges as a haven of tranquility and natural beauty. Situated around 125 kilometers from Rishikesh, this charming hill station offers a perfect retreat for those seeking solace in the lap of nature.
Lansdowne's Natural Wonders:
Bhulla Lake: Reflecting the clear blue skies, Bhulla Lake is a serene oasis that offers boating and leisurely walks along its banks. The tranquility of the lake makes it a serene escape from the world.
Tip-in-Top: Ascend to Tip-in-Top to witness panoramic vistas of the surrounding hills and valleys. The sunrise and sunset views from this viewpoint are truly breathtaking.
Check Out: Lansdowne Travel Guide
Tranquility and Serene Ambiance:
St. Mary's Church: Immerse yourself in history and architecture at St. Mary's Church. This colonial-era church exudes a serene charm and offers a tranquil space for reflection.
War Memorial: Pay homage to the valiant soldiers at the War Memorial, a tribute to their sacrifice. The peaceful surroundings add to the sense of reverence.
A Retreat of Peace:
Lansdowne promises a peaceful escape where time slows down and nature's beauty takes center stage. Whether you seek to connect with history, soak in panoramic views, or simply rejuvenate your spirit, Lansdowne welcomes you with open arms. Prepare to embark on a journey of serenity and discovery, where each moment is an opportunity to find solace amidst the Himalayan splendor.
7. Chopta: A Magical Place in the Mountains
Imagine a place where the mountains touch the sky, and the air feels super fresh. It's called Chopta, and it's like a fairy tale come true! Chopta is not too far from Rishikesh, about 161 kilometers away, but it's a whole different world up there. It is also one of the best Hill stations near Rishikesh where you can enjoy the natural beauty and stay there for some days.
What Makes Chopta Special:
Green Meadows: Chopta is like a big green carpet on the mountains. The grass is so soft, and you can run around or have a picnic with your family. It's like nature's playground!
Tungnath Temple: Up on the mountains, there's a special temple called Tungnath. It's like a secret hideout for adventure lovers. You have to hike a little bit, but the views are like something from a movie.
Check Out: Chopta Travel Guide
Fun Things to Do:
Bird Watching: Chopta is a paradise for birds. You can see colorful birds flying around and hear their songs. It's like a bird party!
Star Gazing: At night, when the sky is dark, you can look up and see lots of twinkling stars. It's like a bedtime story book coming to life.
Nature Photography: Take some awesome photos of nature with your photography skills, here you can make some cool reel for Instagrams.
Why Chopta is Awesome:
Chopta is a special place where you can have fun with your family, see amazing views, and even do a little bit of hiking. It's a bit far from the city's noise, so you can enjoy the peaceful sounds of nature. If you're looking for a magical adventure, Chopta is the place to be!
8. Harsil: Where Mountains and Magic Unite
It's a place where mountains stand tall and rivers flow gently, like a lullaby for nature. That's Harsil, a hidden gem not too far from Rishikesh, about 244 kilometers away. It's a bit of a journey, but oh, it's worth it!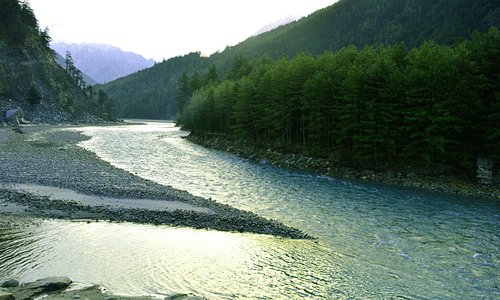 What's Amazing about Harsil:
River Bhagirathi: Harsil is cuddled up by a river called Bhagirathi. It's like nature's gentle hug around the village. The water is clear, and you can dip your toes and have fun.
Apple Orchards: Imagine walking in an orchard where apple trees stand in rows, offering juicy, red apples. You can taste these yummy fruits and feel like a nature explorer!
Fun and Adventure:
Nature Walks: Harsil is like a treasure trove of natural beauty. You can take walks in the woods, listen to birds singing, and even spot some cute animals if you're lucky.
Gangotri Temple: Not too far from Harsil is the famous Gangotri Temple. It's like a magical place where people go to pray. You can also see a glacier that looks like ice mountains.
Check Out: Harsil Travel Guide
Why Harsil is Awesome:
Harsil is a magical village where you can listen to the river's story, see apple trees dancing in the wind, and feel like you're part of a fairy tale. It's away from the busy city, so you can have a peaceful time with your family. If you want to explore nature's beauty and have an adventure, Harsil is waiting to welcome you with open arms!
9. Rudraprayag: Where Rivers and Mountains Share a Secret
Picture a place where rivers meet and mountains stand tall, like friends having a special conversation. That's Rudraprayag, a unique spot not too far from Rishikesh, around 138 kilometers away. Let's explore this hidden treasure!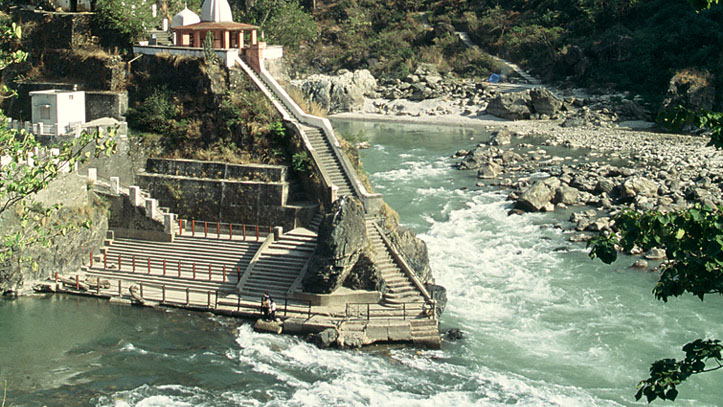 Rivers Dancing Together:
Alaknanda and Mandakini: Rudraprayag is where two rivers, Alaknanda and Mandakini, come together. It's like a river party! The water is crystal clear and makes you want to dip your fingers in. It is also a sacred confluence where you can take holy dip and worship.
Mountains and Spiritual Vibes:
Temples Everywhere: Rudraprayag has lots of temples where people go to pray. The energy feels calm and peaceful. It's like the mountains are whispering ancient stories.
Nature's Playground:
Beautiful Scenery: Everywhere you look, you'll see stunning views of mountains and water. It's like a painting made by nature itself.
Adventure Galore: If you like adventure, Rudraprayag has hiking trails and places to explore. You can be an explorer and see the magic of the mountains up close.
Why Rudraprayag is Special:
Rudraprayag is like a secret place where rivers tell stories and mountains share their wisdom. It's a peaceful spot where you can feel close to nature and find a special kind of calm. If you want to learn about the magic of rivers and mountains, Rudraprayag is waiting to show you its secrets!
10. New Tehri: Where Adventure Meets Serenity
Imagine a place where a huge lake reflects the sky's colors and mountains watch over like guardians. That's New Tehri, a magical town not far from Rishikesh, just around 75 kilometers away. Get ready to explore this unique destination! This is one of the Top 10 hill stations near Rishikesh.
Adventures on Water:
Tehri Dam: At New Tehri, you'll find the mighty Tehri Dam. It's like a giant wall that holds back the water. You can even try exciting water sports like jet skiing and boating on the huge lake created by the dam.
Mesmerizing Views:
Hills and Lake: New Tehri sits on the hills overlooking the sparkling lake. It's like a breathtaking painting come to life. You can enjoy the fresh air and stunning scenery all around.
Fun and Relaxation:
Picnic Spots: New Tehri has lovely spots for picnics by the lake. You can enjoy yummy food and play games with your family while being surrounded by nature's beauty.
Peaceful Vibe: The quiet and calm atmosphere of New Tehri lets you escape from the city's noise. It's a place to relax, read, or simply enjoy the tranquility.
Why New Tehri is Extraordinary:
New Tehri is a blend of adventure and peace. Whether you want to try exciting water activities, gaze at beautiful landscapes, or just unwind by the lake, New Tehri has it all. It's a place where nature's beauty and thrilling experiences come together in a wonderful way. Get ready to make amazing memories in this unique destination!
So, these are the best hill stations near Rishikesh, where you can plan a holiday with us and make some memories. If you have any queries then you can send us details at gokeysindia@gmail.com, helpdesk@gokeys.in 
Check Out: Char Dham Yatra Tour Packages
Check Out: Char Dham Yatra 2023