It is one of the hidden gems in Uttarakhand hills, Harsil situated on the bank of Bhagirathi River near the Gangotri Dham. This is one of the great tourist destinations for various activities like Trekking, walking, hiking and mountaineering. Harsil is situated at the elevation of 2620 meters above from the sea level and the small town comes on the way while going to Gangotri Dham. It is also known for trekker paradise and who want to explore something new can visit here.
The town is covered with dense forest of oak and deodar trees and you can do a walk towards the forest but be careful as there are many wild animal in the forest you can encounter with but it's a great green valley and if you are planning a trip then you will love it and feel embrace yourself to visit here.
Harsil Travel Guide and Tourist Information
The apple orchards are also one of the main attractions of Harsil and you can also buy some apples from the farms there. As well if you are planning a honeymoon trip to Uttarakhand then also add this place in your itinerary to stay some days in the peaceful environment.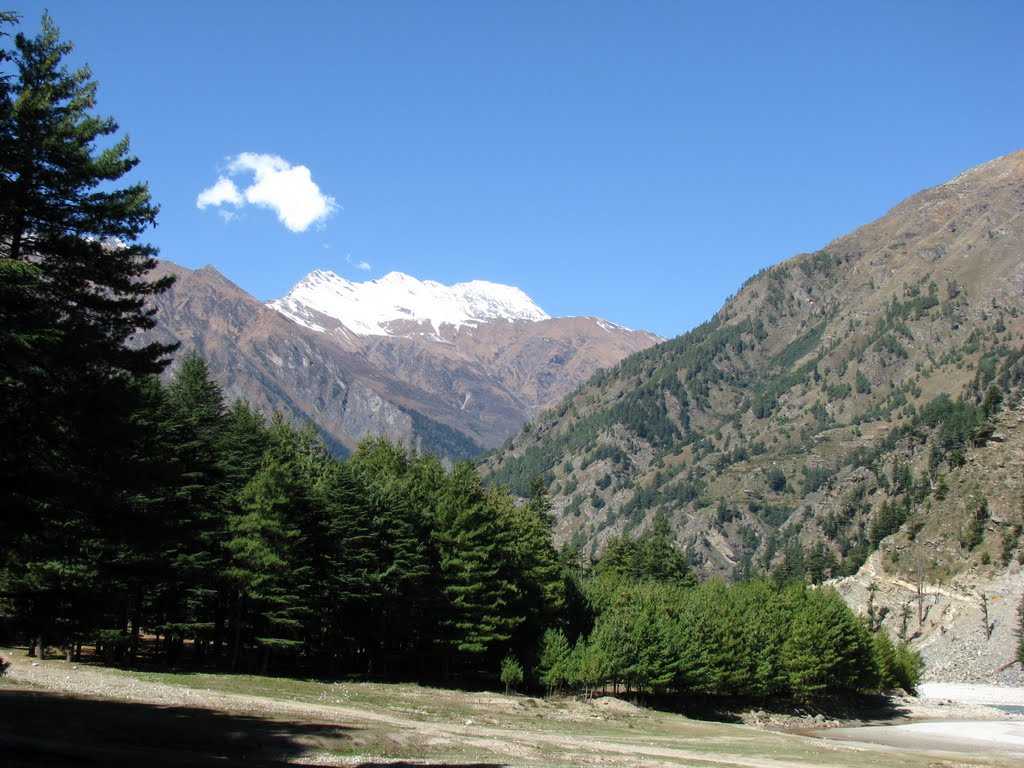 So we are making this Harsil Travel Guide to let to take to the theoretically journey of this place and we are giving as much as information possible about Harsil here. You can also take one of the Harsil and nearby tour Package from us and start your vacation today with us.
Things to do in Harsil
Well there are many things to do or places of attractions in Harsil as well it's near Gangotri Dham so you have many things to do or know here. Check out here the things to do in Harsil/ places to visit in Harsil during your holidays to Uttarakhand hills.
Dharali
Dharali is the near about place to Harsil, located at the distance of 6 Km and know for the Apple orchards and pine trees. It is also situated near the bank of the Holy river Ganga and a Shiva temple is also very famous here and popular attraction here.
Mukhwas Village
Mukhwas Village is known for the home of Goddess Ganga and people worship here during the monsoon because of the way to Gangotri Dham get blocked to heavy rainfall. It is located at the distance of 1 Km from Harsil town.
Dodital Lake
One of the highest located lakes in Uttarakhand is a great trekking destination for travel enthusiasts. It is located at an elevation of 3024 meters above from sea level and situated at the distance of 26 Km from Harsil town.
Dayara Bugyal
Dayara Bugyal is one of the great trekking destinations in Uttarakhand and you will love to see this place, but it is tough trek to reach here around 51 km from Harsil but worth visiting it because of the great green meadows and you can capture some best pictures in your camera from here. It is located at the elevation of 3048 meters above from sea level, so while planning a trek to Dayara Bugyal keep in mind that you should must bring some good trekking equipment with you.
So there are many things you can do in Harsil and also visit Gangotri Glacier and more places in same line.
Best time to Visit Harsil
The best time to visit Harsil is starts from April to June and then September to October month. During summer the temperature is good and you won't be getting too much cold as well too much hot weather but during September or October months you need to bring some good warm clothes with you because of the low temperature during night time.
The temperature in summers ranges about 18 to 30 degrees and some during night falls around 9 degrees. And during winter season the temperature falls below 0 or very low like below 5 degrees. And the main thing is in winter you can witness the amazing snow fall there.
Where to Stay in Harsil?
Well there are many good Hotels, lodges and homestays options available in Harsil and you can opt for anything as per your budget, but don't expect too much because its hill station and you won't be getting here any five star hotel or various food options, but that's the thing about a great hill station.
How to Reach Harsil?
There are three types of main transportations Air, Rail and Roads are available in Uttarakhand to reach various places like any Hill Station.
By Air:- The nearest airport is Jolly Grant Airport Dehradun, located at the distance of 232 Km which takes around 8-9 Hours to reach as hills speed limit is less and Delhi airport from Harsil is located at a distance of 461 Km.
By Train:- The nearest railway Station is Rishikesh but Haridwar is having better train routes connectivity option which is located at a distance of 262 KM from here.
By Road: – This place is well connected with Roads transportation and you can easily take a cab or drive to Harsil from Delhi or Haridwar or Dehradun. Also there are public transportation options like Bus or Shared taxi is available from Haridwar/ Rishikesh/Dehradun. So you opt for anything as per your budget or you can tell us to plan a trip for you according to your need.
So the final words are here, you can start your Harsil trip from Haridwar or Rishikesh or Dehradun and choose some of the customized packages from us to visit this great Valley of Uttarakhand. We also provide guide for the whole trip or you won't need it if you are going with some local drivers and that's what we provide in our tour package. We will give you some local driver and accommodations accordingly to you.
So we wish you happy journey and if you want us to make a trip of Harsil to you then just send us your query or chat with us on given side chat window and our expert will give the best tour itinerary and services possible.