Joshimath is a famous hill station in Uttarakhand, known for various things to do in your holidays. It is located at the elevation of 6150ft above from sea level. It is point of various Himalayan expedition and adventures. Joshimath was earlier known as Jyotirmath because of various famous temples of Hindu's are situated in this town.  The Places to visit in Joshimath are amazing and you will love to spend your holidays in Joshimath.
Joshimath is comes under municipal board of Chamoli District. The Population of Joshimath is approx. 20000 and the weather of Joshimath is like Good throughout the year.
Joshimath is also known as the winter seat of Lord Badri Vishal, because during winter Badrinath Lord Badri Vishal worshipped at Joshimath due to temple close at Badrinath. Every year many tourists visit Joshimath not only when Char Dham Yatra opens but also for various trekking sites starting point and more.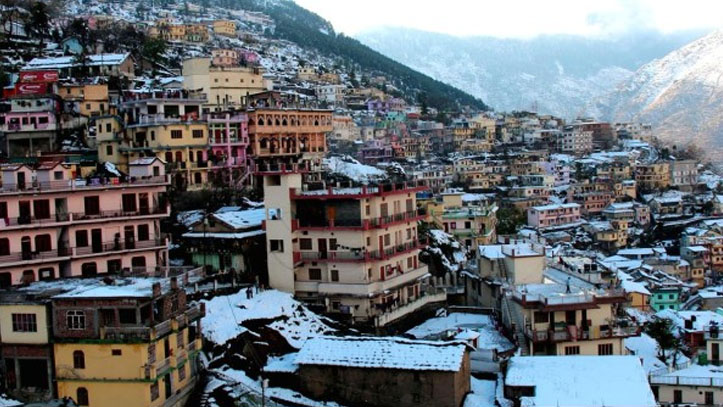 Things to Do in Joshimath | Places to Visit in Joshimath
Skiing in Auli
One of the best point for Skiing and the snow lover place Auli is just 10 Km from Joshimath town. You can reach Auli via Cable Car or Drive to Auli.  Auli is one of the most famous places in India for Snow Surfing and Skiing. The Safe Winter Games also takes place in Auli and you can also learn some Skiing in Auli. The view of Himalayas from Auli is mesmerizing and will give you goose bump.
During winters from Dec to March you will enjoy the snow falls in Auli and also do some adventure sports. Auli is perfect for Couples, Honeymoon, Families and Groups.
Nanda Devi National Park Tour
Nanda Devi National Park is around 20 Km from Joshimath town and you can easily drive there. It is one of Best things to do in Joshimath.  Nanda Devi Park is situated near the Nanda Devi Peak and the mountain ranges of Nanda Devi Mountains.  It is famous for flora and fauna and the bird watching and rare Himalayan species animal. Inside the Park there is a Nanda Devi Sanctuary and you can visit it with enjoy.
Narsing Mandir Darshan
Narsing Mandir or Temple is one of the famous places to visit in Joshimath because of its significance in Hindu religion. Lord Narsing is known as the fourth Incarnation of Lord Vishnu. And other thing is the Badrinath Temple Idol is rests here during the winter season. It is very famous temples of Lord Vishnu Forth Avatar Lord Narsing and one of the most sacred places in Uttarakhand.  You can visit the temple and seek blessings of Lord Vishnu for your life.
Jyotirmath
Jyotirmath is a noticeable vacation spot in Joshimath and is really the fundamental site from which the town inferred its name. Initially called as Shri Shankaracharya Math, this northern matha is raised by Adi Jagatguru Shankarcharya including the other three mathas that are likewise found all around India, comprising the Four Mathas by and large. The legend behind this acclaimed religious community says that an impassioned devotee of Adi Jagatguru Shankarcharya developed this matha carefully under the course of Adi Shankaracharya during eighth century. There is a Lakshami Narayan Temple arranged inside the cloister and a 200-old year tree endearingly called as Kalpavriksha and the Jyoteshwar Mahadev Temple are additionally should visit religious destinations to visit in the event that you are staying for a while at Jyotirmath.
Sleeping Beauty Mountain
Sleeping Beauty is one of the famous places to visit in Joshimath and you can see it from the Joshimath town. The Sleeping beauty is mountain ranges in front of the city and it seems like a lady is lying with spreading her hair. You can see the sleeping beauty mountain and also take some selfies or photos of this mountain.
Kalpavriksha
It is a 1400 Year old mulberry tree with lots of significance and history. It is said that if you walk around the tree in circle and ask for anything you will get it. It is around 2-3 Km from the market of Joshimath. So you can visit the Kalpavriksha tree and also the temples nearby.
Tapovan
Tapovan is 14 Km from Joshimath and you can drive there by car, there you will get a Hot spring and you can enjoy your holidays in the nature.  It is great place of Scenic beauty and flora and fauna.
Best time to Visit Joshimath
You can visit Joshimath throughout the year and the famous trekking like Gursan Bugyal, Valley of flower, Hemkund Sahib etc. start from Joshimath. Any way if you want to snow fall then its winter like Dec to March you can witness the Snow falls in Joshimath & of course Auli. During summer you can also visit the Joshimath as well as you can visit Badrinath Dham which is about 46 Km from Joshimath.
How to Reach Joshimath
By Air:- The nearest Airport to Joshimath is Jolly Grant Airport Dehradun which is around 260Km.
By Train:- The Nearest Railway Station to Joshimath are Haridwar/Rishikesh/Dehradun and those are also more than 250 Km from Joshimath.
By Road:- Yes, Joshimath is well connected with road transports and you can reach here through drive. Haridwar is approx. 280 Km from Joshimath.
Book a trip to Joshimath Auli from Gokeys India and grab the latest deals for your holidays.