Have you ever dreamed of soaring high in the sky like a bird, with the world unfolding beneath you in breathtaking beauty? If so, then paragliding in Dehradun is the adventure you've been waiting for.
Nestled near the Mal Devta Village, this picturesque location offers the best paragliding experience in Uttarakhand, giving you the opportunity to feel the rush of the wind and capture stunning vistas of the Dehradun Valley and the Mussoorie hills.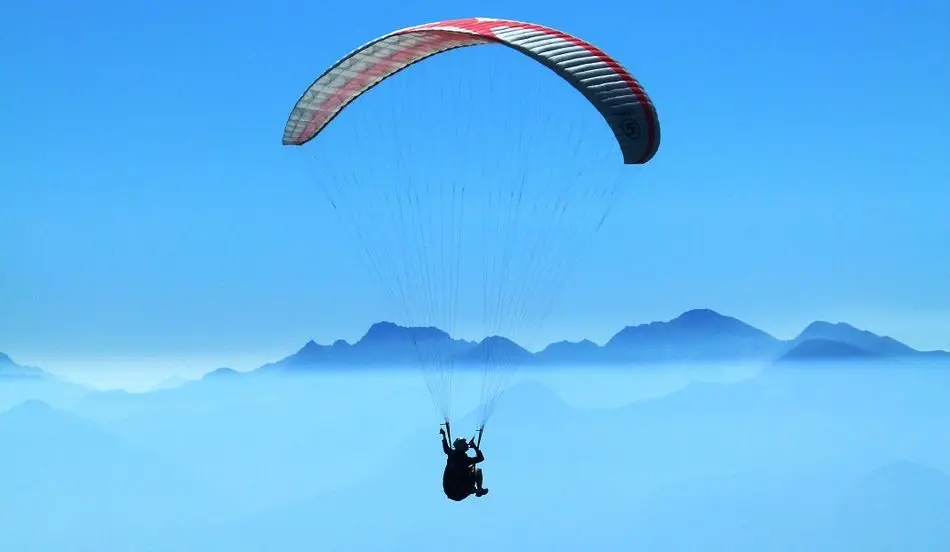 The Thrill of Paragliding in Dehradun Valley
Paragliding is not just an adventure sport; it's a chance to experience freedom and excitement like never before. Whether you're an adrenaline junkie or a first-time adventurer, tandem paragliding in Dehradun is the perfect choice. Accompanied by professional and government-certified guides, you can embark on this thrilling journey with confidence.
So, if you are ready to explore the Paragliding in Dehradun and want to enjoy this breathtaking adventure than you can check the below given details about Prices of Paragliding, age, limit, weight limit and more.
Pricing Options
The cost of your paragliding adventure in Dehradun depends on the duration of your flight:
Short Paragliding Flight (8-12 minutes) – Rs 3,500/person
Long Paragliding Flight (15-20 minutes) – Rs 4,500/person
These packages cater to varying preferences, allowing you to choose the experience that suits you best.
When to Take Flight
In the winter months, paragliding in Dehradun is available between 9:30 am and 5:00 pm, giving you ample time to make the most of your adventure. However, it's important to note that paragliding is weather-dependent, and flight times may vary based on wind conditions.
Weight Limits for Paragliding
To ensure safety during your paragliding experience, there are weight limits in place:
Minimum Weight: 30 kg
Maximum Weight: 85 kg
These limits are essential for a safe and enjoyable flight.
Age Limit for Paragliding:
Generally, the age limit for Paragliding starts from 14 years to 65 Years and but you can check with your medical conditions before starting the Paragliding trip.
Safety First
Safety is the top priority when it comes to paragliding in Dehradun. You'll receive a thorough briefing on paragliding dos and don'ts before your flight. Additionally, you'll be provided with a comfortable harness and helmet for your protection. Rest assured that experienced pilots will ensure your security and happiness throughout the journey.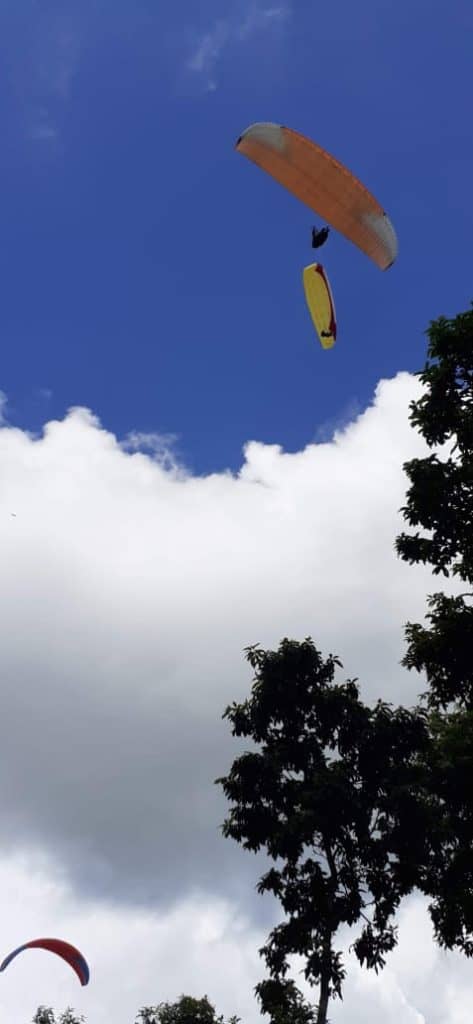 Capturing your ride in the Air
Once you booked your Paragliding trip in Dehradun with us in Maldevta then you will be told for the camera details and you will be asked if you want to capture the film of your ride in the air, yes that would be chargeable but only some extra price with that you will get the full amazing video of your paragliding in Dehradun. So, you can show this piece of best adventure to your family and friends.
What are the Dos and Don'ts for Paragliding
Here are some dos and don'ts for Paragliding in Dehradun you should know before starting the Paragliding trip.
For Clothing: Wear Long trousers, windcheater because it goes up to 4500 feet's, Sunglass and hiking shoes. Do not wear Sarees, Slipper, Sandle and shorts.
For Meals: Eat some easy meals like Chocolate and take some water or easy meals whatever you can. But do not eat heavy meals before 3 hours of Paragliding or any alcohol because it can get you in trouble or sickness.
And don't fear it's going to be okay, and you will enjoy the whole ride with best instructor and amazing valley views.
Height of Paragliding Flight
The height of Paragliding flight is around 3500 feet above to 4500 feet above which can be good to enjoy the natural view of Maldevta Dehradun valley from the above.
Best time to do the Paragliding in Dehradun
Paragliding in Dehradun continues from 15th Sept to 15th July and closes during Monsoon season because of heavy rain fall sometimes.
Booking Your Adventure
Before you embark on your paragliding adventure, it's advisable to call ahead and check for available slots. You can reach out at 9045916770 to make your booking and confirm your adventure of a lifetime.
So, this is the information about Paragliding in Dehradun Maldevta, where you can witness the adventure to get yourself a thrill ride. If you have any query or want to book the trip of Paragliding ride in Dehradun then you can send your query by sidebar query box or you can email us at gokeysindia@gmail.com, helpdesk@gokeys.in
Frequently Asked Questions
Where is the place located for Paragliding tour in Dehradun?

Its located in Maldevta Village of Dehradun in amazing valley of nature view.

How far is Maldevta from Dehradun City?

Its about 10 Kms from City of Dehradun.

What should be my wright for Paragliding trip in Dehradun?

The minimum weight is 30 Kgs and Maximum is 85 to 90 Kgs for Paragliding rides.

What are other things we can do with Paragliding?

You can capture the amazing view of valley from above and also enjoy the amazing weather of Maldevta.

Is it safe to Paragliding in Dehradun?

Yes! it is safe and there are professional instructors for all the Paragliding rides.

What is the price of paragliding in Dehradun?

The cost of paragliding in Dehradun ranges from ₹3,500 to ₹4,500, depending on the duration of the flight.

When is the best time to go paragliding in Dehradun?

Paragliding in Dehradun is available from 15th September to 15th July, with flights taking place between 9 am and 4 pm, depending on the weather conditions.

What are some other adventure activities in Dehradun besides paragliding?

Besides paragliding, you can enjoy activities such as river rafting, camping, zip-lining, mountain cycling, and trekking in the Maldevta area.

How do I reach the paragliding site in Dehradun?

You can reach the paragliding site in Dehradun by booking a local taxi from Dehradun city. Ola and Uber are also available. The site is approximately 10 km from Dehradun.

Can beginners try paragliding in Dehradun, or is it only for experienced flyers?

Paragliding in Dehradun is suitable for both beginners and experienced flyers. Tandem paragliding allows beginners to fly with experienced pilots.

Are there any age restrictions for paragliding in Dehradun?

Generally, the age criteria for paragliding in Dehradun are between 14 and 60 years. However, the ability to participate may also depend on one's physical and mental health.

Do I need to book my paragliding adventure in advance?

Yes, it's advisable to book your paragliding adventure at least a week in advance. Permission from the government is required, and slots may fill up quickly, especially during peak seasons.

What happens if the weather conditions are not suitable for paragliding on the day of my booking?

Paragliding is weather-dependent, and flights can be delayed or postponed due to unfavorable weather conditions. In such cases, the next best possible time slot will be communicated to you.

Can I bring my own equipment for paragliding, such as a helmet or harness?

While it's generally recommended to use the equipment provided by the paragliding operators for safety reasons, if you have your own certified equipment, you can discuss its use with the instructors.

Are there any health restrictions for paragliding in Dehradun?

For safety purposes, it's not recommended for individuals who are more than three months pregnant, have had major surgery, have a broken limb, or have chronic back or neck pain to participate in paragliding.

Can I capture my paragliding experience with photos or videos?

Yes, you can capture your paragliding experience with photos and videos. However, please note that there may be additional charges for this service.

Are there any nearby attractions or activities in Dehradun that I can combine with paragliding to make my visit more adventurous?

Yes, you can enhance your stay by adding activities like Rishikesh river rafting and camping to your adventure bucket list in Dehradun.

What is the refund policy if I need to cancel my paragliding booking?

The refund policy for paragliding bookings may vary based on the timing of cancellation. Generally, if cancellations are made closer to the date of travel, a higher percentage of the total cost may be charged as cancellation fees.

What is the best time to visit Dehradun for paragliding?

The best time for paragliding in Dehradun is during the winter months when the weather conditions are favorable for this adventure sports.