Karanprayag is known for the temple of Maa Uma Devi, Karna and famous confluence of Alaknanda and Pindar River. It is one of the Panch Prayags in Uttarakhand, where you can see the two-river submerging in one river and finally forming Holy River Ganges at Devprayag.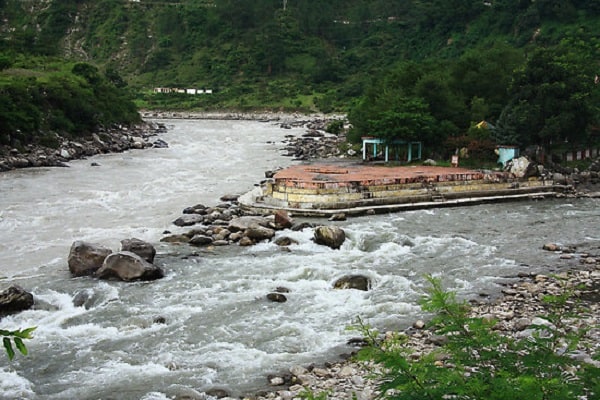 The Other Panch Prayags are Nand Prayag, Rudraprayag, Devprayag and Vishnu Prayag. In Vishnu Prayag Alaknanda River meets Dholi Ganga and then at Nand Prayag Alaknanda River Meets Nandakini River, at Karanprayag Alaknanda meets Pindar River which comes from Pindari Glacier in Bageshwar and then comes Rudraprayag where Alaknanda meets Mandakini River which comes from the glacier and touch the places nearby Kedarnath Dham. Finally, Alaknanda meets Bhagirathi River at Devprayag and form the holiest river in Hindu religion Ganga.
History of Karanprayag
So, let dive into the history and legends of Karanprayag and how the name Karanprayag came to existence in old times.
It is said that once Mahabharat Karana meditate here and lord sun gave him Kawacha and Kundala. In Mahabharat war Karana can not be defeated with these Kawacha and Kundala, so lord Krishna told to his mother Kunti to ask him to give those, then finally he was defeated. It is said that Lord Krishna performed funeral of Karana at this place.
Other story with Uma Devi temple, where it said that Karana resides, was reincarnation of Goddess Parvati, when she jumped herself into the fire because Lord Shiva was very angry and insulted her with Daksh Prajapati. Then she took her another birth as daughter of Himalayas in the form of Maa Uma Devi.
So, Karanprayag is associated with various legends and stories and the town named after Karana.
Places to Visit near Karanprayag
If you are planning a trip to Garhwal region of Uttarakhand in Karanprayag or you are in Karanprayag then you can also visit some nearby places where you can feel refresh yourself. So, here's a complete list of nearby places of Karanprayag.
Adi Badri Temple: This is one of the Panch Badri Temples, which is very ancient and built in Garhwal architecture style. Located around 22 Kms from Karanprayag, here you can visit the temple, which is said the be built in the era of Mahabharat epic. Now it comes under the Uttarakhand tourism and archaeological survey of India.
Nandprayag: The confluence of Nandakini river which comes from Nandaghunguti Glacier and meets with Alaknanda. You can go and visit the sacred confluence there which is about 18 Kms from Karanprayag.
Kaleshwar Bhairav Nath Ji Temple: The Kaleshwar Bhairav Nath Ji temple is located near Karanprayag is about 7 Kms distance in Kaleshwar village. It is dedicated to Lord Bhairav Nath Ji and one of the most famous temples in the Chamoli Garhwal. People from different parts comes here to take blessings of Bhairav Nath Ji. So, if you are in Karanprayag then you can go and pay holy visit to this amazing temple.
Joshimath: It is an amazing hill station with destination like Auli which is known for Snow Fall and Skiing, also Narsing Temple, Shankaracharya Math and Kalp Vriksh and you can also enjoy the cable car ride to Auli from here and capture the view of Joshimath hill station from above. It is about 80 Kms from Karanprayag. You can visit the hill station with religious significance also.
Badrinath Dham: Badrinath Dham is about 130 Kms from Karanprayag which is one of the Char Dham of Uttarakhand and India as well. The Badrinath temple is dedicated to Lord Vishnu Ji in the form of Narayana. Every year many of devotees comes to take blessing of Lord Badri Vishal Ji and darshan at temple.
Rudraprayag: Rudraprayag is about 35 Kms from Karanprayag and known for the holy confluence of Mandakini and Alaknanda River. It is also a hill station and also important in religious view. Rudraprayag is also starting point of Shri Kedarnath Dham Yatra.
Hariyali Devi Temple: Hariyali devi temple is located in Rudraprayag district and to get to the temple one need to drive through village road in Danda Khal.
Places to Stay in Karanprayag:
There are many hotels, lodge and resorts are available in Karan Prayag where you can stay during your trip or visit. If you want to stay with local and learn some new things, then you can opt for Homestay in Karanprayag.
For food there are many restaurants and dhabas where you can enjoy the local cuisine as well and embrace the Garhwali food.
How to reach Karanprayag
Karanprayag is accessible by road and one can drive from Haridwar or Rishikesh to reach here, the roads are good and its National Highway 58.
In some years it will also be accessible by trains because the trains route is in under construction and till 2025 it will be completed.
So, that the information about Karanprayag, where you can see the confluence of Alaknanda and Pindar River and pay visit at Maa Uma Devi Temple.
Frequently Asked Questions about Karanprayag
Which rivers are meets in Karanprayag?

Alaknanda and Pindar River make the holy confluence in Karanprayag.

How much distance is Rishikesh to Karanprayag?

Do we get good accommodation in Karanprayag?

Yes there are good hotel and resorts available in Karanprayag.

How Karanprayag is named?

Karanprayag is named after the Karana of Mahabharata.

Is Karanprayag Big City?

Karanprayag is a small town, but you will get all the necessity there.