So you have reached here and we assume that you must be searching for some cool hill stations to spend your holidays. So you are at right place to know about top 10 places to visit in Kumaon mostly hills. Well, Uttarakhand has two regions which are Garhwal and Kumaon; both the regions have their specialty and both the regions have amazing and beautiful hill stations for perfect vacations. So we are talking here about Kumaon region the places to visit here.
About Kumaon Uttarakhand
Kumoan region in Uttarakhand has 6 Districts which are Bageshwar, Nainital, Almora, Pithoragarh, Champawat and Udham Singh Nagar.
The official language of Kumaon Region is Hindi and local language is Kumaoni. There are many fairs and festivals celebrated in Kumaon. The main airport of Kumaon is Pantnagar Airport and all the places are connected with road transportations.
The Railway Stations in Kumaon are Kathgodam, Haldwani and other.
So let's check out about places to visit in Kumaon
Top Places to Visit in Kumaon Uttarakhand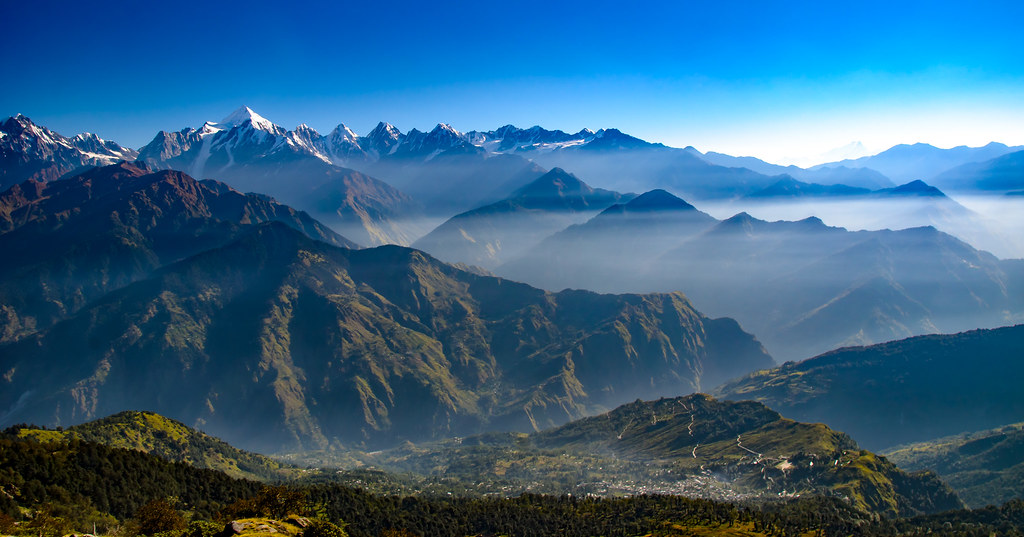 Nainital: – Nainital is always a perfect destination for Honeymoon Couples, Family, Solo Travellers and others. The weather of Nainital is always seems amazing but during winter it is very cold. During summer season you can enjoy the cold weather in Nainital. It is known as the "Lake City of India". Nainital is famous for Naini Lake in the City with its surroundings to Mall Road. The Naina Devi Temple is also one of the famous attractions in Nainital. You can make a trip to Nainital for 3-4 Days and enjoy you stay in the Lake city. Read more about Nainital
Kausani: – Kausani is also said "Mini Switzerland" by Mahatma Gandhi. It is picturesque place with Himalayan Views Hills. You can reach Kausani by roads transports. It is a perfect place to celebrate your holidays in the lap of nature. Kausani is a Small town located in Bageshwar District. The famous Peaks Trishul Peak, Nanda Devi Peak and Panchulli Peak can be seen from Kausani. This place is also good for meditation and yoga.
Almora: – If you are planning to visit the Kumaon Region then while driving to Ranikhet or Kausani Almora will come in the route and you should definitely pull over here and enjoy the great sightseeing of Almora.  It is district in Kumaon region and also a town with many things to do in. The town of Almora is shaped like a horse shoes and it still has many British Heritages you should see in here. This place is quite and far away from the city busy life. For staying in Almora there are many good hotels and guest houses available here.
Ranikhet: – Ranikhet is a one of the best hill station in Uttarakhand as well as in India and it is known for its green fields with flora and fauna. It is located at the elevation of 1869m above from sea level in the Almora District. The Distance of Ranikhet and Almora is around 46 Km and Almora to Kausani is 59 Km.  It is surrounded by great Himalayan peaks and every year many tourists from India as well as abroad come to visit Ranikhet.  Ranikhet is also army cantt area where you can see many old army weapons in the museum.  The Distance from Delhi to Ranikhet is 350Km and from Dehradun it is 325Km. Ranikhet is well connected with Road transportations. For Staying there are plenty of good hotels and accommodation you can stay in.
Munsiyari: – Munsiyari is one of the best places to see in Kumaon region it has its own importance.  It offers the amazing view of snowcapped mountains from the town. Munsiyari is located at the elevation of 2298m above from sea level. This is one of the starting points for amazing trekking destinations in Uttarakhand.  It also offers the closet view to Panchulli peaks the group of five peaks together. The best time to visit Munsiyari Sept to June month. During winter if you are snow lover then you must visit Munsiyari.  The Places to visit in Munsiyari are Darkot Village, Kalamuni Temple, Birthi Falls, Khaliya Top Thamri Kund and more.  Munsiyari is 594Km from Delhi and 432Km from Haridwar.
Mukteshwar:- This lovely hill station is one of best places to see in Kumaon. It is located at the height of 2186m above from sea leave. Mukteshwar distance is 343Km from Delhi and 51 Km from Nainital. It is situated in the hills known for rock climbing, rappelling and the mesmerizing view of Himalayan mountains range. This place got its name after the Lord Shiva temple Mukteshwar Dham which is one of the famous and 350 Year old Shiva Temples in Uttarakhand. Chauli Ki Jali is the place in Mukteshwar where you can do some adventure stuffs like abseiling, climbing, adventure hiking and cliff climbing. You will enjoy the place Mukteshwar in you Kumaon Holiday trip.
Binsar: – Binsar is known for scenic places of hills covered with oak, pine and deodar tree and the bird sanctuary which is very famous sanctuary known as Binsar Bird Sanctuary also for its variety of flora and fauna. In here you can sit at the zero point and see the amazing views of Kedarnath Peak, Shivling Peak, Trishul and Nanda Devi peaks. Binsar is around 88 Km from Nainital and 421Km from Delhi. You can make Kumaon tour program and enjoy your holiday to spend in the places in Kumaon.
Abbott Mount & Lohaghat: – These places are situated in the Champawat District in Kumaon region; both the places are great Hill Stations. Abbott Mount is 7Km from Loha Ghat so on the way to Abott mount you can stop at Loha Ghat and see the beautiful views of Himalayas from here. Abott Mount is located at the elevation of 6400Ft above from sea level. It is one of the best Hill stations in Uttarakhand; you can do bird watching, trekking and photography here. This place is sprawling over the acres of woods and its picturesque hill station to spend your holidays. Abott mount to Nainital Distance is approx. 144Km so you can plan a Kumaon trip accordingly.
Chaukori: – Chaukori is located at the elevation of 2010m above from sea leave. It is approx. 173 Km from Nainital situated in the Pithoragarh district of Kumaon region. It is a place of dream you can't even think that your imagination of travel will be true after visiting Chaukori. You can see the amazing views of Nanda Devi, Nanda Kot Peak and Panchulli peaks from here. There are some Hindu temples are also famous in Chaukori which are Dhaulinag, Feninag, Harinag, Kalinag and other temples. You will also find here green gardens of fresh tea leaves. During winter season you will go to enjoy the snow falls in Chaukori.
Jim Corbett National Park: – Jim Corbett National Park is a reserve animal park for Bengal Tigers, Leopards, Wild elephants, other wild animals and many species of birds. It is wildlife sanctuary in Uttarakhand named after the legendry tiger hunter Mr. Jim Corbett then he turned to naturalist who was British hunter. Corbett National Park is lies in amidst of foothills of Kumaon Himalayas and houses a variety of flora and fauna.  The places to visit around Corbett Park are Jungle Safari, Garjia Devi Temple, Gurney House, Multnomah Falls and Dhangarhi gate and museum. For stay there are many Star hotels, Deluxe Hotels, Resort, Guest houses are available in Corbett National Park. It is 268Km far from Delhi and around 180Km from Haridwar.
So these are the amazing places in Kumaon region as well as there are many other places like Dharchula, Pithoragarh, Patal Bhuvneshwar Temple, Kasar Devi Temple and other places you can visit in the Kumaon.
Book a trip to Kumaon Uttarakhand with Gokeys and get the best deal for your memorable journey.