Visit Chaukori an Amazing Hill Station in Kumaon Uttarakhand
If you want to visit some offbeat places for your trip to Uttarakhand, then you should have must add a place which is Chaukori. It is a picturesque hill station situated in the Kumaon region of Uttarakhand state in India. It is home to the majestic peaks of Nanda Devi (Highest peak in Uttarakhand and 2nd Highest in India with 7817 Meter height) and Panchachuli (6904 Meter), lush tea gardens, and deodar and rhododendron forests. It is a perfect destination for nature lovers and adventure seekers alike.  So, check out our best Guide for Chaukori to enhance your trip with this information.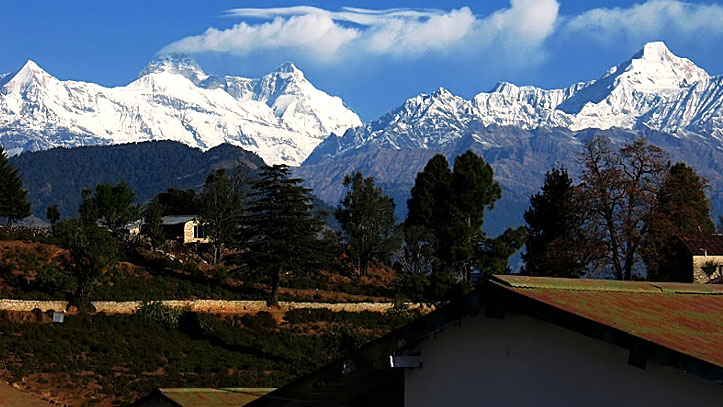 Best Things to Do in Chaukori
There are many things you can do while visiting the Chaukori, here's some quick things to do in Chaukori.
Enjoy the breathtaking views – From the highest mountain peaks like Nanda Devi to the lush tea gardens, Chaukori has some of the most beautiful views in the country. You can take a leisurely stroll around the village and take in the natural beauty or go for a trek in the nearby hills.
visiting the Temples or ancient shrines – Chaukori is home to some of the oldest temples in the region. The nearby temples with great history are Dhaulinag, Kalinag, feninag, Pinglenag, Harinag temples which are associated with Nag dynasty in Uttarakhand. You can Visit the temples to learn about the local culture and history.
Enjoy the local cuisine – Chaukori has some delicious local dishes to offer, as you must know that Uttarakhand has a cuisine with various different dishes from rest of the India. So it's your turn to Enjoy a traditional Kumaoni meal of dal-bhat, chutneys and pickles, and don't forget to try the famous kheer!
Popular Places to Visit in Chaukori
Berinag – This village is located 12.5 km from Chaukori and is famous for its tea gardens and a beautiful temple. The Berinag is ancient village associated with Nagvanshi Rulers during 6th-7th AD in Uttarakhand. You can also visit other Nag Temples nearby the Chaukori.
Dharamgarh – This is a small village located 9 km from Chaukori and is known for its scenic views of the Himalayas. It is one of the main attractions or places to visit in Chaukori. Dharamgarh offers views of peaks like Nanda Devi, Nanda Kot and Panchachuli, You can enjoy your day away from rush and city life in here.
Kanda Village – This is a village located 60 km from Chaukori and is known for its traditional architecture because as per the history Kumaon Katyuri Kings ruled here in 7-9th Century. This village is famous for Kalika Temple and also natural beauty. You can add these places to your trip, it will come between the Bageshwar and Chaukori, so you can plan a trip to Kumaon accordingly.
So, these are some places you can visit while your trip to Chaukori or Kumaon Uttarakhand.
How to Reach Chaukori
So, let's check here how you can reach to Chaukori with various options of Transportation.
By Road – Chaukori is well connected with major northern cities via road transports. There are various bus services available from Delhi to Kathgodam / Almora. From there you can drive to Chaukori in shared taxi / local cabs or buses. The distance from Delhi to Chaukori is 556 Kms, so you can take a bus from Delhi ISBT to Haldwani/Kathgodam and then take another from there.
By Rail – The nearest railway station is Kathgodam Railway Station, which is 196 km from Chaukori. There are various trains connecting Kathgodam with other major cities like Delhi, Lucknow and Kolkata etc. The frequency of trains to Kathgodam is quite high as it is the gateway to the Kumaon region of Uttarakhand. So it will be a good option to reach Kathgodam from various cities of India and then proceed to Chaukori via Bus or Private taxi.
By Air – The nearest airport is the Pantnagar Airport that lies approximately 223 kilometers from Chaukori.
Frequently Asked Questions about Chaukori
Here are some quick frequently asked questions about Chaukori in Kumoan Uttarakhand you can check for some more information.
What is the best time to visit Chaukori?
Although every season has its own significance in Chaukori, still the best time to visit Chaukori is from December to June. In addition, the greenery is at its full bloom from July to September because of rain falls and greenery everywhere. The panoramic sights of the Himalayas in the play hide and seek during monsoons. Although the weather remains cool throughout the year, nights can be a little chilly.
Is it safe to travel to Chaukori?
Unlike other major hill stations, Chaukori is a hill station entirely established by the Kumaoni people of Uttarakhand that reside in Chaukori and its vicinity. Local people of Chaukori are very humble and even make sure that all the tourists are safe and sound.
What are other destinations in and around Chaukori?
There are a few ancient temples in Chaukori region. Ranikhet and Chaukori are at a distance of 59 kms. Bageshwar is 50 kms from Chaukori. You can also drive to Munsiyari from Chaukori.
When can one expect snowfall in Chaukori?
Snowfall in Chaukori usually commences in the last week of December up until the month of January.
What are the road conditions in Chaukori?
Being part of well-maintained NH-309A, roads are pretty good, smooth for Chaukori, and well suited for your personal vehicle.