Nestled within the picturesque Garhwal Himalayas, Uttarakhand is a land renowned for its mythical aura and breathtaking natural beauty. Often referred to as "Dev-Bhoomi" – the Land of the Gods, this Indian state boasts a plethora of cultural and religious destinations that allure tourists year-round. While spots like the Chhota Char Dham pilgrimage sites attract many, there are hidden gems like the Niti Valley waiting to be discovered, offering an unparalleled experience of tranquility amidst the hills.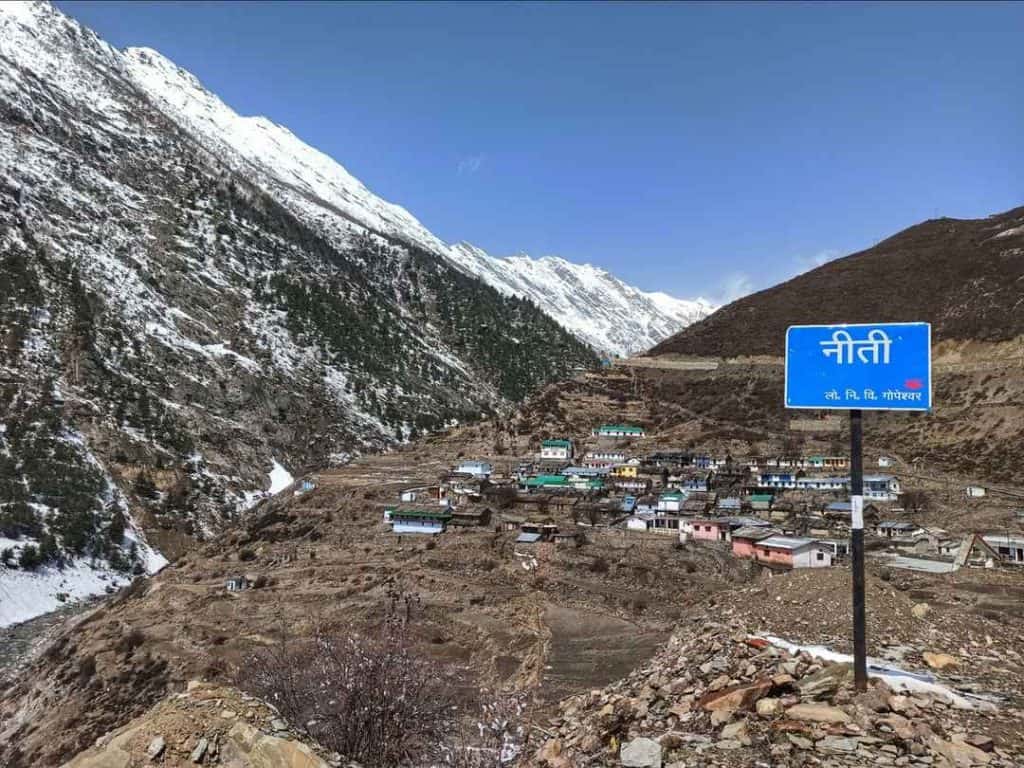 Discovering the Serene Niti Valley
Located to the east of the Mana Valley, deep within the heart of Joshimath, lies the remote and enchanting Niti Valley. Historically significant, Niti Pass, situated at an elevation of 5,086 meters, once served as an ancient trade route between India and China. However, its significance grew even more profound as it became the focal point during the 1962 Sino-India War, leading to its eventual closure.
Niti Valley stands as a testament to both history and beauty, comprising a collection of villages including Lata, Kaga, Dronagiri, Malari, Bampa, and Gamshali. This picturesque valley, nestled within the Chamoli District, offers an unmatched experience for travelers yearning for serenity and a touch of offbeat adventure.
A Journey Through Beauty and Mythology
Embarking on a journey from Joshimath, travelers are greeted by a visual feast as the route to Niti Valley is adorned with nature's splendors. The journey leads to Tapovan, a destination known for its hot springs and as the starting point of the Bhavishya Badri trek. The enchanting views of Nanda Devi, Dronagiri, and other Himalayan peaks paint a mesmerizing backdrop for explorers.
Further along the route, travelers encounter the Dronagiri Parvat View Point, which offers breathtaking vistas of the Dronagiri Peak. This ancient village, perched at a height of 12,000 feet, is steeped in mythology and history, with its origin traced back to the Ramayana.
A Glimpse of Authentic Life
The journey continues to the rustic village of Malari, where unique architecture and slate-roofed houses dot the landscape. Inhabited predominantly by the Bhotia tribes, known for their sheep rearing and pulse cultivation, Malari exudes authenticity.
However, the crown jewel of Niti Valley is the quaint village of Niti itself. Boasting a population of less than 50 families, Niti stands as the last Indian village on the Indo-China border. The villagers' way of life revolves around the land, with crops like kidney beans, basmati rice, apricots, and medicinal herbs flourishing in harmony with the surrounding nature.
A Glimpse into Tradition
The Rongpa community in Niti Valley proudly preserves its traditions, showcased through their unique attire made of layers of wool. Men and women don garments that reflect their cultural heritage, creating a captivating tapestry of colors and textures.
Accommodation options are limited in the valley, but the warmth and hospitality of the villagers make up for it. Travelers often find solace in homestays, where they can experience local life firsthand.
A Pilgrimage Beyond the Ordinary
Niti Valley also harbors a lesser-known pilgrimage site – the Mahadev Temple. Tucked between the villages of Gamshali and Niti, this cave temple houses a lingam formed by ice, reminiscent of the Amarnath shrine in Jammu and Kashmir. During the Hindu calendar month of Shravan, devotees embark on an arduous journey to pay homage to the ice stalagmite lingam.
A Hidden Gem Awaits
Niti Valley stands as a testament to the untouched beauty of the Himalayas. Its rugged terrain, isolated villages, and breathtaking landscapes offer a taste of serenity for travelers seeking an authentic and offbeat experience. The journey to Niti Valley is not merely a physical one; it's a journey through time, mythology, and the soul of the Himalayas.
Embarking on a Serene Journey: Niti Valley Itinerary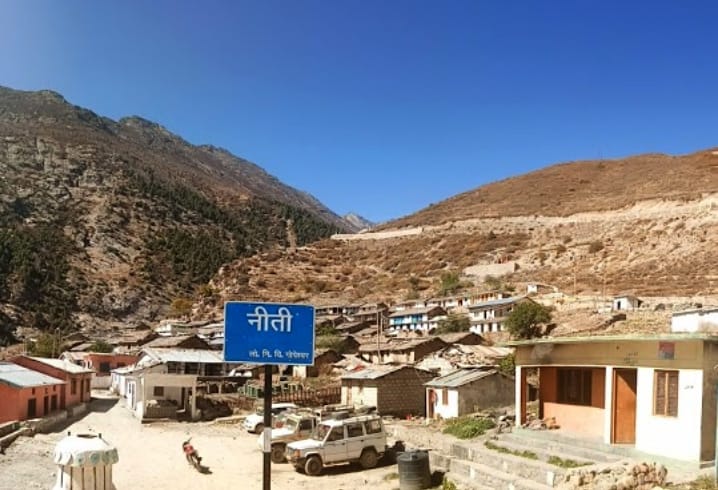 If you're yearning for a unique and tranquil getaway, the Niti Valley in Uttarakhand is the perfect destination. This hidden gem offers an escape from the ordinary and a chance to immerse yourself in the untouched beauty of the Himalayas. Here's a suggested itinerary to make the most of your Niti Valley experience:
Day 1: Arrival at Joshimath
Arrive at Joshimath, the gateway to Niti Valley.
Take in the scenic drive from Rishikesh or Haridwar to Joshimath, approximately 8 hours.
Along the way, marvel at the confluence of the sacred Prayag rivers: Dev Prayag, Rudra Prayag, Karn Prayag, and Nand Prayag.
Check into your chosen accommodation in Joshimath.
Spend the evening exploring the town and acclimatizing to the altitude.
Day 2: Joshimath to Niti Village
After breakfast, visit the revered Narsingh Temple and Shankaracharya Math in Joshimath.
Begin your journey towards Niti Village, an approximately 3-hour drive.
Enjoy the breathtaking landscapes and picturesque views on the way.
Upon reaching Niti Village, settle into your homestay and take some time to interact with the locals.
Explore the village at your own pace, discovering its unique charm.
Day 3: Exploring Niti Valley
Wake up to the crisp mountain air and a hearty breakfast.
Embark on a leisurely walk around Niti Village, soaking in the natural beauty and serenity.
Engage with the local community to learn about their way of life and traditions.
Capture the captivating landscapes and village life through your camera lens.
Spend the night in Niti, surrounded by tranquility.
Day 4: Niti Village to Joshimath via Auli
Enjoy a final morning in Niti, savoring the peaceful ambiance.
After breakfast, bid farewell to Niti and begin your journey back to Joshimath.
En route, make a stop at Auli, a renowned hill station and ski destination.
Take a cable car ride to enjoy panoramic views of the surrounding mountains.
Continue to Joshimath and check into your accommodation.
Reflect on your Niti Valley experience and relish the memories.
Day 5: Departure from Joshimath
As your journey comes to an end, savor a leisurely breakfast.
Take one last stroll through Joshimath, collecting souvenirs and memories.
Depart for your onward journey to Rishikesh, Haridwar, or Dehradun, which takes around 7 hours.
Cherish the beauty of Niti Valley in your heart as you journey back home.
Experience the Unseen Beauty of Niti Valley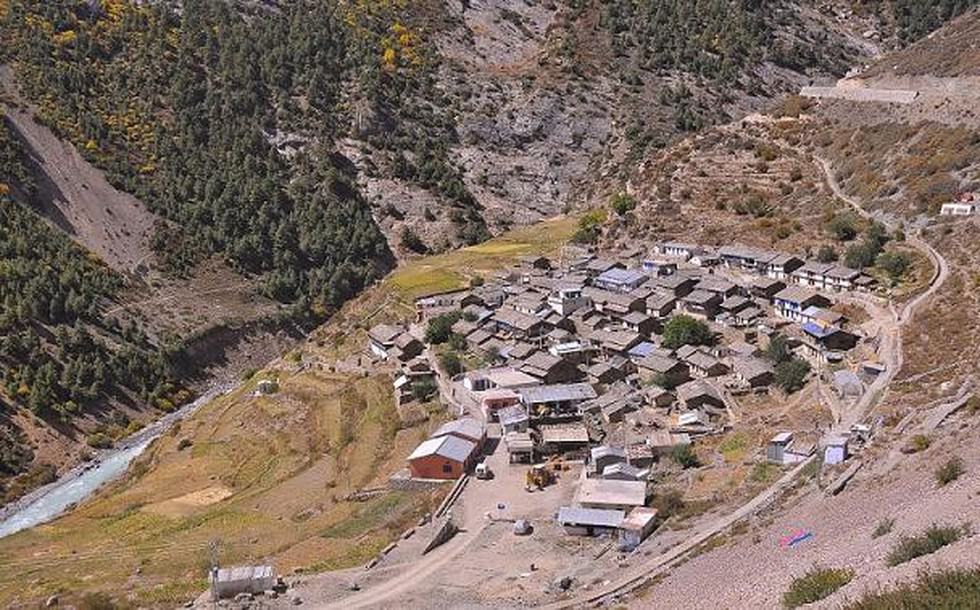 This suggested itinerary offers a glimpse into the serene and captivating world of Niti Valley. With its tranquil villages, breathtaking landscapes, and enriching cultural experiences, Niti Valley promises an unforgettable escape from the ordinary. Immerse yourself in the natural beauty, engage with the locals, and create memories that will last a lifetime in this untouched Himalayan paradise.
Weather Details: Niti Valley's Seasonal Charms/ Best Time to Visit
Niti Valley, tucked away in the Garhwal Himalayas of Uttarakhand, offers a climate that's as diverse as its landscapes. From snow-covered winters to lush summers, each season unveils a unique charm. Here's a breakdown of the weather you can expect throughout the year in Niti Valley:
Winter (October to March):
Winter in Niti Valley is characterized by freezing temperatures and heavy snowfall.
The valley is covered in a blanket of snow, creating a mesmerizing winter wonderland.
Temperature: During the day, temperatures range from -2°C to 5°C, while nights can plummet to -15°C or lower.
Heavy snowfall often leads to road closures, making accessibility challenging.
The locals usually migrate to lower altitudes, and many facilities may be closed due to extreme weather conditions.
Spring (April to June):
Spring marks the gradual transition from winter to summer.
Snow begins to melt, revealing lush greenery and blooming flowers.
Temperature: Daytime temperatures range from 5°C to 15°C, while nights remain chilly, averaging around 0°C to 5°C.
April and May are relatively cool, making it an ideal time for outdoor activities and exploring the villages.
June brings warmer days, with more tourists arriving to enjoy the pleasant weather.
Summer (July to September):
Summer in Niti Valley is short but relatively mild.
The weather is pleasant, with clear skies and comfortable temperatures.
Temperature: Days see temperatures ranging from 10°C to 20°C, while nights stay cool, around 5°C to 10°C.
July and August can experience occasional showers, so be prepared for some rainfall.
This season is perfect for trekking, nature walks, and experiencing the local culture.
Autumn (October):
Autumn sees the transition from summer to winter.
The landscape starts to change color as leaves turn golden and red.
Temperature: Days are mild, ranging from 10°C to 15°C, while nights become colder, averaging around 0°C to 5°C.
October is a great time for photography and witnessing the breathtaking autumn foliage.
By the end of the month, the weather starts getting cooler as winter approaches.
Pack Smart, Embrace the Seasons
Niti Valley's weather adds to its allure, providing distinct experiences throughout the year. To make the most of your visit, pack accordingly. In winter, bring heavy winter clothing, including insulated jackets, gloves, and warm layers. Spring and summer require lighter layers, but don't forget a light jacket for the cooler nights. During the rainy season, a waterproof jacket and sturdy footwear are essential.
Whether you're captivated by the snow-covered landscapes of winter or the vibrant hues of autumn, Niti Valley's weather plays a vital role in shaping your unforgettable journey. So, plan ahead, pack smart, and embrace the seasonal charms of this hidden Himalayan treasure.
Exploring Niti Valley: Authorization and Permissions
Niti Valley, with its secluded beauty and proximity to sensitive border areas, does require some authorization and permissions for visitors. Here's what you need to know before embarking on your journey to this hidden Himalayan gem:
Permission to Visit Niti Village:
To visit Niti Village, the last village on the border, you will need permission from the Sub-Divisional Magistrate (SDM) office in Joshimath.
This permission is primarily for security reasons, as Niti Village is close to the Indo-Tibetan border.
The process involves submitting an application at the SDM office, providing necessary identification and travel details.
No Permission Needed for Other Villages:
For most other villages in Niti Valley, including Lata, Raini, Jhelam, Malari, Kosa, Kailashpur, Farkiya, Bampa, and Gamshali, you generally do not need specific permission to visit.
These villages are accessible on the way to Niti Village, and permissions are not typically required.
Accessibility and Checkpoints:
The ITBP (Indo-Tibetan Border Police) has a checkpoint in Gamshali Village, which is about 2.5 km before Niti Village.
This checkpoint is part of the security measures in place due to the border proximity.
It's important to cooperate with the authorities at the checkpoint and provide necessary identification.
Respecting Local Customs and Guidelines:
While permissions might be required for certain areas, it's essential to respect local customs and guidelines throughout your journey in Niti Valley.
Engage with the local community with sensitivity, and always ask for permission before taking photographs of people or their property.
Staying Informed:
Regulations and requirements can change, so it's advisable to stay informed about the latest updates before planning your trip.
Contact the local tourism office or the SDM office in Joshimath to get accurate and up-to-date information about permissions.
Preserve the Charm of Niti Valley: Niti Valley's regulations are in place to ensure the safety and security of both visitors and the local community. By obtaining the necessary permissions and respecting local customs, you contribute to the preservation of this pristine region's charm and cultural integrity. So, while a little paperwork might be involved, the rewards of experiencing the untouched beauty of Niti Valley are truly worth it.
How to Reach Niti Valley
By Road: The journey to Niti Valley often begins from Joshimath, which is well-connected by road from major cities like Rishikesh and Dehradun. From Joshimath, you can hire a local cab or shared jeep to reach the village of Malari, which acts as the gateway to Niti Valley.
Trekking: Another way to access the valley is by embarking on a trek from Malari. The trek, though challenging, rewards trekkers with stunning views of the surrounding mountains and valleys.
Essential Tips:
Pack Wisely: The weather in Niti Valley can be unpredictable, so pack warm clothes, rain gear, and sturdy trekking shoes.
Respect Local Customs: Niti Valley is home to indigenous communities with rich cultural traditions. Respect their customs and engage with locals in a friendly and sensitive manner.
Stay Informed: Given the proximity to the border, it's important to stay informed about the local situation and follow any guidelines provided by local authorities.
Safety Precautions:
Altitude Sickness: Niti Valley's high altitude can lead to altitude sickness. Acclimatize properly and stay hydrated.
Communication: Mobile network connectivity may be limited or unavailable in certain areas, so inform someone trustworthy about your travel plans.