Gwaldam is a small town located in the Chamoli Garhwal District of Uttarakhand states. It is a quiet and beautiful hill station located in the Garhwal and Kumaon Himalayas; we can say the last town of Garhwal region in Uttarakhand after that the Kumaon Region Starts with Srikot Village.  This Gwaldam Travel Guide will give you some answers you were searching about this places to know about it for your upcoming trip.
Gwaldam is located the height of 1629 Km above from sea level.  You can see the mesmerizing views of multi Himalayan peaks Trishul, Nanda Devi and Nanda Ghunti from here. These peaks are located at the height of above 6800 meters to 7800 meters.
Gwaldam Travel Guide & Tourist Infromation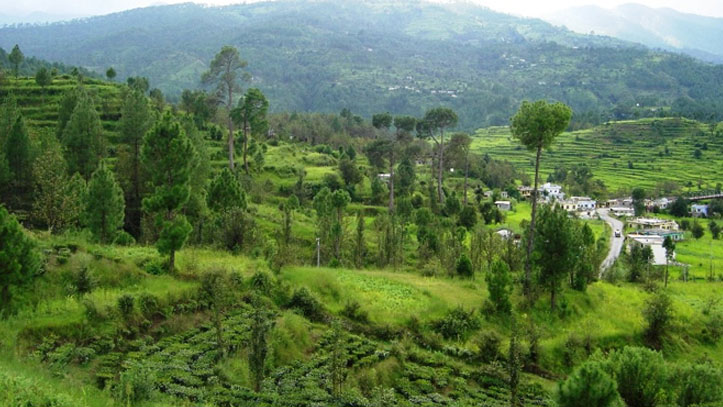 If you want to see a place with less crowd and beautiful landscapes hills then it is perfect places to see in Garhwal. There are some amazing places to see in Gwaldam and you can easily spend your somedays to know the Garhwal Hills.
Gwaldam is about 20 Km from Tharali town in Garhwal which Connects to Karanprayag and further highway to Rishikesh or Haridwar. Another side there is Baijnath located at the distance of 22 Km from Gwaldam which connects Bageshwar and further highway to Nainital, Haldwani and more places.
The Trekking of various Himalayan peaks starts from here. The trekking's are Roop Kund, Bedni Bugyal and more.
Let go to the top places to see in Gwaldam Uttarakhand and their detailed information.
Maa Badhangarhi Temple
Maa Badhangarhi Temple is one of the must places to see near Gwaldam, located the height of 2260 meters above from sea level in the top of the mountain. It is located around 6 Km from the Gwaldam and one can reach the temple by easy walk of 4 Km from the Car parking area at Taal.
After reaching here at the temple you can feel the amazing presence and pay tribute at the Temple. This temple is dedicated to Goddess Kali and Lord Shiva. The view of surroundings and different villages from here is amazing and you can do some photography here. The temple was built by Katyuri Dynasty ages ago.
Buddhist Khampa Temple
The Buddhist temple is located around 1.5 Km from the beautiful town of Gwaldam. You can do prayer here and see a different culture nested in the Garhwal Himalayas. You can see the statues of different incarnations of Buddha here.
Gwalnaag
Gwalnaag is one of the beautiful small villages located at the distance of 3 Km from Gwaldam. During winter it is an ideal located for short skiing and the slopes of snow are amazing to spend your holidays and enjoy the adventure of Skiing. Going further you will find Garud Valley which looks like diamond bowl in the Hills of Himalayas.
Angora Farm
It is located 1 Km from Gwaldam town, a farm which is being homes of 170 Mohair goats and five shillas. This farm was built in 1987 for Goats preservations.  You can see here different types of Goats here and enjoy the beautiful place in the lap of Himalayas.
Nanda Devi Rajjat
No, Nanda Devi Rajjat is not starts from here but follow this route which takes places in every twelve years and if you want to be a part of this holy trip you can visit here during the Nanda Devi Rajjat and witness the amazing and Holy trip to Roopkund and Nanda Devi peaks.
There are some other places nearby Gwaldam like Srikot, Talwari and Tharali you can visit during your trip to Garhwal Region.  The Oak and deodar tree forest can been see from Gwaldam to Talwari while driving towards the Karanprayag Highway.
Things to do in Gwaldam
Trekking
Gwaldam is base camp for the great trek of Roop Kund, So trekking is one of the best things to do in Gwaldam.
Bird Watching
It is also a good place for bird watching which you can do from the Badhangarhi hills.
Skiing
During winter you can enjoy the skiing in Gwalnaag near the Gwaldam town.
Walking in the Oak forests
Well it is one of the best things you will enjoy in the Gwaldam, take a small walk of 2-3 Km here to explore the amazing forests nearby.
Best Time to Visit Gwaldam:-
There are many hill stations in Uttarakhand you can see throughout the year and it is one of those places you can visit but avoid during monsoon because of heavy rain falls. During summer season from April to June it spread a great weather to enjoy your summer holidays in the Himalayas.
While in winter you can enjoy the cold days here and as well as Snowfalls in January and February. So make your trip to Gwaldam accordingly.
How to Reach Gwaldam:-
By Air: – The Nearest Airport to Gwaldam is Pant Nagar Kumaon Uttarakhand located at the distance of 250 Km.
By Trains: – The Nearest multi city railway station is located at a distance of 160 Km in Kathgodam.
By Roads: – Gwaldam is well connected with roads transport and you can drive here from Kumaon as well as Garhwal. It is located 32 Km from Kausani, 45 Km from Bageshwar, 149 Km from Nainital and 240 Km from Rishikesh.
For budget travelers you can take buses from Haldwani or Haridwar to Gwaldam, there are many regular buses to Gwaldam.
Where to Stay in Gwaldam?
There are many good hotels, Lodge and Guest Houses available in the Gwaldam town and you can also go with GMVN Tourist rest house in Gwaldam can be book through GMVN official website.
Else we are giving you the accommodation booking facilities to Gwaldam, for that you can send us your query about Gwaldam trip and we will do the rest.
Which other Hill Stations are nearby to Gwaldam?
There are some good places or we can say small hill stations you can visit nearby to Gwaldam while your trip to Uttarakhand. The places are Kausani, Deval, Roopkund, Tharali, Bageshwar, Baijnath, Jageshwar Temples, Binsar, Almora and Ranikhet.
So that's some travel information about Gwaldam Hill Stations and the best places to see in Gwaldam details.
You can book a Gwaldam Trip from Gokeys and enjoy your trip without any hassle.