Dhari Devi temple is one of the most worshipped temples in Uttarakhand, dedicated to Maa Bhawati and is also one of the 108 Shaktipeeth of Goddess Mother. The Place where the temple is located is about 15 Kilometers from Srinagar Garhwal and also from Rudraprayag, the town name is Kalyasaur where it is located.
Dhari Devi Temple Uttarakhand
It is situated on the bank of Alaknanda River between Rudraprayag and Srinagar and Maa Dhari Devi is known as guardians and protector of Char Dhams of Uttarakhand.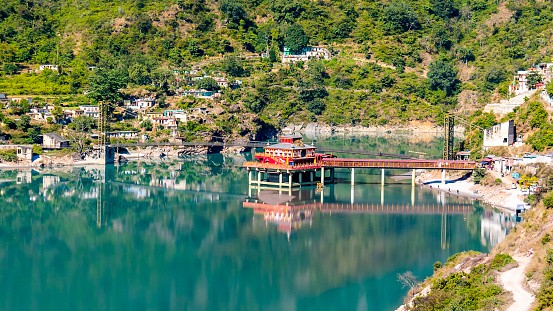 While visiting to any places of Garhwal region everyone who is passing by bows their heads and salutes to Maa Dhari Devi. This temple has legends and stories which you must know before visiting and planning a trip to Maa Dhari Devi Temple.
History and Legends about Dhari Devi Temple
The division of the goddess into two parts, with one half in Dhari Devi shrine and the other half in Kalimath temple, is a unique aspect of this religious tradition, symbolizing the duality and complementary nature of divine energies.
Kalimath Temple: The Kalimath temple is another important religious site associated with the worship of the goddess. In this temple, the lower half of the idol of the goddess is kept. The goddess is worshipped here as a manifestation of Maa Kali, who is considered the other half of Lord Shiva. Maa Kali is a powerful and fierce form of the goddess and represents the destructive aspect of Shakti.
As per the legend, long time ago, there was a big flood in the Alaknanda River. In this river, there was a statue of the goddess Kali. During the flood, the statue got stuck on a big rock. The people of Dharo village heard the goddess's voice. They decided to put the goddess's statue where it got stuck. That's why they built a temple there, and it's called Dhari Devi temple because of this incident.
The Mystery of Dhari Devi Temple
In June 2013, the original temple was removed from its places and shifted to concrete platform which was 600 meters high from the Alaknanda River and after several hours of shifting, one of the biggest natural disasters occurred in Kedarnath Dham by cloud burst and avalanche, washing the entire shrines town also killing many peoples.
And it is said that Uttarakhand has to face Goddess' ire as she was shifted from her original place.
But now the temple was constructed in same location.
How to Reach Dhari Devi Temple
There are several options to reach Dhari Devi Temple for your upcoming trips, which includes by flight, Trains and Road transportation. You can check here for the details with distances from nearby options.
By Air: The nearest airport is Jolly Grant airport Dehradun. Which is about 134 Kilometers from Dhari Devi Temple. The airport is connected with various cities of India like Jaipur, Delhi, Mumbai, Pune, Bangalore and more. So, you can easily reach by flight here.
By Train: The nearest railway station is Yog Nagari Railway Station Rishikesh, which is about 120 Kms from Dhari Devi Temple. This railway station is also connected with major Indian cities.
By Road Transportation: Dhari Devi temple is well connected with motor road transportation and one can reach near the temple by driving from any cities of India, once reach park your vehicle and then you need to trek down (stairs available) to reach the temple. There are several Buses and Shared taxi available from Haridwar or Rishikesh to reach the temple.
By Private Taxi: If you want comfort then you can book a private taxi from us from Haridwar and take the cab to reach Dhari Devi Temple. Once you reach you can have Darshan of Maa Dhari Devi and then you can also visit the nearby attraction.
For private taxi, you can send us your query and we will get back to you with best tour itinerary and driver details.
Whether Details of Dhari Devi and Nearby Places:
The weather is always good but warm at daytime, during summer season you can expect hot temperature which goes from 26 Degree to 35 Degrees sometime. In Monsoon, you can expect heavy rain falls some time.
In winter you already know it is located in the hills of Uttarakhand, so expect cold weather but at daytime it will be sunny day if there is no rain.
Places to visit near Dhari Devi Temple:
There are several places you can visit while your religious trip to Maa Dhari Devi Ji Temple. Here's a list of places you can visit near Dhari Devi Temple.
Devprayag: Devprayag is a confluence of Alaknanda and Bhagirathi which forms the Holy River Ganges from this point, so you can visit the Devprayag Sangam, where you can witness the two different colors of river submerging into one and making the holy river Ganges. It is about 50 Kms from Dhari Devi Temple.
Rudraprayag: Rudraprayag is another confluence of River Alaknanda and Mandakini, where you can also see the Koteshwar Mahadev Temple and Rudraprayag is also known for the starting point of Shri Kedarnath Yatra. It is located at 15 Kms from Maa Dhari Devi Ji Temple.
Srinagar: Srinagar is a big city of Garhwal and you can visit here Kamleshwar Nath Ji temple and also visit the Garhwal University. You can also explore the water Dam beach near Srinagar.
Chopta: Chopta is called Mini Switzerland of Uttarakhand and it is a big valley where you can expect some amazing trips of Uttarakhand. You can enjoy the mesmerizing views of various Himalayan Mountain ranges and stay there for a while in the lap of nature. You can also trek to Tungnath and Chandrashila which is not so far from Chopta.
There are so many other places like Ukhimath, Deorial Tal, Kedarnath Dham Ji, Trijuginarayan, Kartik Swamy Temple, Khirsu and many more where you can explore the amazing places of Garhwal hills.
So, if you are planning a trip to Dhari Devi Temple and nearby places then you can send us your query via our sidebar query box or you can mail us at gokeysindia@gmail.com, helpdesk@gokeys.in
Frequently Asked Question about Dhari Devi Temple
What is the Dhari Devi temple?
The Dhari Devi temple is a sacred Hindu temple located in India. It is dedicated to the goddess Kali and is known for an interesting legend associated with its origin.
Where is the Dhari Devi temple located?
The Dhari Devi temple is located near the Alaknanda River in Kalyasaur Village. It is situated in the district of Rudraprayag.
What is the significance of the Dhari Devi temple?
The temple is considered significant for its association with the goddess Kali and the belief that the goddess protects the region from natural disasters, especially floods.
Can visitors access the Dhari Devi temple easily?
The temple is located in a remote area of Uttarakhand and can be reached by road. However, access may be affected during certain weather conditions, so it's advisable to check local conditions before planning a visit.
Is there any special time or festival associated with the Dhari Devi temple?
The temple sees increased activity during festivals like Navratri when devotees come to worship the goddess with great devotion. It's a special time to visit for those interested in the temple's cultural and religious significance.
Is photography allowed at the Dhari Devi temple?
Photography policies may vary, but it's advisable to check with the temple authorities or guides about photography and any specific rules or restrictions in place when visiting the temple.
Is Dhari Devi Temple Accessible by Road?
Yes, you can reach there by driving through to Rishikesh or Haridwar.
How many steps or Stain need to trek or climb to reach Dhari Devi Temple?
Don't worry its easy way and you don't need to climb may steps just some and you will reach to the temple.
What are the places near Dhari Devi temple to Visit?
You can visit Devprayag, Rudraprayag, Koteshwar Mahadev Temple, Chopta, Tungnath and more.
What is best time to visit Dhari Devi Temple?
You can visit the temple and pay your respect to the Goddess Dhari Devi Ji throughout the year, during Navratri its best to visit.