The Kagbhusandi Lake Trek is an odyssey that enables adventurous souls to view nature's masterpiece and is tucked away in the Garhwal Himalayas. Kagbhusandi Lake, which is located at a height of 5230 meters, is a witness to the Nanda Devi National Park's untainted, unadulterated beauty. Located close to the Kankul Pass, this holy lake reveals its emerald waters amid the towering peaks, beckoning travelers to explore its unspoiled shores and take in the beauty of nature.
Explore the Kagbhusandi Lake | Chamoli Garhwal
The Panorama Views: A Work of Nature
The excursion reveals more than just a simple mountain hike; it's a voyage into the center of a vibrant canvas. A breathtaking backdrop is painted by imposing peaks like Chaukhamba, Hathi Peak, Neelkanth, and Nar Narayan, creating a scene that is beyond compare. This is a monument to the Himalayas' breathtaking grandeur that the sight of these towering giants, their peaks kissed by the heavens, leaves on the spirit.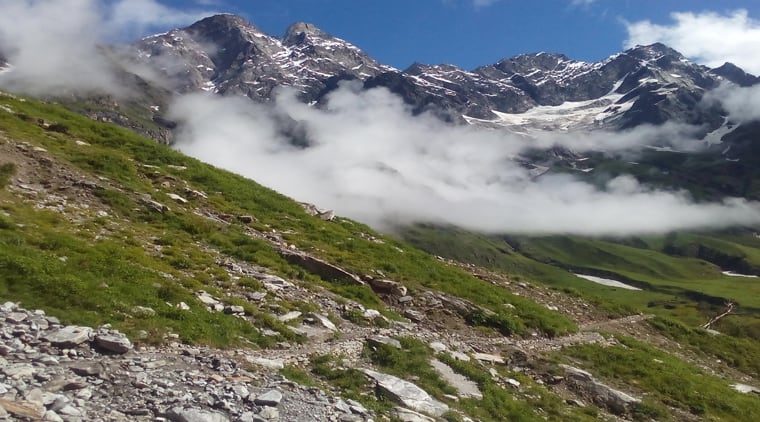 The Kagbhusandi Lake Legends are mythological tales.
Kagbhusandi Lake has its own ancient tales, just like many other natural wonders do. According to legend, the name 'Kagbhusandi' derives from the crows that congregate here as if drawn by a supernatural force. These sage birds' feathers are still visible surrounding the lake, serving as an ethereal memory of a long-gone era. Another legend claims that an Ayodhya Brahmin who was under a sage's curse found solace in the appearance of a crow. This old legend is symbolized by two boulders that stand vigil, looking like a crow and an eagle having an endless dialogue.
Starting the Journey: Important Things to Bear in Mind
A hike to Kagbhusandi Lake requires planning and a respect for the environment. Take note of the following essential ideas:
Trek Difficulty Level: moderate to difficult
The right physical conditioning is essential. Regular exercise will improve endurance, especially cardiovascular exercises and strength training.
Key Equipment: It's important to dress appropriately, especially in below-freezing weather. With insulating mid-layers, waterproof outer layers, and moisture-wicking base layers, layering is essential.
Footwear Issues Purchase quality hiking boots. They ought to provide ankle support, have a firm sole for traction, and be cozy for extended periods of walking.
Acclimatization: The adjustment to high altitudes takes time. Before arriving at the lake, acclimatize at a middle elevation.
Photography: Carry top-notch photography gear to capture the breath-taking scenery and moments of awe that characterize this expedition.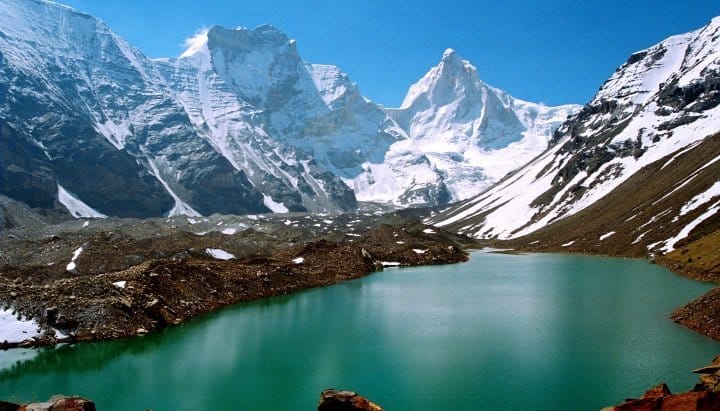 Kagbhusandi Lake Trek Route: An Exploration of Beauty
Day 1: Starting in Haridwar, the trip takes 291 kilometers (10/11 hours) across the Himalayas to Govindghat via Joshimath.
Day 2: The route travels 12 km (6/7 hours) from Govindghat to Bhyundar Village and Roop Dhungi. The landscape changes, providing hints of the upcoming natural wonders.
Day 3: 14 km (8 hours) from Roop Dhungi to Samartoli and Raj Kharak. The route meanders between tall mountains and lush forests, providing ever-changing vistas.
Day 4: Awe-inspiring views of the green jewel encased in the mountains await those who ascend from Raj Kharak to Kagbhusandi Lake via Kankul Pass (8 km, 5–6 hours).
Day 5: There is time for reflection during the 8-kilometer, 4.5-hour return trip from Kagbhusandi Lake to Gouncha Udiyar.
Day 6: Trekkers travel through breathtaking landscapes from Gouncha Udiyar to Panika (10 km), followed by a drive to Govindghat (7 km), which marks the end of their expedition.
Day 7: The final stretch of the walk, from Govindghat to Haridwar (291 km, 10–11 hours), gives hikers a chance to pause and think back on their remarkable journey.
Ideal Moment to Start This Journey
The Kagbhusandi Lake Trek is best done between May and June, and then again from September to October. The weather is favorable throughout these months, and the trail is ideal for hiking.
Why Pick a Trek to Kagbhusandi Lake?
Beautiful Scenery See the magnificence of the Himalayan mountains, the green meadows, and the tranquil Kagbhusandi Lake.
Challenge and Adventure: Steep ascents, descents, and rocky terrains will put your abilities to the test. Explore your capabilities by pushing past your comfort zone.
Discover Kagbhusandi Lake's remote and pristine setting for a one-of-a-kind experience. Immerse yourself in the untainted splendor of nature.
Interact with locals to learn about their culture and way of life through cultural immersion. Learn about the customs that have influenced this area for many years.
Spiritual Connection: The path travels by a number of temples and shrines, providing opportunities for contemplation and spirituality. Get in touch with nature and find comfort in its enduring presence.
Conclusion:
The Kagbhusandi Lake Trek is an expedition of the senses and the spirit, not merely a journey. This hike is an experience that goes above and beyond the usual thanks to its breathtaking views, extensive mythology, and the friendliness of the locals. Every stride is a monument to the majesty of existence, and every view is a display of the Himalayas' breathtaking magnificence. This trip is more than just a getaway; it's an adventure that will live long in the memories.
What is the altitude of Kagbhusandi Lake?

Kagbhusandi Lake is located at an altitude of 5230 meters (approx. 17,159 feet) above sea level.

What are the best months to undertake the Kagbhusandi Lake Trek?

The best time for the Kagbhusandi Lake Trek is between May and June, and from September to October. During these months, the weather is pleasant, and the trail is at its best for trekking.

What level of fitness is required for the Kagbhusandi Lake Trek?

The Kagbhusandi Lake Trek is rated as Moderate to Difficult. It is advisable to be in good physical condition with proper conditioning and training before embarking on this trek.

What type of clothing and gear is essential for the trek?

It's essential to have appropriate clothing for sub-zero temperatures. Layering is crucial, with moisture-wicking base layers, insulating mid-layers, and waterproof outer layers. Additionally, sturdy trekking shoes, a raincoat, a water bottle, a torch, a first aid kit, and some snacks are essential.

How long does the Kagbhusandi Lake Trek take to complete?

The Kagbhusandi Lake Trek typically spans over 7 days and 6 nights, including the drive from Rishikesh to Rishikesh.

Is it necessary to hire a guide for the trek?

While it's not mandatory, it's highly recommended to hire a local guide who is familiar with the terrain and the route to Kagbhusandi Lake. They can provide valuable insights and ensure safety.

Are there accommodation options available during the Kagbhusandi Lake Trek?

There are no formal accommodation options available along the trekking route. Camping is allowed at designated campsites. Trekkers are advised to carry their own camping gear or rent it from a trekking company.

What is the maximum altitude reached during the Kagbhusandi Lake Trek?

The highest point reached during the Kagbhusandi Lake Trek is 5230 meters (approx. 17,159 feet) at Kagbhusandi Lake.

Is the Kagbhusandi Lake Trek suitable for beginners?

While beginners can undertake the Kagbhusandi Lake Trek, it's important for them to be in good physical condition and have some prior trekking experience. Proper precautions and adherence to safety guidelines are crucial.

Can children participate in the Kagbhusandi Lake Trek?

The trek is challenging and involves steep ascents and descents. It's recommended for individuals who are physically fit and have prior trekking experience. The difficulty level may make it unsuitable for young children.
Explore the enchanting Kagbhusandi Lake Trek in Garhwal Himalayas. Discover its beauty, myths, and practical tips. An adventure of a lifetime awaits!