Nestled in the heart of the Garhwal region of Uttarakhand, Gopeshwar stands as a serene haven at an elevation of 1550 meters above sea level. This town, often referred to as the administrative headquarters of Chamoli district, is not only a geographical gem but also a spiritual sanctuary. Gopeshwar offers a unique blend of religious significance, natural beauty, and historical intrigue.
So, if you are planning a trip to Garhwal Himalayas and want to explore some offbeat places then you can check out Gopeshwar for perfect destination for you.
Serene town in Garhwal Hills Gopeshwar Chamoli
In this article, we set out on a quest to discover the rich tapestry of Gopeshwar, highlighting its notable monuments, uncovering its tales, and offering tips on how to make the most of your stay. Gopeshwar welcomes guests with open arms, encouraging them to share in its serene embrace. From the ancient temples that resound with tales of devotion to the stunning panoramas that paint the backdrop.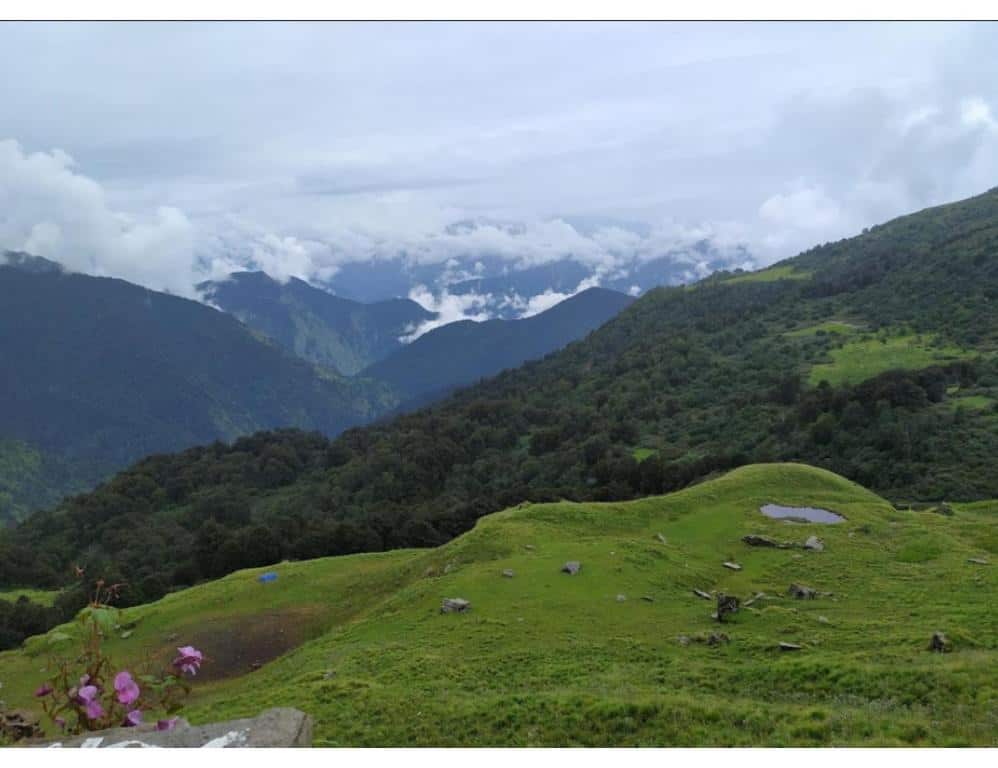 Join us as we explore the history, culture, and natural splendors of this undiscovered jewel in the Garhwal Himalayas, revealing the countless aspects that make Gopeshwar a place worth visiting.
History of Gopeshwar
The history of Gopeshwar is a tapestry that spans the ages, stitched together with myth and conquest. According to legend, the town got its name from Lord Krishna, lending its beginnings a hint of heavenly mysticism.
Gopeshwar was initially controlled by a number of dynasties before settling into the Garhwal kingdom. In the Anglo-Nepalese War of 1814–1816, the Gurkhas, who were renowned for their powerful presence in the area, temporarily maintained dominion until falling to the might of the British.
Gopeshwar has been shaped by these historical changes into the town it is today, with a rich cultural past. The echoes of centuries past reverberate as you walk through its streets and take in its atmosphere, giving you a look into the history that has shaped this peaceful town.
Essential Details about Gopeshwar
Gopeshwar, located in Uttarakhand's Garhwal region at an elevation of 1550 meters above sea level, enjoys a special configuration of geographic coordinates that situates it there amid the splendor. Due to its altitude, the town has a moderate temperature with gloomy days giving way to sunny breaks, sporadic rain showers, and occasionally even magnificent blankets of snow.
A wide variety of fruits, from the delicious Peach (Aadoo) to the unusual Jackfruit, may be found in the orchards that surround Gopeshwar. Plum (Pulam), Hisaaloo, Apricot (Khumanee), Pears (Nashpati), Cherry, Mango, Citrus (Malta), Guava, Apple, Strawberry, Kirmodi, Kafal, Ghigharu, Alu Bukhara, Pine Nuts, Bedu, and Jackfruit are just a few of the abundant harvest's many varieties that each add to the vibrant palette of Gopeshwar's agricultural bounty.
Places to visit in Gopeshwar
Gopinath Temple: The Gopinath Temple, which is devoted to Lord Shiva, is a monument to historic construction and spiritual significance. Its architecture is similar to those of famed Shiva temples like Tungnath, Kedarnath, and Rudranath that are located nearby. According to legend, Lord Shiva himself used the trident (trishul) kept here to defeat Kamdeva, the God of Love, while meditating, forging an unbreakable tie between devotee and deity.
Anusuya Devi & Atri Muni Temple: This temple complex honors Goddess Sati, the loving wife of sage Atri Muni, and is situated around 17 kilometers from Gopeshwar. Large people gather annually in December to celebrate Dattatreya Jayanti in awe of this divine union.
The Chandika Devi Temple: Also known as Maa Mahishasur Mardini, commemorates the holy site where Chandika Devi vanquished the powerful Mahishasur. This landmark, which is just 2 kilometers from Gopeshwar and has considerable religious significance, is a must-see for both pilgrims and history enthusiasts.
Places to visit near Gopeshwar
In addition to being a destination unto itself, Gopeshwar serves as a gateway to other alluring locations in the Garhwal region. Every one of these locations has its unique allure, luring visitors to explore and immerse themselves in the breathtaking natural features and profound spiritual importance they have to offer.
Chopta: Known as the 'Mini Switzerland' of Uttarakhand, Chopta is an escape for hikers and others who enjoy the outdoors. It's a sanctuary for anyone looking for peace and quiet amidst breathtaking natural beauty with its lush meadows, deep forests, and vistas of the Himalayan ranges.
Deoriatal: A beautiful lake encircled by wooded mountains and snow-capped summits, Deoriatal offers a tranquil haven for people seeking peace in the midst of nature. A sight to behold is Chaukhamba Peaks reflecting in the glistening river.
Tungnath: Tungnath is a revered pilgrimage destination and the starting point for the hike to Chandrashila Peak, which affords sweeping vistas of the Himalayas. Tungnath is known for housing the highest Shiva temple in the world.
Trek to Rudranath: To get to Rudranath, one of the Panch Kedar temples devoted to Lord Shiva, set out on a journey through historic forests and harsh terrain. The trip offers beautiful views in addition to having spiritual significance.
These adjacent locations add to the attractiveness of Gopeshwar by offering a variety of experiences for tourists looking for adventure, spirituality, and nature contact. Every location is a chapter in the intriguing story of Uttarakhand's Garhwal area just waiting to be discovered.
There are several other locations like Ukhimath, Karthik Swamy temple, Chandrashila and Joshimath which are nearby of Gopeshwar and you can visit during your trip to Garhwal Himalayas.
How to reach Gopeshwar
There are many ways to get to the peaceful town of Gopeshwar, which is tucked away in the Garhwal Himalayas. One can select the form of transportation that best satisfies their needs based on preferences and available resources.
By Air: Jolly Grant Airport in Dehradun, which is around 226 kilometers distant, is the closest airport to Gopeshwar. Regular flights from Delhi stop at this airport, linking the area to the rest of the nation. The remaining distance from Dehradun to Gopeshwar can be traveled by taxi or bus.
By Train:If you want to travel by train, the nearest stations are in Rishikesh (206 kilometers distant) and Haridwar. Both stations have excellent connections to India's largest cities. To get to Gopeshwar from here, one can take a bus or a taxi.
By Road:Those who want to take the scenic route can drive to Gopeshwar. Both Dehradun (272 kilometers away) and Rishikesh (208 kilometers away) offer regular bus service to Gopeshwar. The drive itself is an experience and provides stunning vistas of the Himalayan scenery.
Gopeshwar: Accommodation Options
There are many accommodations option available in Gopeshwar which starts from Lodge, Hotels, Resorts and Ashram and as per your budget you can choose one of them.
The Hotel rates ranges from 800 for double rooms to 3500 per double room for 2 persons. The food costing is good, and you can have food local dhabas and restaurants in the Gopeshwar town.
So, this is the information about Gopeshwar town where you can enjoy you stay in the lap of Himalayas and the weather of Gopeshwar is always very best in all Uttarakhand. If you want to book a trip to Gopeshwar and want to explore the places in Gopeshwar then you can send us query by sidebar query box or you can email us at gokeysindia@gmail.com, helpdesk@gokeys.in
What is the best time to visit Gopeshwar?

The best time to visit Gopeshwar is during the summer months, from April to June, when the weather is pleasant for sightseeing and outdoor activities. Winter (October to March) is also a good time for those who enjoy cold weather and occasional snowfall.

What are the main attractions in Gopeshwar?

The main attractions in Gopeshwar include the Gopinath Temple, Anusuya Devi & Atri Muni Temple, Chandika Devi Temple, and Vaitarni Kund. Additionally, the scenic beauty and surrounding places like Chopta and Deoriatal offer breathtaking views of the Himalayan landscape.

How can I reach Gopeshwar?

Gopeshwar is accessible by air, rail, and road. The nearest airport is Jolly Grant Airport in Dehradun, approximately 226 km away. The closest railway stations are in Rishikesh and Haridwar. By road, buses are available from Dehradun (272 km) and Rishikesh (208 km) to Gopeshwar.

Are there trekking opportunities near Gopeshwar?

 Yes, Gopeshwar is a gateway to several trekking routes in the Garhwal Himalayas. Popular treks include the trek to Tungnath, Chandrashila, and Rudranath. These treks offer a chance to explore the natural beauty and spirituality of the region.

What are the local delicacies to try in Gopeshwar?

Gopeshwar offers a taste of authentic Garhwali cuisine. Some must-try dishes include Aloo Ke Gutke (spiced potatoes), Chainsoo (a dal preparation), and Kafuli (a leafy green curry). Additionally, local sweets like Bal Mithai and Singori are popular among visitors.

Are there shopping opportunities in Gopeshwar?

Gopeshwar has local markets where visitors can buy handmade crafts, woolen items, and traditional Garhwali clothing. The town is also known for its locally produced jams, pickles, and handloom products.

Is Gopeshwar suitable for family vacations

Yes, Gopeshwar is a family-friendly destination with a peaceful ambiance and a range of activities for all ages. The town's temples, scenic beauty, and nearby trekking routes make it a great place for a family getaway.