Here's if you are planning a trip to then you must have known about How to Reach Auli, which is one of the prime destinations for tourism and also known as Skiing destination of India. Located in the Mid Himalayan ranges and goes up to Gurson Bugyal where you can enjoy the snow fall and do some Snow adventure activities like Skiing and more. You can also enjoy the horse ride to Gurson Bugyal from Auli and snow-capped lake in Auli makes it another perfect destination.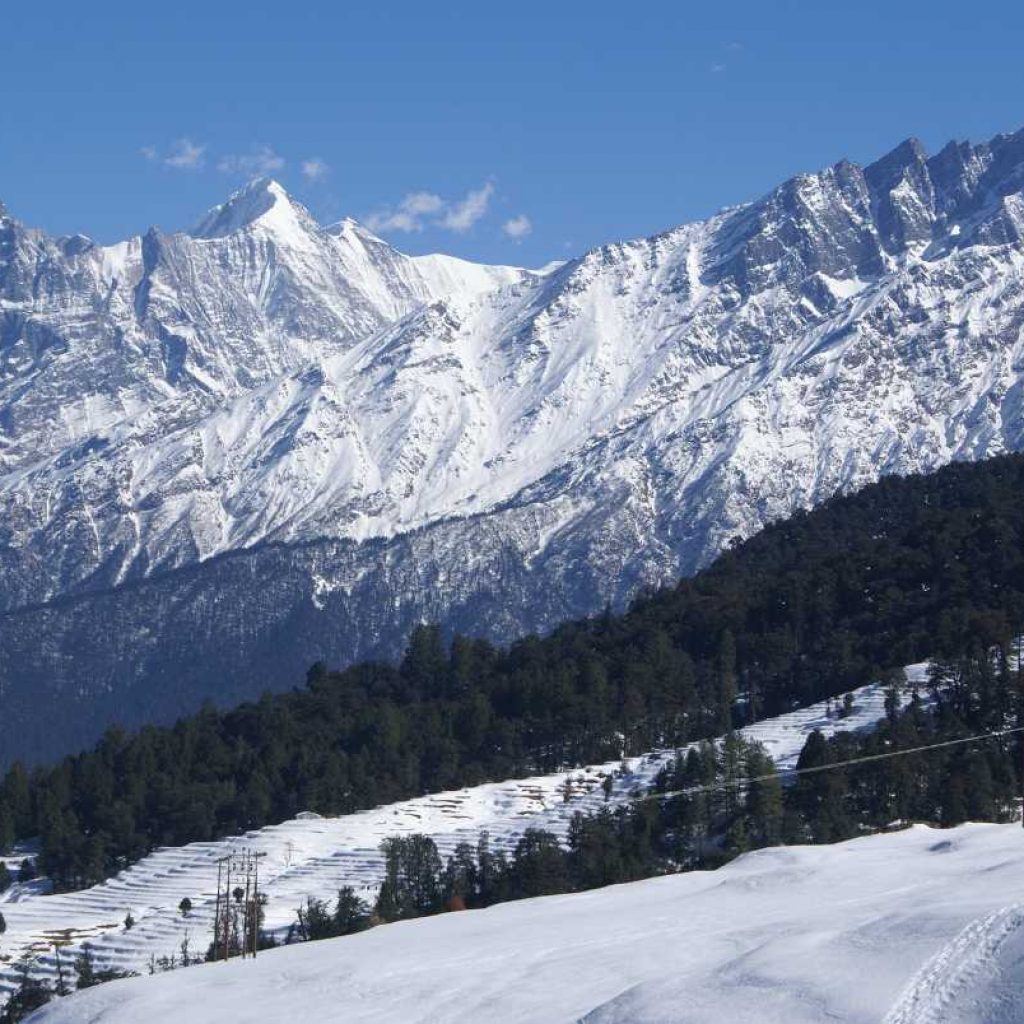 Auli is situated 12 Kms from Joshimath town in Chamoli Garhwal district of Uttarakhand state at the elevation of 2909 Meters above form sea level. It is known for snowfall and getaway destination from cities Hussle bustle.
What are the things or attractions in Auli Uttarakhand
Snowcapped mountain scene from top of the Auli, the mountains are Hathi, Ghoda and Sleeping Beauty which makes its perfect viewpoint to take some cool photos.
You can trek to Gurson Bugyal which is about 5-6 Kms from Auli, Bugyals are meadows of green grass on the higher altitude.
Visit the artificial lake of Auli, filled with snow in winter months.
Skiing in Auli is amazing adventure sport you can do while in Auli.
Chair Lift to see view from Above.
Auli ropeway is one of the longest ropeways in India, which give amazing view of Joshimath Valley while you going above.
Take some amazing photographs in the snow fall.
Enjoy the Snowfall on your cheeks and embrace the natural beauty.
Play with snow, so kids going to be very happy to make snow man.
These are the amazing things you can enjoy in Auli Uttarakhand.
Check Out: Auli Travel Guide and Complete Details
How to Reach Auli by Air, Trains, Taxi and Bus
So, let's talk about how to Reach Auli with various transportation options like by Air, By car, by trains and By Buses.
Reaching Auli by Air:
The Nearest airport to Auli is Jolly Grant airport Dehradun, which is about 270 Kms away. So, one can reach to Dehradun airport from different parts of India like Delhi, Jaipur, Mumbai, Pune, Hyderabad and then take taxi from there to reach Auli.
Reaching Auli by Trains:
The Nearest railway station to Auli is Yog Nagari Rishikesh Railway Station which is well connected to various rail heads in India. The distance from Auli to Rishikesh railway station is approx. 255 Kms.
Reaching Auli by Bus:
Auli is well connected with road transportation, but buses reach till Joshimath from there you can take a shared taxi or Ropeway ride to reach Auli. So, once you reach Joshimath its about 12 Kms to reach Auli from there.
Reaching Auli by Taxi:
If you want to book a taxi or shared taxi from Haridwar to Joshimath, then its also an easy option to reach Auli. The distance from Haridwar to Auli is approx. 285 Kms. The taxi cost is approx. 1000 to 1500 Per Person on Sharing Basis. So, you can plan your trip accordingly.
Booking a taxi from us to Reach Auli:
If you want to book a private taxi from Haridwar by us then you can contact us by calling at +91-7830718687, 9045916770, 7830718680 and you will get the private taxi to reach Auli. We will drop at the last point in Auli where you want to stay or if you want, we can plan a perfect trip to you to visit Auli also accommodations options are available with us for Auli.
The Charges for Private taxi to reach Auli is not fixed and change according to season, off season and mid-season, for that you can directly call us and send your details to us at gokeysindia@gmail.com, helpdesk@gokeys.in
These are the best options to reach Auli and planning your wonderful trip according to this is must for you.
Frequently asked questions about How to Reach Auli, Things to do in Auli and more.
how to reach auli from delhi

Delhi is not too far from Auli its about 490 Kms and the roads are good and well build national highway. Alternatively, you reach Haridwar from Delhi via Train or Bus and then take another cab or bus to reach Joshimath Auli.

how to reach auli

Auli is well connected by roads transportation, yes, the road from Joshimath to Auli is little narrow roads but it should be not an issue because hills driver is there. Also, ropeway the cable car from Joshimath to auli is available which is one of the best options once you reach Joshimath. Joshimath to auli approx. 12 Kms.

how to reach auli from Mumbai

The best way to reach auli from Mumbai is to take trains or flight from Mumbai to Haridwar or Dehradun Airport and then take a cab to reach Auli from there.

how to reach auli from Dehradun

Dehradun is capital city of Uttarakhand and there are regular buses from Dehradun to Joshimath are available, you can also book taxicab to reach directly auli from Dehradun. The distance of Auli to Dehradun is approx. 295 Kms.

how to reach auli from Haridwar

Haridwar is located at the distance of 285 Kms, regular buses at morning leave from Haridwar to Joshimath and then you can take a local shared taxi from there to reach Auli, else you can book a cab from Gokeys Haridwar to reach Auli with comfort.

how to reach auli by train

Auli is not a railway station, so the nearest railway station is Yog Nagari Rishikesh, which is about 255 Kms from Auli. So, you can plan accordingly.

How to reach Auli from Joshimath

Joshimath to auli is about 12 Kms and you can take a local taxi or book a ropeway ticket from Joshimath to auli to reach there.